Poon choy with abalone, Korean oysters, scallops, tiger prawns, fish maw, mushrooms, soy chicken, siu yoke (roasted pork belly), quail eggs, broccoli and daikon radish.
I love eating poon choy. I've had it in 2014, 2015 and 2016. I only paused after that coz this isn't a dish you can eat by yourself. I've always wanted to try making my own version of poon choy. It's not difficult, just labor-intensive coz you need to cook all the ingredients separately before combining in a big bowl. Nothing that can't be done with proper planning. I nailed down all the ingredients I wanted to have inside and how long it'll take to cook each one and came out with a shopping list and recipe.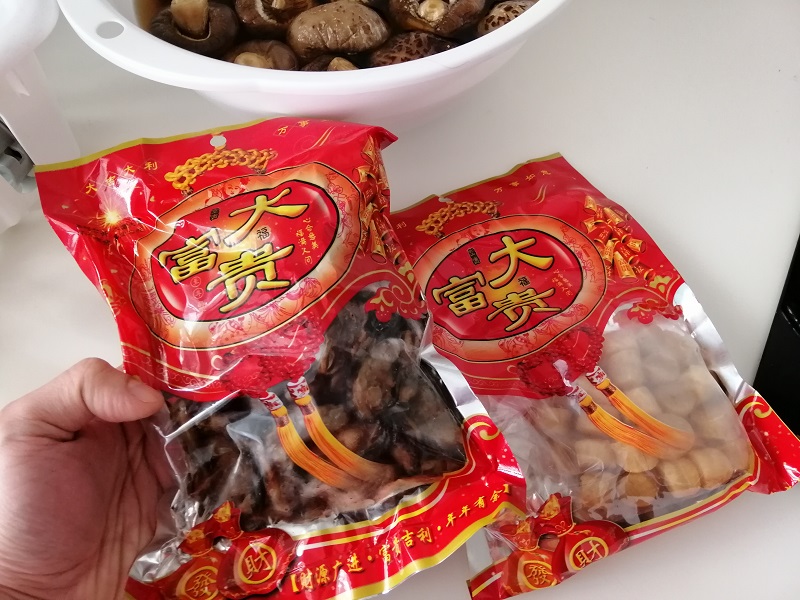 I had ordered all the dry seafood the week before via online shopping. I got large dry scallops, Korean dried oysters and huge dried mushrooms from a specialty dried produce store. I read mushrooms need to be soaked for a day prior to cooking so the preparation started the day before I started cooking. I even timed when I needed to get the fish maw (12 hours), dried oysters (8 hours) and dried scallops (2 hours) into the soaking basin.
I also prepped the tiger prawns by deveining and removing the long feelers. This took longer than expected coz I don't have much experience in deveining prawns. I usually get the frozen and peeled ones. It's quite intuitive though and after this episode I'll be able to do it a lot faster in the future. At the end of it, I didn't even need to cut open the back – I could just twist into an opening in between the shell and pick up the vein. Next level up is doing it with a toothpick.
The prawns are cooked in a mixture of Japanese sushi vinegar, mirin and sucralose. I also boiled the quail eggs in this sauce. Mandy helped peel the shells of the quail eggs, which was her only contribution to this endeavor. Haha. To be fair, I actively told her not to assist me coz I wanted to be the one to cook her this poon choy feast.
The only two ingredients that wasn't cooked from scratch are the abalone and siu yoke. The former came already pre-braised in a can. The latter I tapau from one of the chicken rice stalls near my house coz there's no way I can make better siu yoke at home, considering I don't even have an oven!
Next was the "master stock". This was a mixture of oyster sauce, dark soy sauce, chicken stock, coriander, Shaoxing wine, fish sauce and sucralose but at the end of it was heavily flavored by the dried oysters, scallops, fish maw, and mushrooms too. I started with the plump rehydrated mushrooms before adding in whole chicken legs.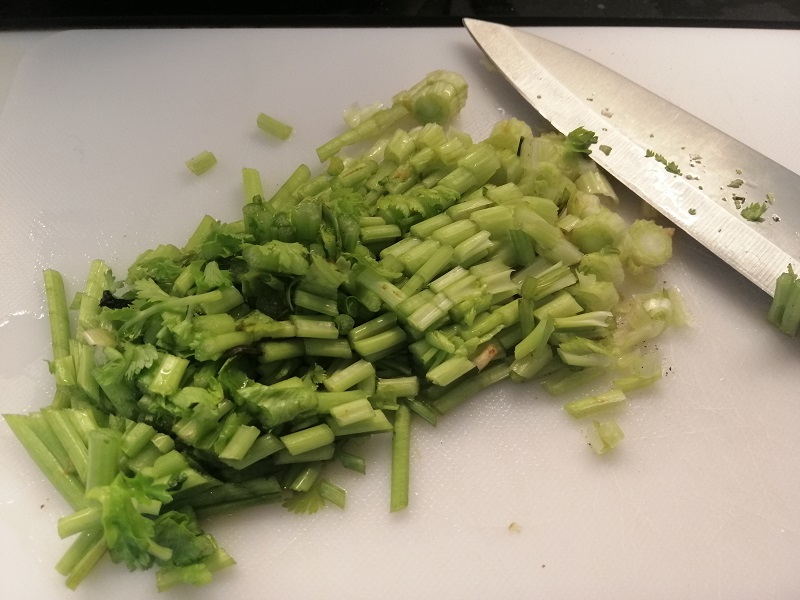 I also chopped up the stems of coriander leaves to add that distinct taste into my braising stock.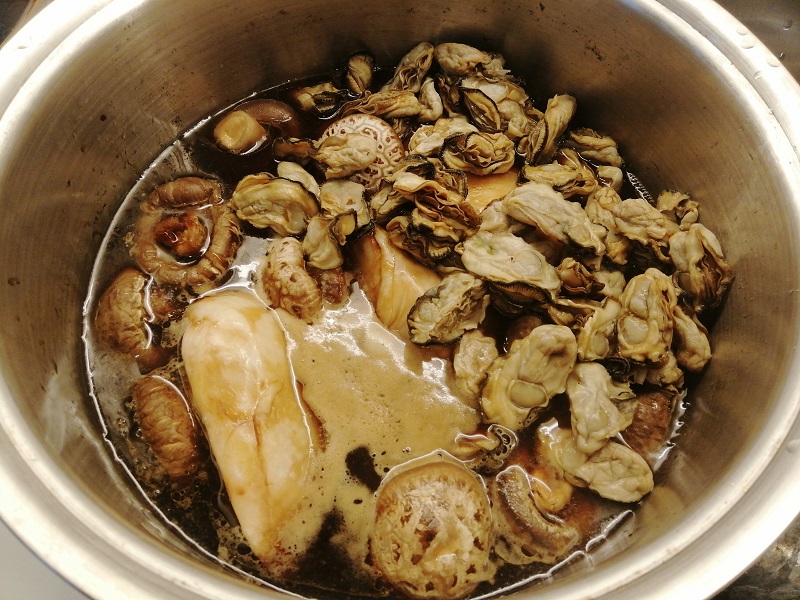 I then added in the rehydrated Korean oysters. This added SO MUCH FLAVOR to the stock. Dried oysters have the essence of umami inside them and they contribute so much savory taste to the braising liquid. It's uncanny! I would say this is one of the most important ingredients in poon choy.
I also dumped in the rehydrated fish maw while chopping up the daikon radish. I really enjoyed the fish maw – it absorbs up so much of that delicious broth. It was one of my favorite things to eat in this poon choy big bowl.
The daikon radish goes in last and I let this whole pot simmer at low heat for about 30 minutes before adding in the scallops. Rehydrated scallops are very fragile so I used a strainer to keep them together. This makes it easier to scoop up and also prevents other sturdier ingredients from bumping into it. You want them plump and whole to be displayed in the poon choy.
All that's left after that is arranging the ingredients into the bowl. There's abalone, Korean oysters, scallops, tiger prawns, fish maw, soy chicken, siu yoke, mushrooms, quail eggs, broccoli and daikon radish. I also heated up a bit of the braising liquid with tapioca starch to make a gooey gravy to go with the poon choy.
It's really delicious! This came out way better than I expected. Everything tasted so good! 10/10 – a success. 👏
Unfortunately, I'll be eating poon choy till I go back for Chinese New Year. At least I have Mandy now so she can help out a bit. I wouldn't have cooked this before she came into my life coz it'll be impossible to finish by myself. Haha.