The first thing I did after sending Mandy off to the airport was take a Grab to Kubah Ria. I've been craving for Pizza Ria, our local Kuching pizza/pasta/pancake chain. This is their original outlet in Satok – they've been open for over 30 years at the same spot! My dad used to bring me here when I was a little kid (we moved to Sibu when I was 7).
I also indulged in my favorite beef pancake many times when I was working in Kuching around 24-25 but I haven't eaten it since. That's a good 12 years without this sinful creation. It's basically mince beef inside a crepe that's doused with tomato sauce but it's extremely nostalgic. The best pairing is Pancake + Spaghetti (RM 8.50) – you get both options on your plate. You can even request to have it mixed up into a gooey mess!
The pancake used to be topped with a made-to-order sunny side up runny egg but they're all line produced now so that reduced the enjoyment factor a little. The runny yolk mixed into the minced beef was one of my favorite things – a bite with umami tomato sauce, gossamer thin pancake, savory minced beef and creamy yolk is the perfect mouthful!
You can't leave here without ordering a slice of pizza too. It's not the best but I love it. You probably wouldn't enjoy Pizza Ria if you didn't grow up eating it. This isn't exceptional cooking. It's the taste of nostalgia. Every true-blooded Kuchingite should have fond memories of eating this, especially if you're born in the 80s or 90s. I'm glad I had a chance to revisit my childhood. It was delicious!
I woke up bright and early to go to Choon Hui Café the next day. This is the place made famous by Anthony Bourdain. He claims it's the best Sarawak laksa in Kuching. Unfortunately, it wasn't open and wouldn't be open until a few days after I leave. Alas!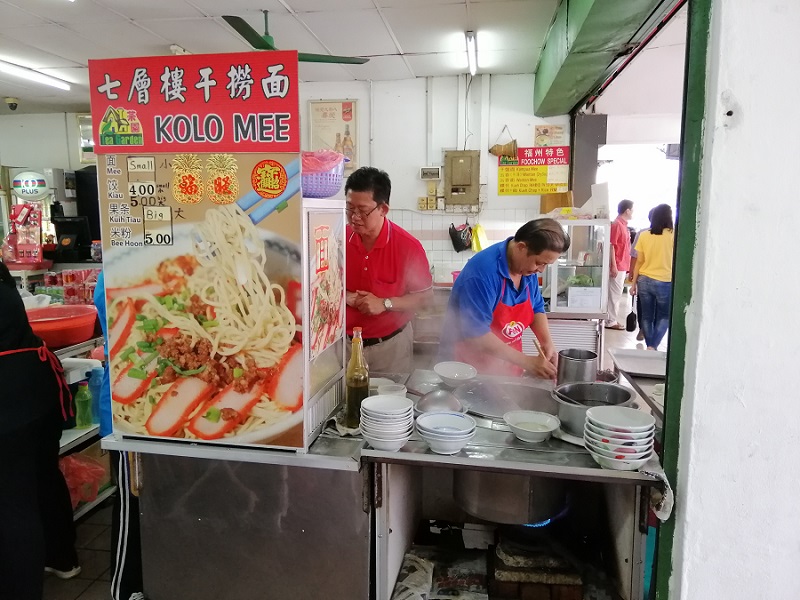 Not to be dissuaded, I went opposite to the only kopitiam open at 7 am to eat some breakfast. I ordered kolo mee, which took over 1 hour to arrive! To be fair, the guy warned me that it'll take a long time to arrive since many out-of-town people were back for Chinese New Year. I probably wouldn't have minded if it tasted good.
Unfortunately, it was almost inedible. The guy was so rushed he barely tossed the noodles and the texture was disappointing. The flavour was barely there too. I left the bowl after eating two mouthfuls. That's something I very rarely do as I don't like wasting food. It was that dismal.
Thankfully, my morning meal was saved by Kelly's Fritters. This was a stall selling various fritters. I went for heh piah (prawn fritters). These is a crispy Kuching specialty served with a chilli dipping sauce. I have fond memories of eating this during tea time at the start of my career in Kuching.
This tasted really good! The fritters were crispy and flavorful, with just the right amount of prawn. 🦐
I went to Sin Kwang Foochow Big Pau twice over two days but they sold out and closed before I arrived both days. 😭 This is another item I ate during my working days in Kuching. It's a huge pao with pork and egg. Quite delicious! Too bad I didn't have a chance to eat it again.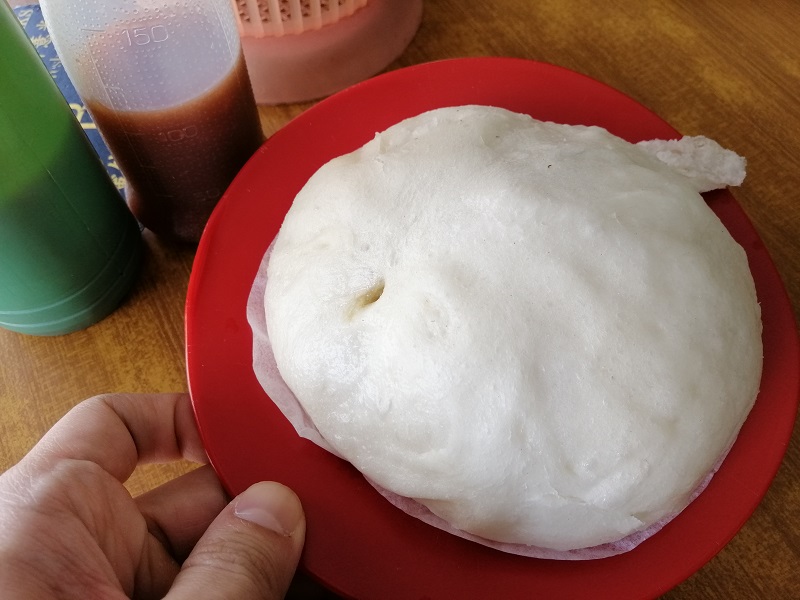 Mandy suggested Hock Hai Dim Sum Café down the road. They also have a big pao, at a fraction of the price of Sin Kwang (RM 3.40) but it was oversteamed. The bottom is hard and crusty.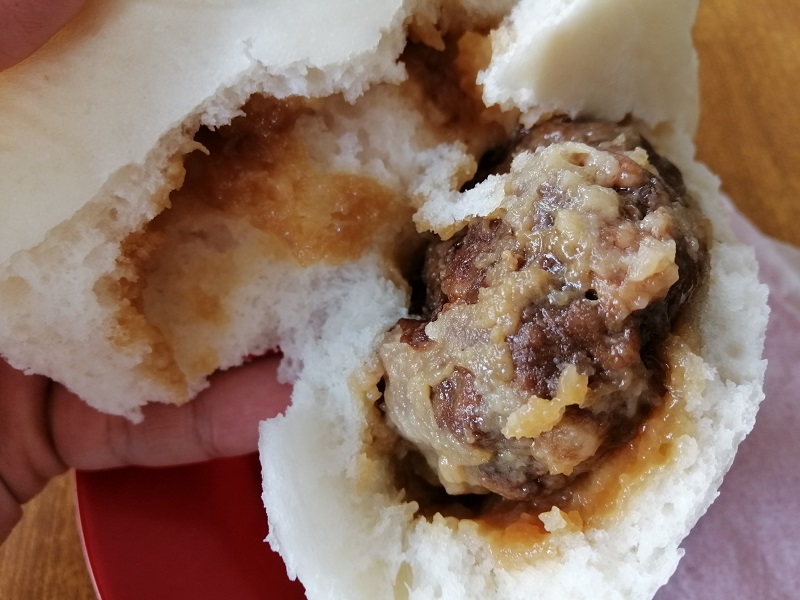 There's no egg inside and the mystery meat is a rolled-up ball instead of identifiable chunks. Sin Kwang's version is way better.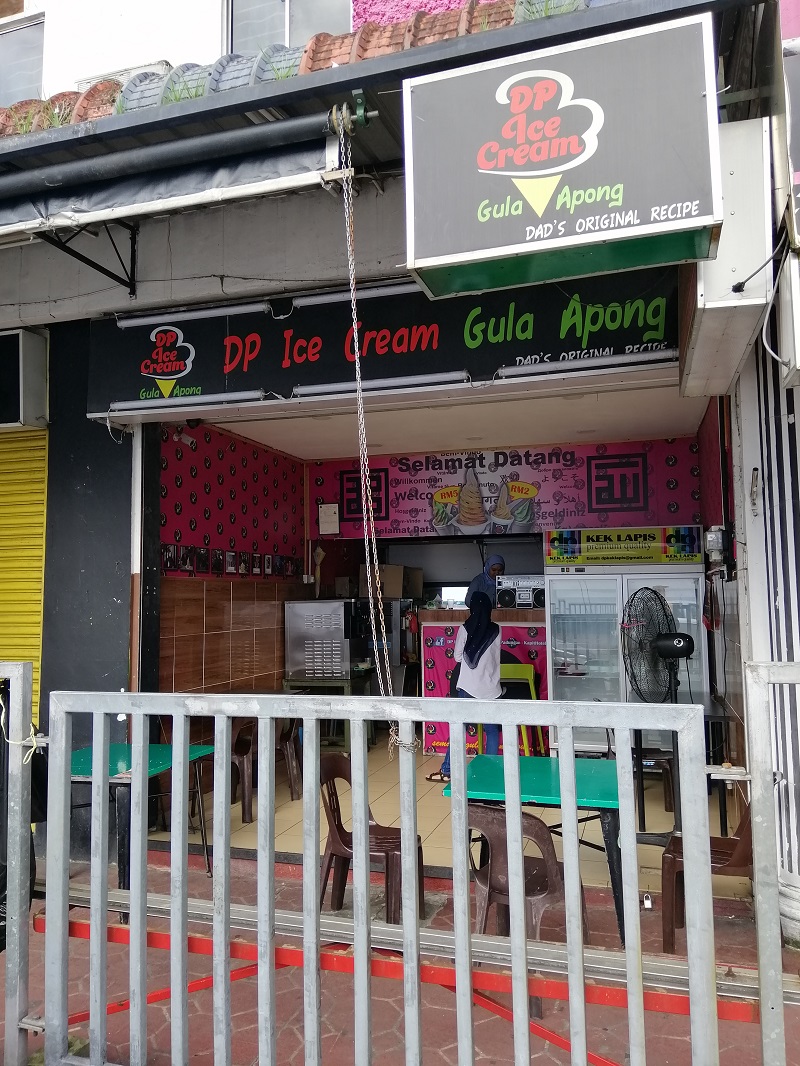 I have never eaten gula apong ice cream in Kuching before. It wasn't available back then. This is a relatively new thing. Now there are many different ones mushrooming around town. I had to try it!
I wasn't impressed with DP Ice Cream Gula Apong's version though. It was very icy and diluted. Disappointing.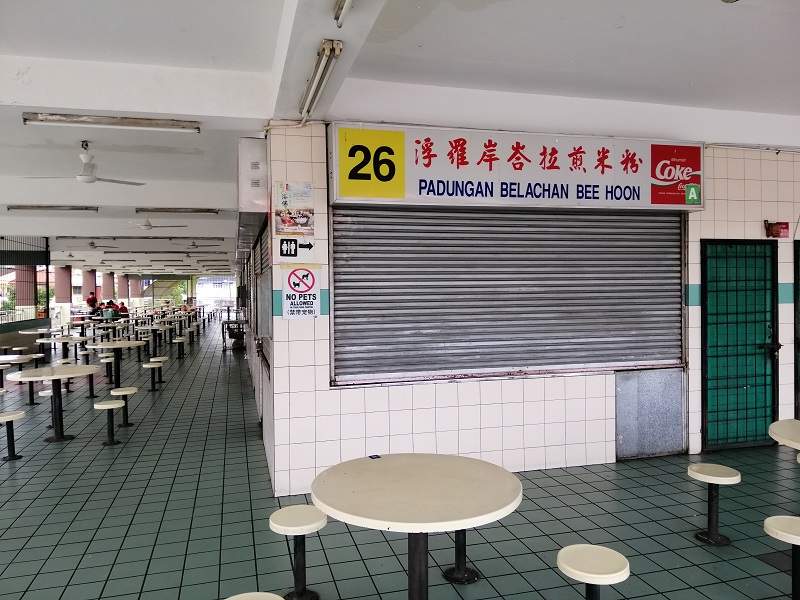 Since Kuching hawkers don't like making tons of money, a lot of stalls are closed over the first week of CNY. That includes all the belacan bee hoon stalls in Song Kheng Hai rugby field. Sigh.
However, I managed to get my tomato crispy mee fix. The best version is in Hui Sing Hawker Center but that's quite far away so I had this at a random coffee shop in Padungan. It was pretty good too! I had this at an odd hour too – 3-4 pm in the afternoon. You can't do that in most places. These noodles are kolo noodles that's been deep fried and doused with seafood filled tomato sauce. They have a kueh tiaw version too but I prefer the noodle ones.
Another must-eat in Kuching is kueh chap – various innards and offcuts of the pig in a thin braising liquid. It's served with rice sheets. I'm actually not a fan of kueh chap. I never crave for these things but it's nice to eat once in a while. I can't remember the last time I had kueh chap. Definitely more than a decade ago.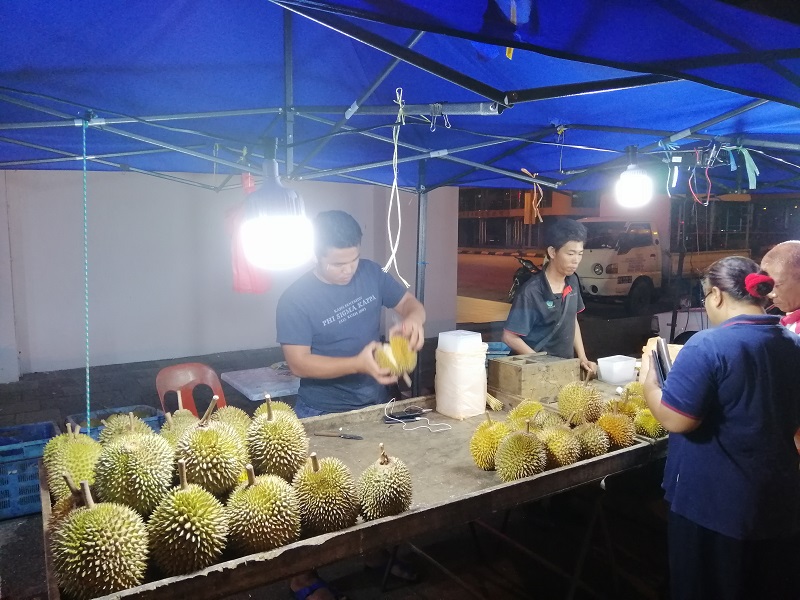 I also found a durian stall at the cat statue in Padungan. I hear this is the designated seasonal fruit vendor's location now.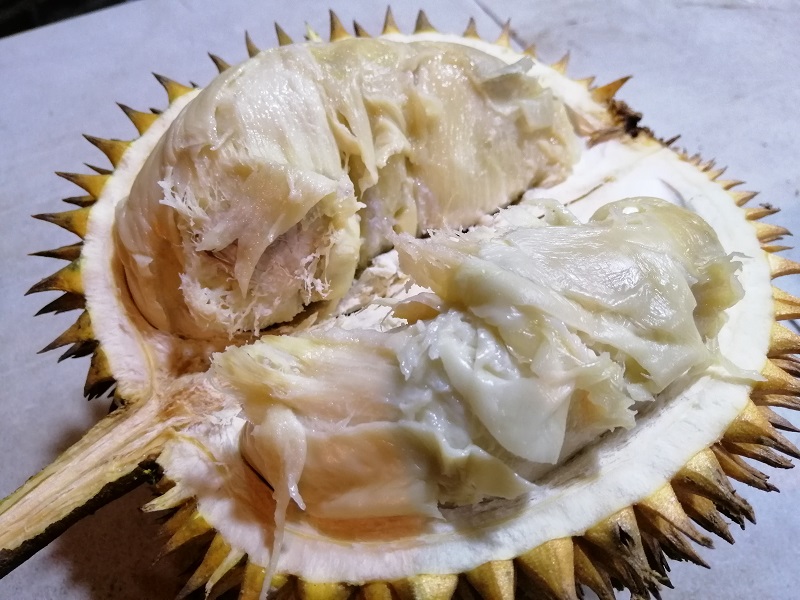 We don't get branded durian cultivars in Sarawak, but that is slowly changing. This is a kampung durian for RM 10. Not bad!
I managed to squeeze in one last meal at Mee Sin Café before I had to catch my flight to Pontianak. I woke up very early at 6:30 am and went there to eat seafood kolo mee. They're famous for sheng rou kolo mee (fresh meat kolo mee) but I prefer the seafood version.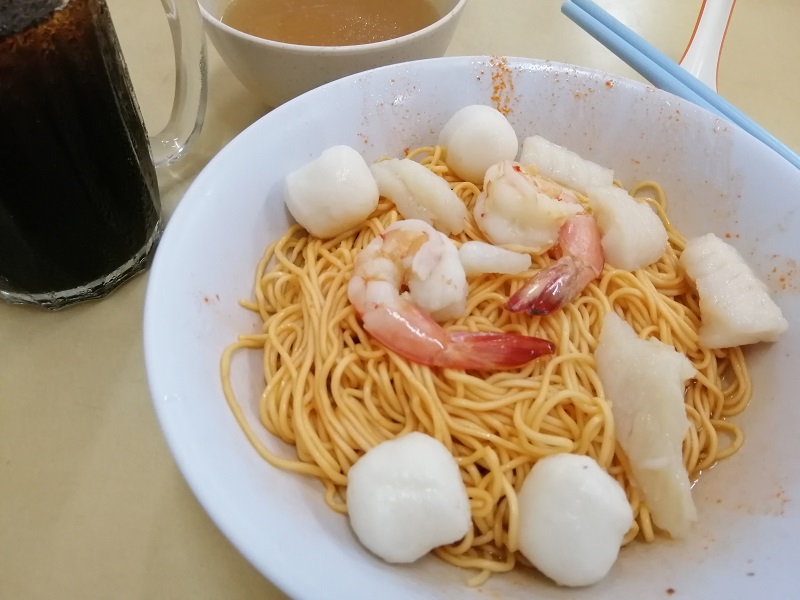 The kolo mee here is very delicious! I requested for cha siu oil to be added so it's red. The proper way to order this is "pang ang" (literally "put red"). The kolo noodles were springy and chewy, a very pleasing toothsome bite. This more than makes up for the disappointing kolo mee I had the previous day.
I'll love to go back to Kuching again to catch up on the places that I've missed or were closed. I suspect I'll come here more often now that my girlfriend's hometown is Kuching.