Mandy loves unicorns and desserts so I thought Crème de la Crème (CDLC) would be the perfect spot for our weekend date night. This is a new place that just opened a few days ago in Damansara Uptown. They're a specialty ice cream shop with handcrafted ice cream made in-store. We actually popped by during dinner time so we could try these frozen delights when we're hungry.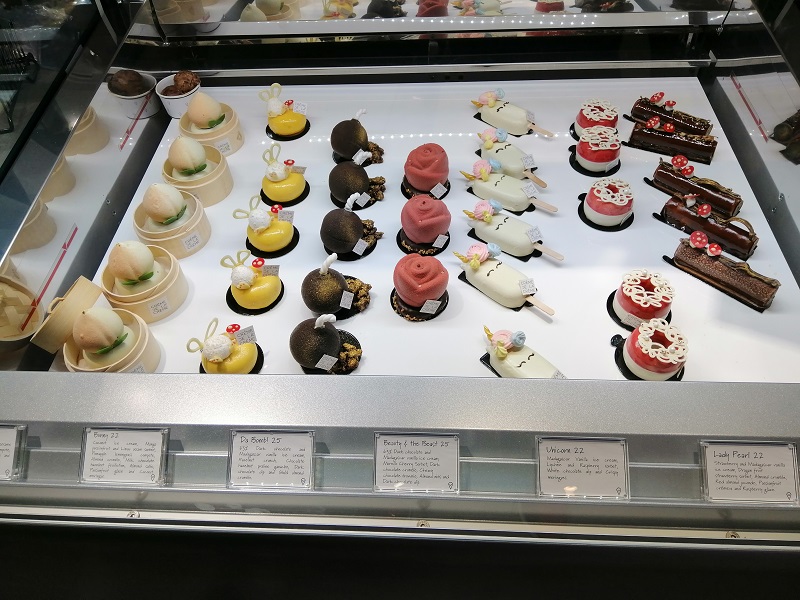 They have an interesting range of creative ice cream desserts from Beauty and the Beast (a rose shaped dark chocolate and Madagascar vanilla ice cream creation) to Da Bomb (which is shaped like one of those antique spherical bombs with a fuse running from the top). They're all very beautiful and no doubt crafted for the Instagram crowd.
Mandy chose Unicorn (RM 22) – a Madagascar vanilla ice cream with lychee and raspberry sorbet, white chocolate dip and a pastel meringue. It looks like a very pretty Magnum, and I like the eyelashes, which really brings this unicorn together. The vanilla is good, contrasted by the sour sorbet components.
I went for the Longevity (RM 25) – Japanese matcha and black sesame ice cream with mango yuzu compote, lemon curd, matcha sponge and white chocolate dip. This reminded me of the bao that came out in Pixar's recent animation. The Oriental components work well together but I'm not the biggest fan of black sesame – would not have ordered it if I had bothered reading the description. I'll be the first to admit I choose based on presentation. Haha.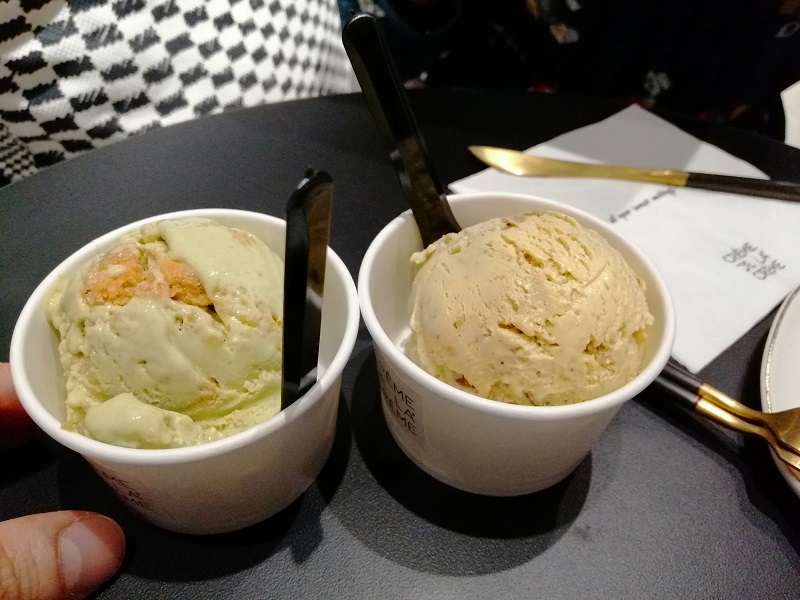 We wanted to try their Unicorn Drink (RM 18) but it was sold out on that day. We both didn't want coffee coz it was late so we had another dessert instead – two scoops of ice cream! I chose Roasted Pistachio (very good and burnt tasting) and she had Kaya and Toast (the bread bits are super crunchy).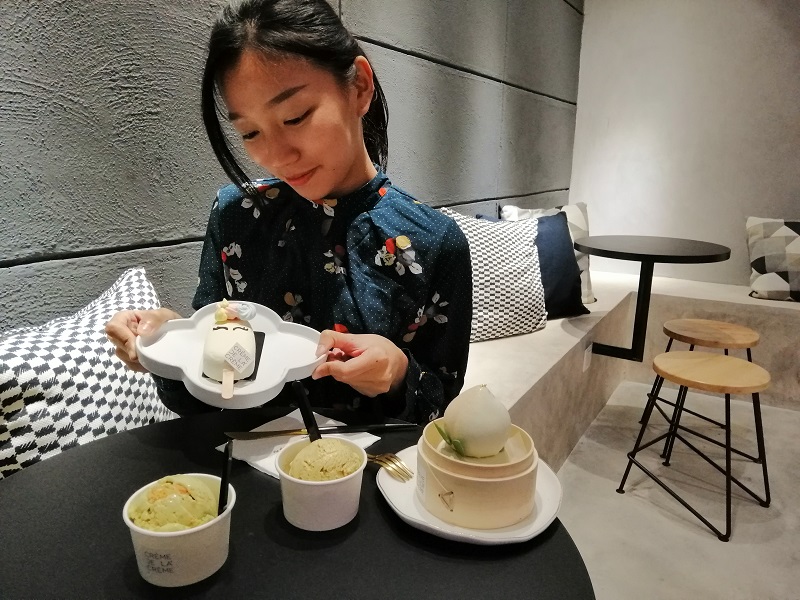 I really liked their store made ice cream. They have very different flavors and local twists and the ice cream is well made. I particularly enjoyed their roasted pistachio. The burnt and toasted notes really come through. It's a flavour profile I really enjoy. 10/10.
There are lots of spots where you can take photos for the 'gram too. Most new F&B spots prioritize these feature walls nowadays.
The bill came up to RM 76.10. Not cheap for a dessert outing but on par with similar establishments. We ordered a little too much and it was cloying to eat so much sweet stuff but sharing one of their mini ice cream cakes or having a scoop of ice cream each would have been perfect!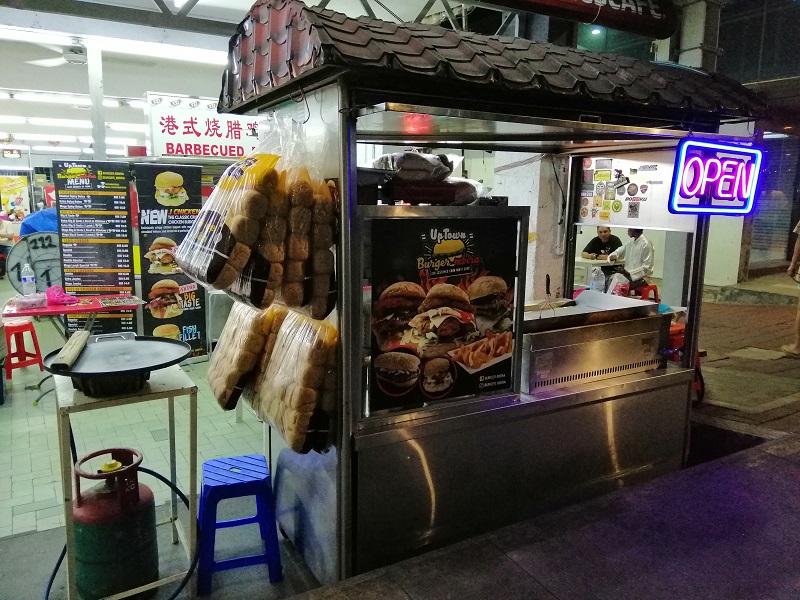 We needed something salty after that (and we haven't had dinner) so we headed to Burger Mbira around the corner. This place has good reviews and I read an article that (falsely) claimed Burger Mbira makes their own patties. This is untrue – they use Ramly beef burger patties as can be seen by the stack beside their grill. I asked if they have homemade ones and they said they do not, they only use additional toppings like hash browns to add some zest to their offerings.
I went for the Deluxe Big and Tasty (Beef) as recommended by the lady. This was a standard Ramly beef patty topped with a chicken slice and crispy hash brown. It's not bad and I like the crunchy hash brown inside the burger. However, it took 40 minutes for the burger to arrive. That's an insanely long wait for what is essentially a Ramly burger with a few pre-made, store-bought flairs.
Mandy had the Chicken Spicy Deluxe. This patty may be homemade or perhaps they just deep fried a regular Ramly chicken burger patty. It doesn't taste extraordinary. There's nothing remotely gourmet about the burgers here – these are merely street corner burgers masquerading as something more with a few off-the-shelf items added. It's like The Mac's in USJ – I don't see why we should be glorifying mediocre food assembled with store-bought ingredients. Give this a pass. You can get way better burgers at places like myBurgerLab.
On Sunday, I decided to cook engkabang butter rice! I bought two sticks of these beauties in Sibu – one for RM 20 and the other RM 15. Engkabang is a type of nut in Borneo and the locals extract the oils and make it into a paste, which is then sold in short bamboo lengths. You just push the inner tube of engkabang butter out and let it dissolve in warm rice. It has an unusual jungle-y nut taste which is quite addictive!
I also bought some ang chow (red yeast rice wine sediments) in Sibu and I used it to cook pork belly. This is more fried than stewed. I first stir-fried ginger in hot sesame oil before adding pork belly slices, ang chow and other seasonings. It tasted really good paired with the engkabang butter rice! One of my better recipes.
I also bought a honeydew coz Mandy loves honeydew but unfortunately, it wasn't sweet. No worries, we'll just make this into juice. 👌