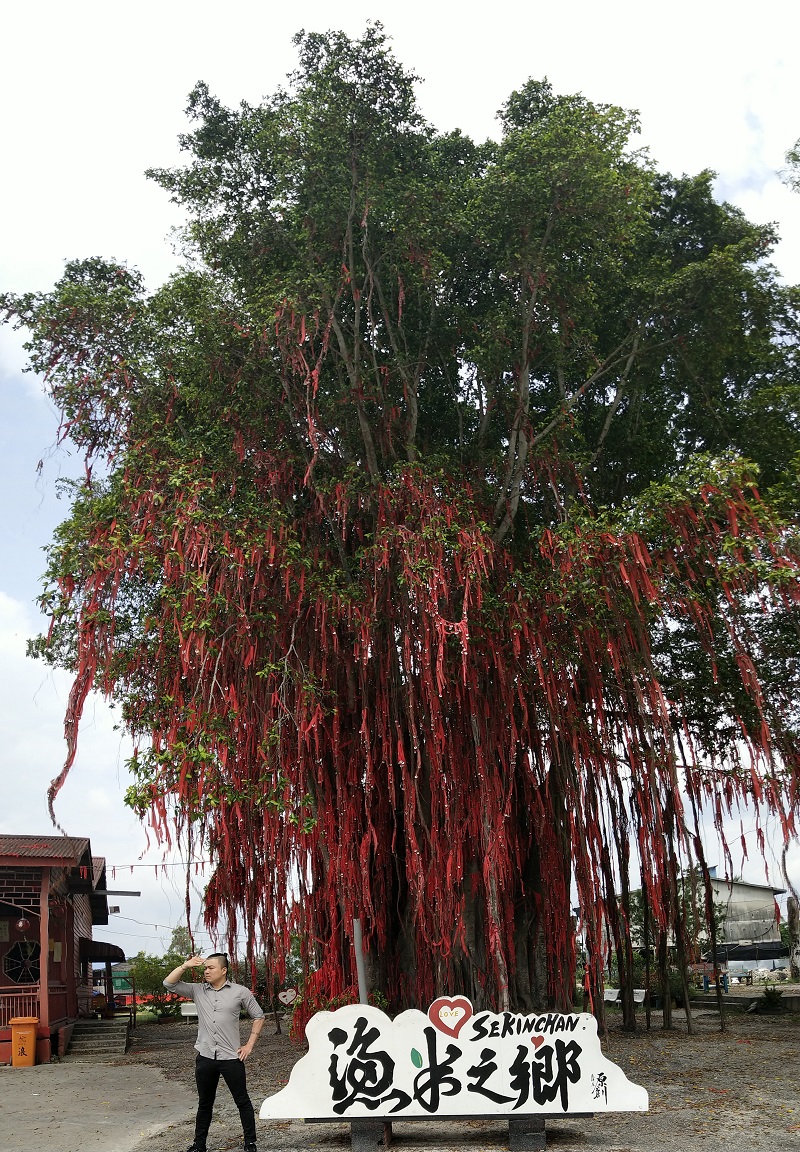 I went on a day trip to Sekinchan with Mandy last week. Sekinchan is a small village with fishing and paddy cultivation as its primary industries. It's a sleepy small town where everyone seems to know each other. One of their most famous landmarks (?) is a tree by the Pantai Redang beach called the Sekinchan Wishing Tree. This is an old looming tree that has strands of red hanging on its branches. People write on red threads and throw it into the air so it hangs from the tree. It's a wish fulfillment thing.
It makes for a really nice picture!
There is a Chinese temple beside this tree where you can get the red strands of clothes. I can't read Chinese but there are recommended donation amounts for things like joss sticks. The threads are freely available for the taking but you're supposed to put in a donation into the box. The donation can be any amount you feel like giving.
You take the red strip of cloth and write whatever you want on the provided table. This is usually a wish you want fulfilled. Mandy wrote both my name and hers in Chinese. Coz this is an Oriental tree, you see. It may not understand English. Haha.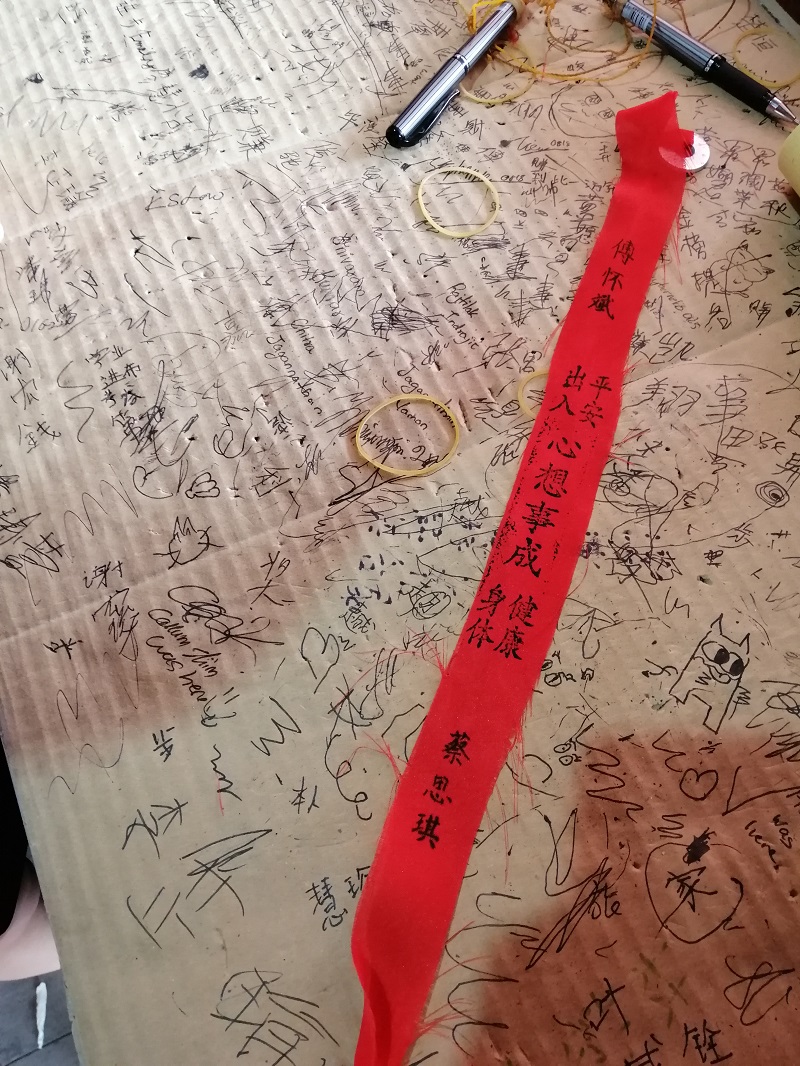 The red cloth has two round metal weights at the end so you just need to lead one and it'll hook around something. I managed to get it up on the tree on my second try.
Our names in Sekinchan for all eternity, bound by the red threads of fate. Or until a strong wind comes, which is more likely.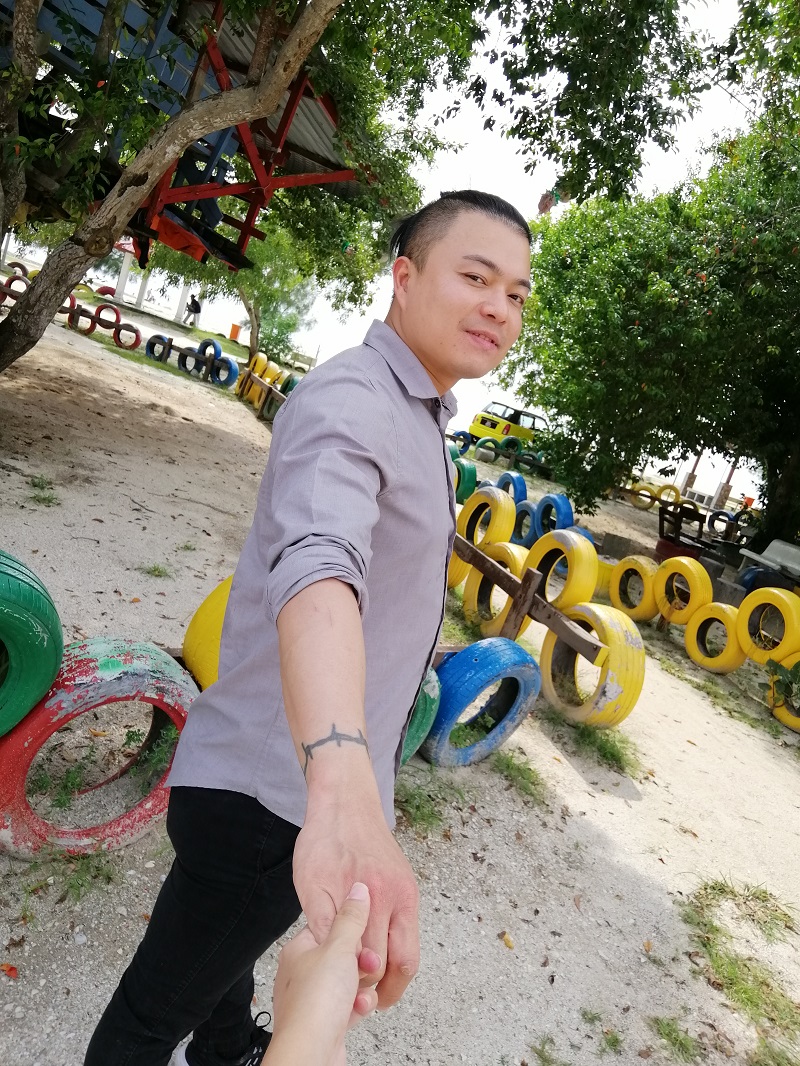 Pantai Redang is not a swimming beach. The sand is quite dirty and the water is polluted. However, it's a nice place to chill and walk with your loved one.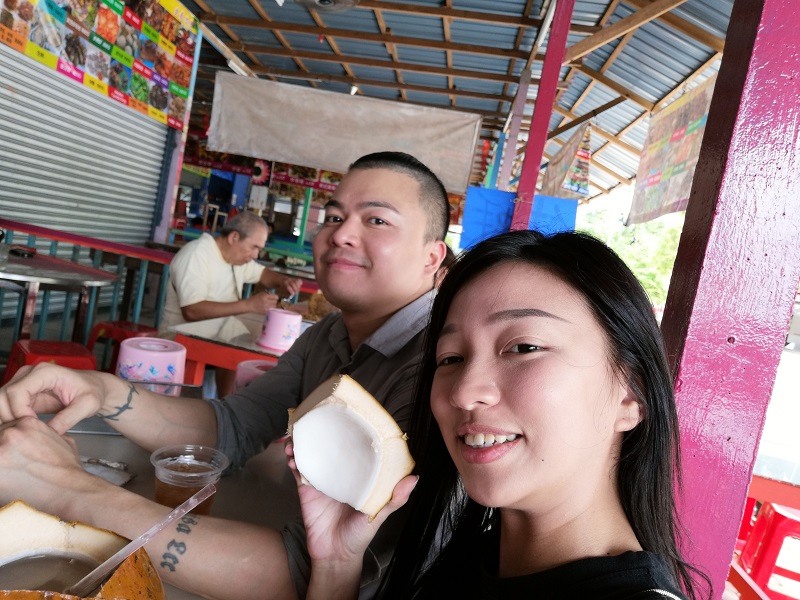 There are stalls at one end of the beach selling seafood dishes and drinks. We got a coconut and took it to a hut by the beach to enjoy.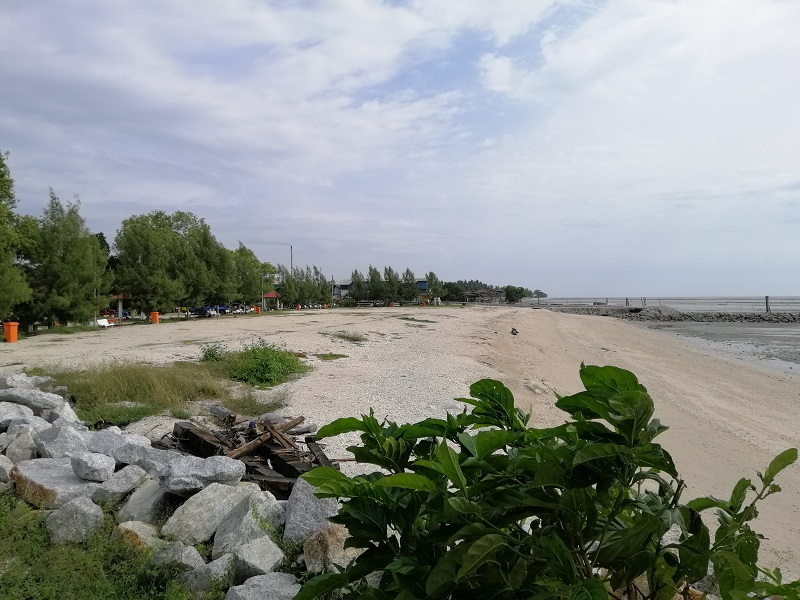 The best thing about taking leave to come on a weekday is the lack of people around. We had the beach hut all to ourselves and we spent a good hour here talking with our arms around each other. It's fun. There's a cool sea breeze, the smell of salt in the air, the warm indirect sun beside you, stray puppies coming to sleep by your feet, and a refreshing drink of coconut within arm's reach. Bliss.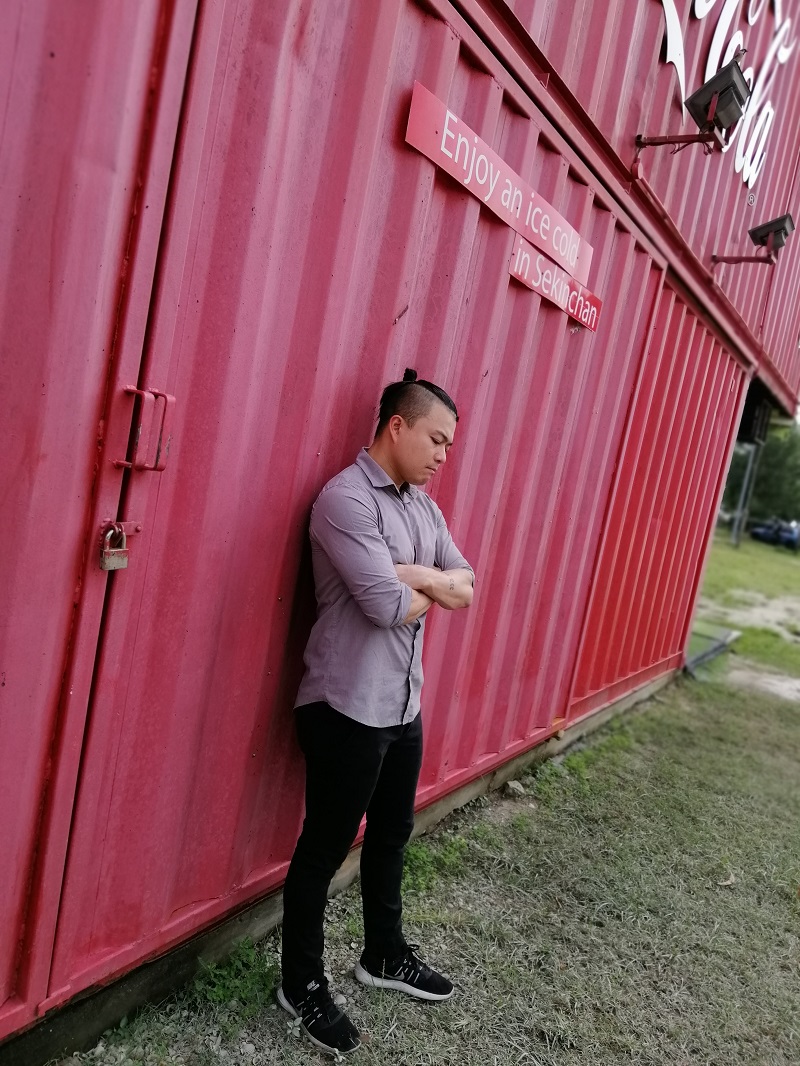 There's also an abandoned café (I think) made of red Coca-Cola shipping containers which makes for a good photo opportunity. It has the Coke tagline and Sekinchan on one of the sides. This is my #emoforever contribution.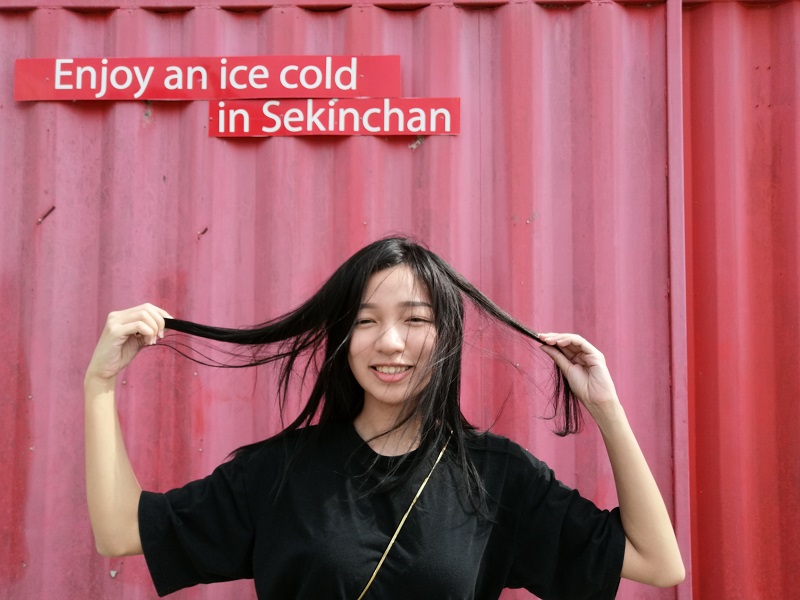 My beautiful Mandy does it better though. <3
There's not much to do in Sekinchan. Like I said, it's a sleepy little town but another place people go to is the Sekinchan Paddy Processing Factory and Museum. The road here is lined with paddy fields.
This is actually just a rice processing factory which has a small museum attached. Entry is RM 5/person and comes with a free small packet of Sekinchan rice.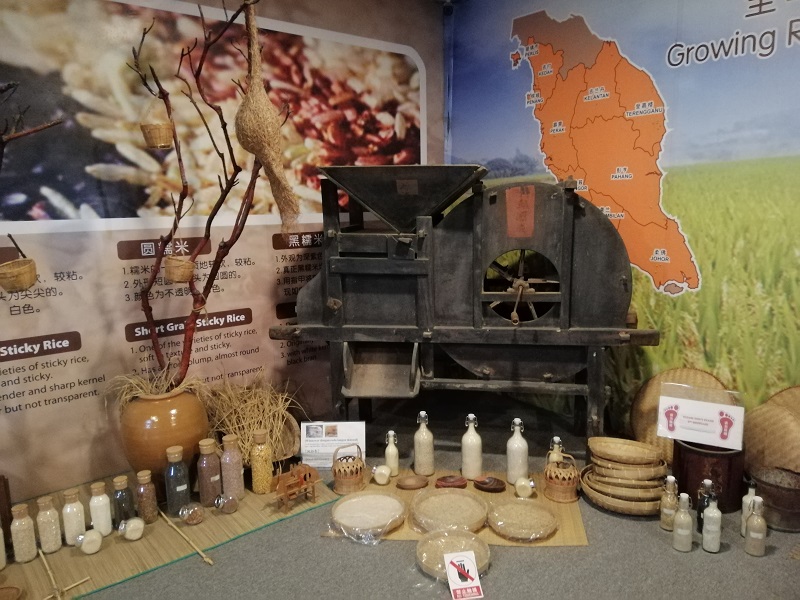 The tours are guided, which an option of Chinese or English. I learned that rice factories add in 5% broken rice to meet government specifications. The technology is already there to produce 100% unbroken rice but this is more to keep with government regulations on rice price controls.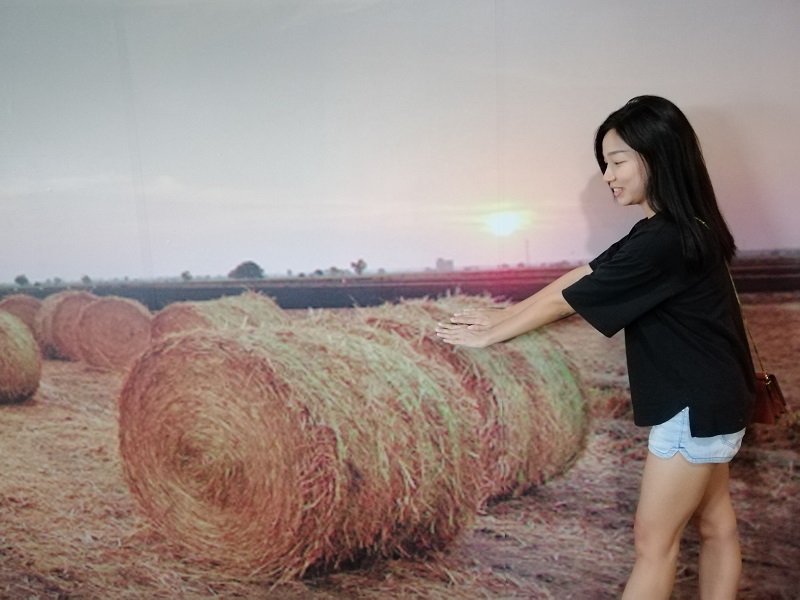 There are also 3D photo walls inside the museum where you can take photos.
…as well as various old scenes from Sekinchan past. It's worth the 45 min or so coz there's little else to do in Sekinchan.
You can also get cendol made with their special Sekinchan brown rice and ice cream there.
Of course, another popular destination in Sekinchan is the No. 16 Sekinchan Bus Café. I've written about it in a previous post.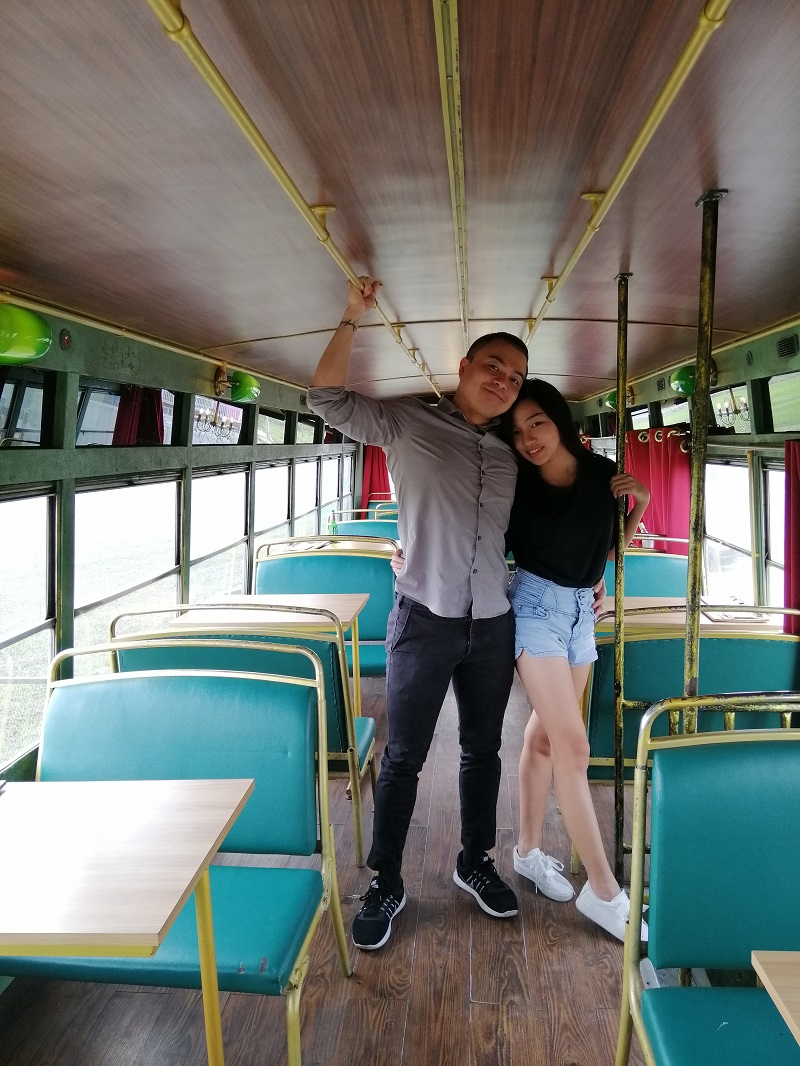 The best part of the café is the photo ops, not the food per se.
Definitely worth a trip if you stick to the cakes and drinks though.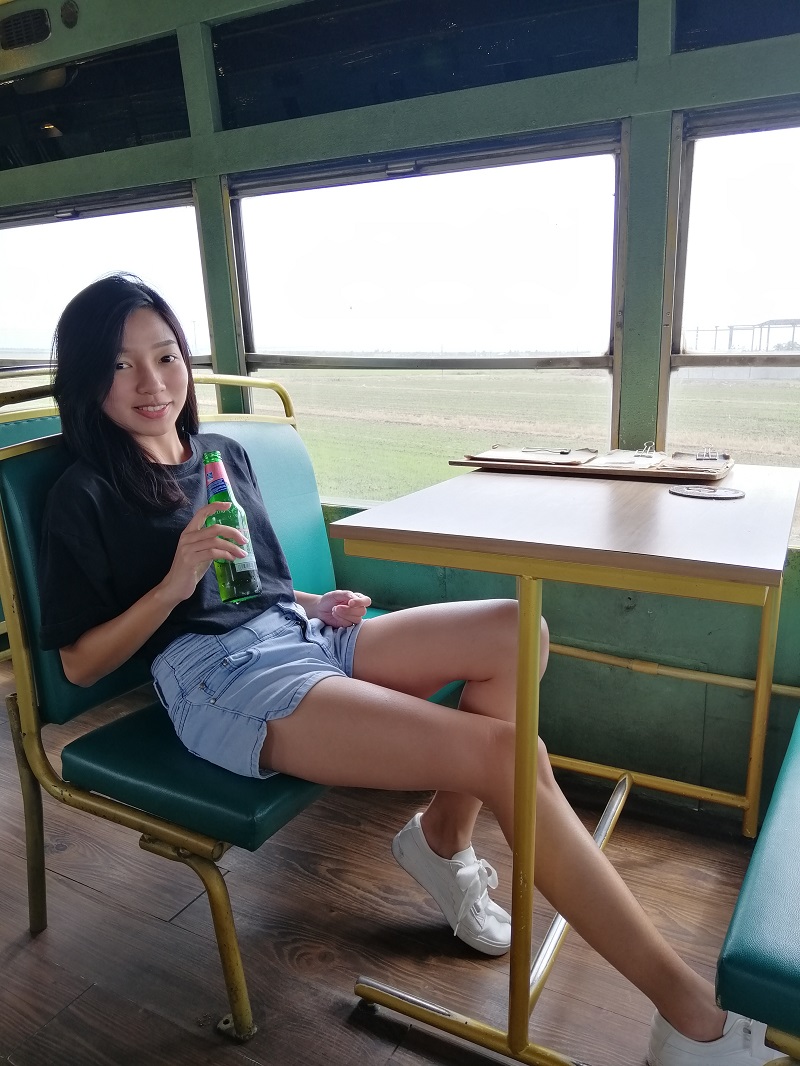 It's a great place to get the perfect shot for Instagram.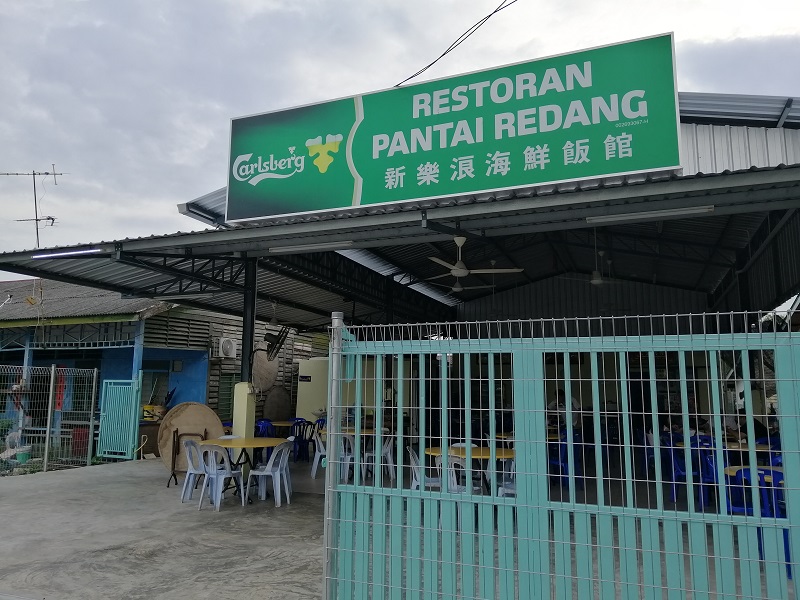 You have to try Sekinchan's local seafood before you leave. We choose a restaurant at random and ended up at Restoran Pantai Redang. This is a family run seafood location near the beach.
Mandy wanted to have their crabs. This is a crab of around 600-700 grams that's simply steamed to preserve its original flavor.
It's very good! Juicy and succulent, much better than the crab we had in Pulau Ketam. I love the Shaoxing wine flavored sauce too.
We saw the owner carrying in two huge fishes. They looked fresh, so we ordered two slices of that as well. It's also cooked with minimal seasoning. I don't think Mandy liked it but I really enjoyed the simple, clean flavors. You can only get fish as fresh as this in a fishing village.
Lala cooked in taucu and chillies were very decent as well.
We also ordered huge ass mussels steamed with garlic and rice wine. This was my favorite dish of the meal. They're only RM 2 each and perfectly steamed so they're still juicy and plump. This isn't one of those overcooked mussel dishes you normally see – Mandy made sure to tell the owner to steam it for a short while so it's barely cooked. Delicious!
It's important to note that there's no fancy techniques or complicated sauces at this restaurant. The food is cooked and presented simply, allowing the freshness of the seafood to shine. We both enjoyed the meal and it only came up to RM 127 including beer. Food alone was just RM 93 which is a great price for seafood of this quality. Sekinchan may not be for everyone with its slow pace of living and relatively uncommercialized tourist attractions but both Mandy and I enjoyed it immensely. I love going on trips with her.