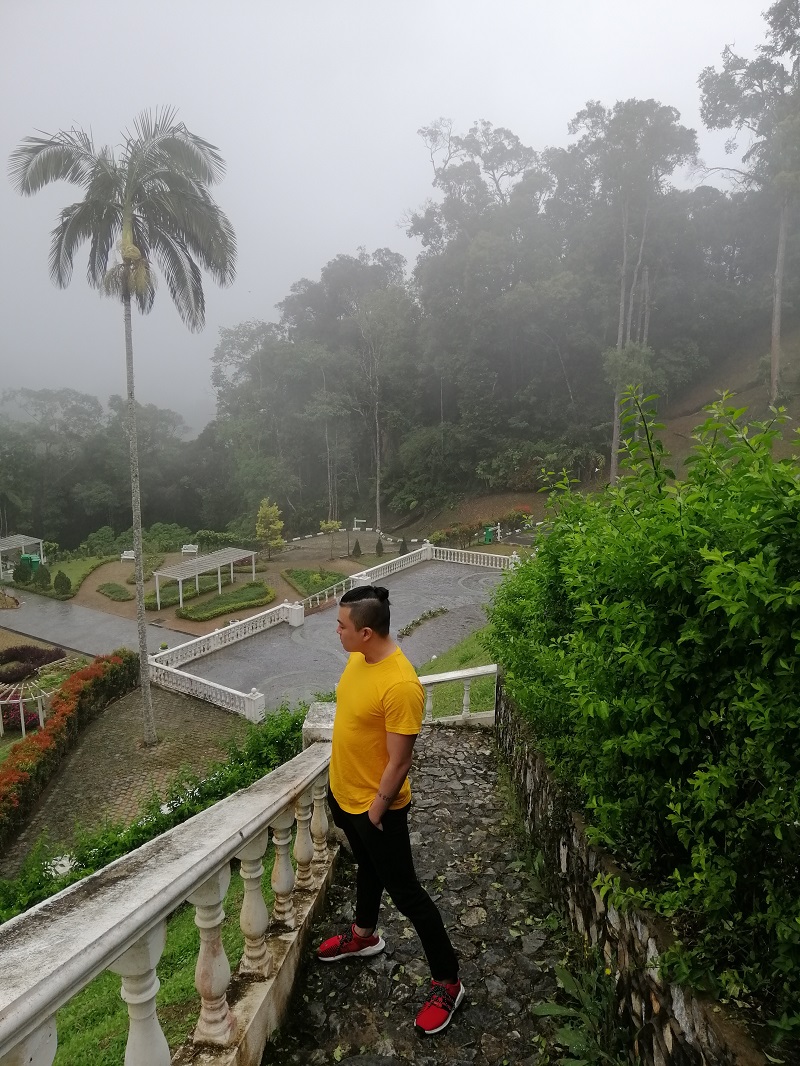 I'm not sure who Aida Daniya is but she (?) seems to have taken over Fraser's Hill with a vengeance. Not only does she have a picturesque tea house, said restaurant overlooks a beautiful garden and there's also a strawberry nursery named after her. We walked down to the garden after lunch at Aida Daniya Tea House – there are well tended flowers and plenty of spots to take the perfect Instagram photo.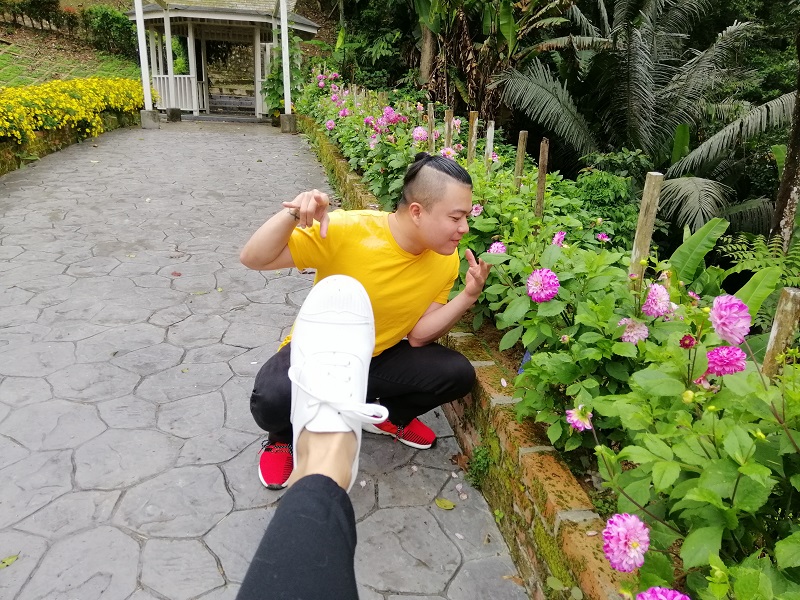 Wake up and smell the flowers! Background: I pretended to be possessed by a female ghost on the drive up. I let her come out to play.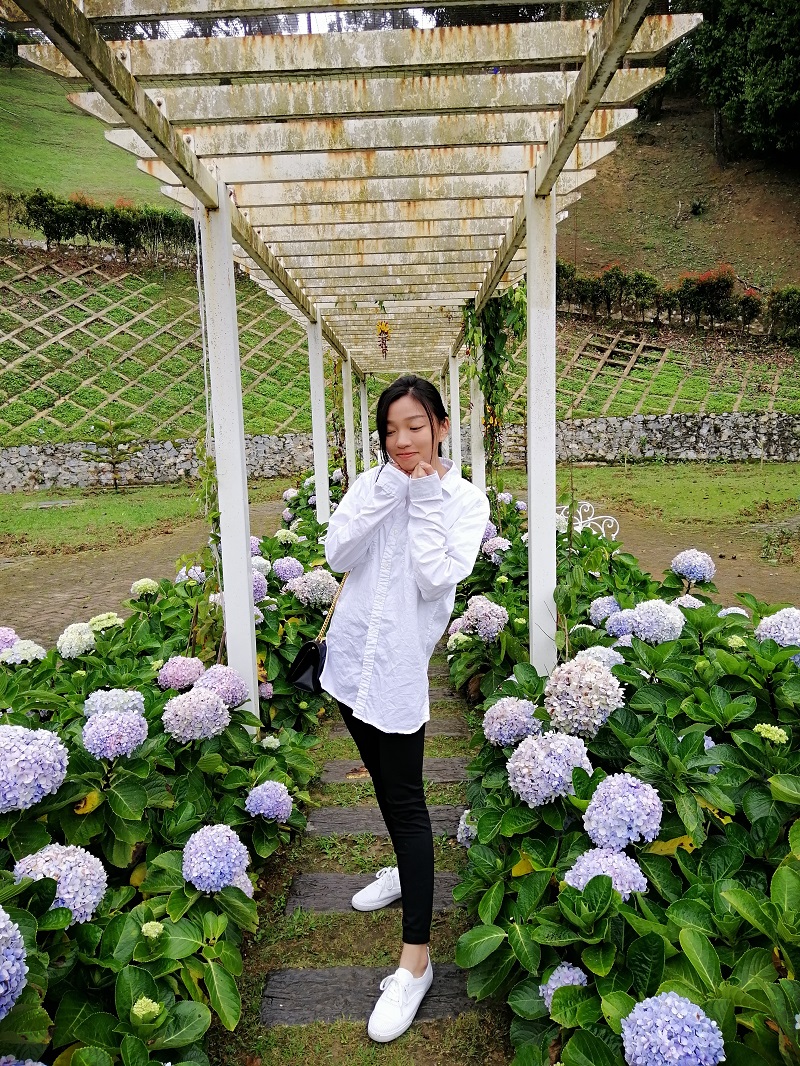 My Mandy was very proud of this photo. 💁‍♀️
I tried to recreate her pose. Unsuccessfully. 💁‍♂️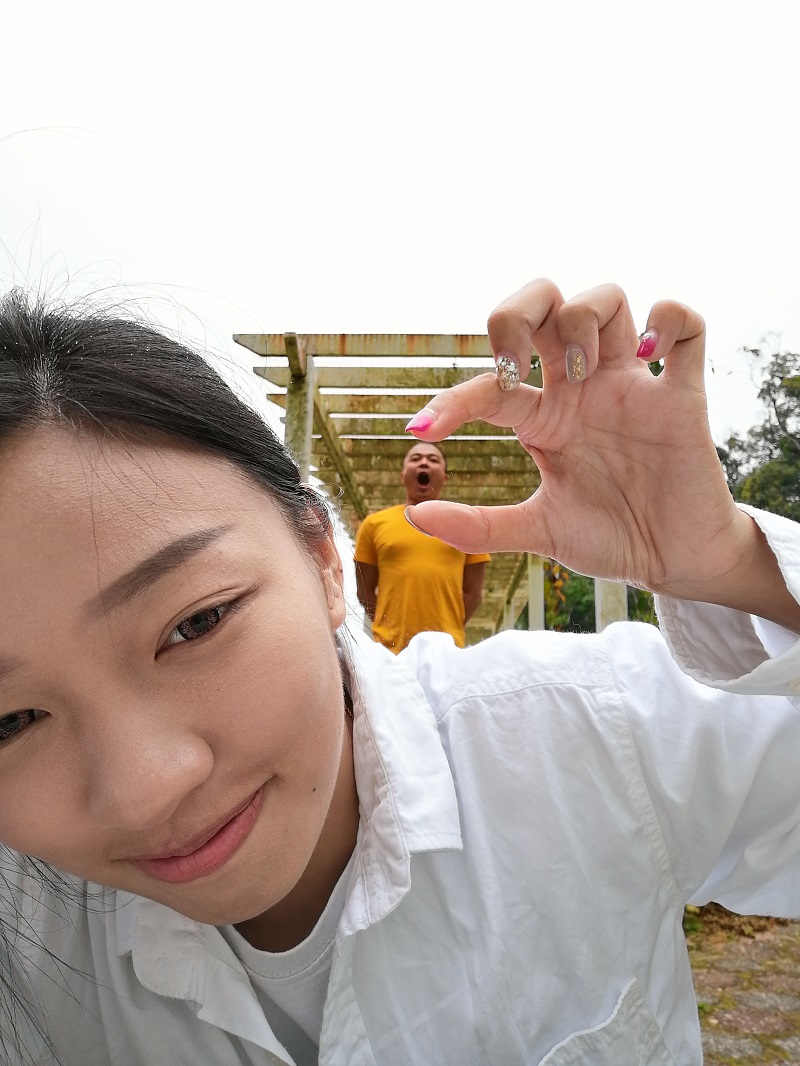 We tried doing this trendy shot at Sekinchan but failed to get a good photo. This is a better attempt.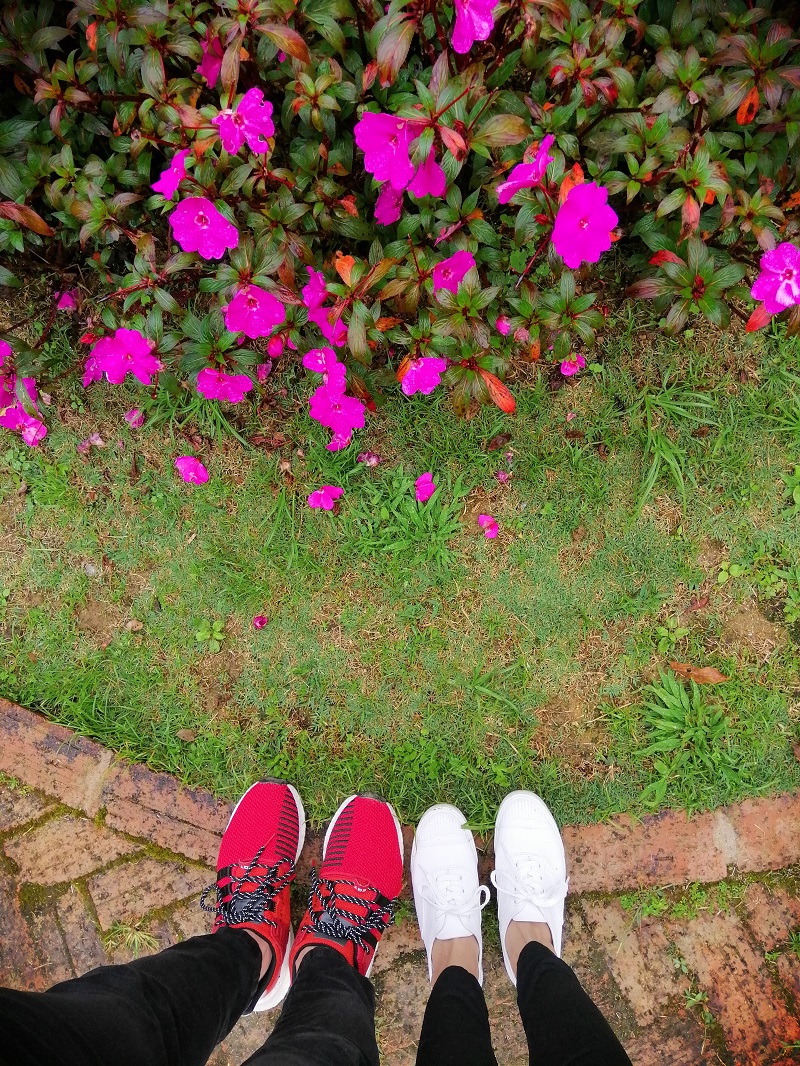 The flowers here are exceedingly beautiful – it must be the cool weather here. 🌸 The unforgiving sun down the hill tends to wilt flowers.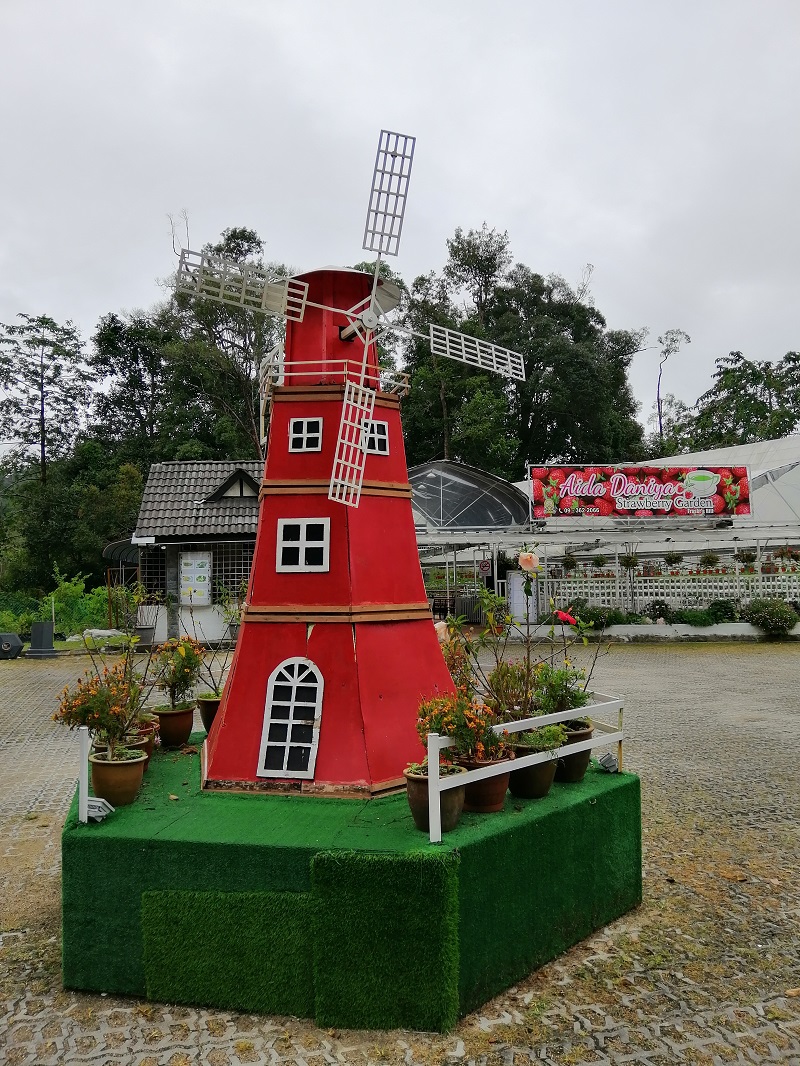 We headed over to Fraser's Hill Strawberry Garden (now renamed Aida Daniya Strawberry Garden) but it was unfortunately closed. Luckily the gate was partially open so we took the opportunity to do a little breaking and entering.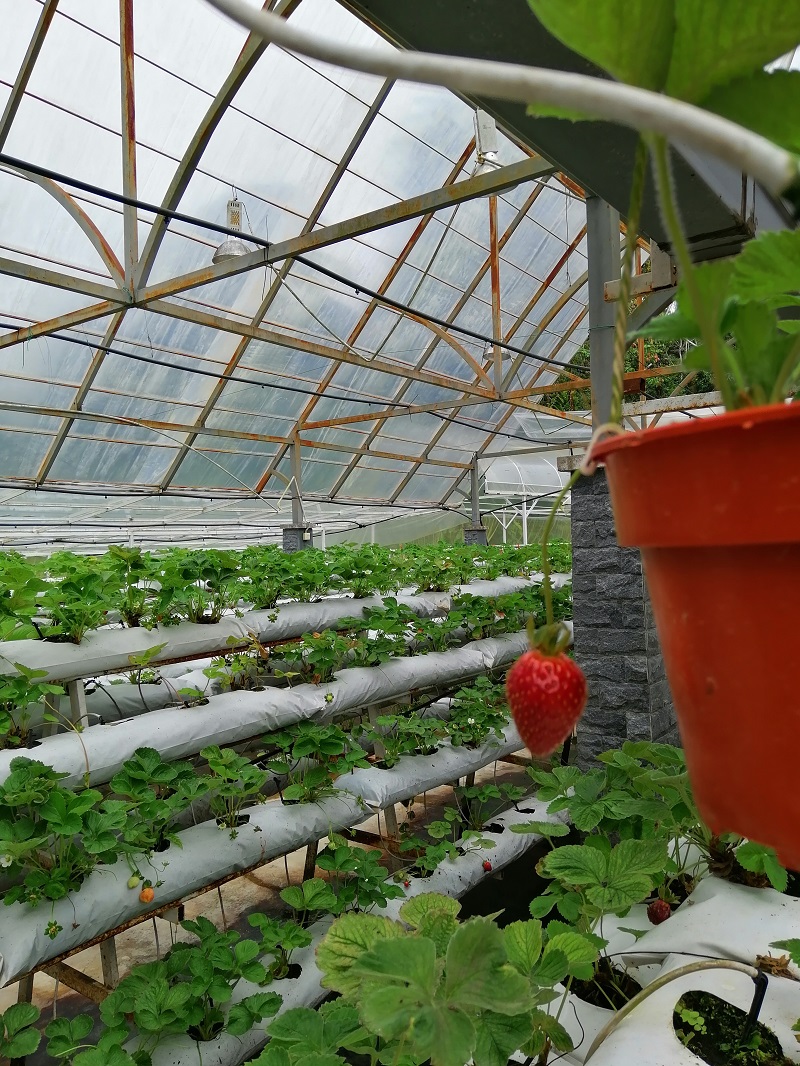 The F&B outlets were closed but the nursery was visible. One strawberry fell down from its vine so I thought it'll be permissible to consume the strawberry instead of allowing it to rot. I did feel mildly guilty about doing so but hey, it's not like I plucked the damn thing from its creeper. That would delve into morally questionable territory, perhaps even theft by consumption.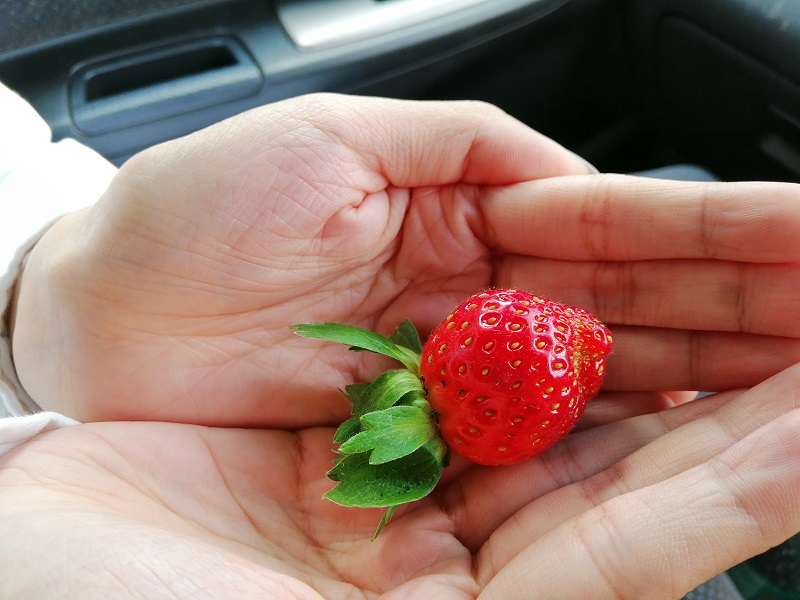 It's not very delicious but grown locally. 🍓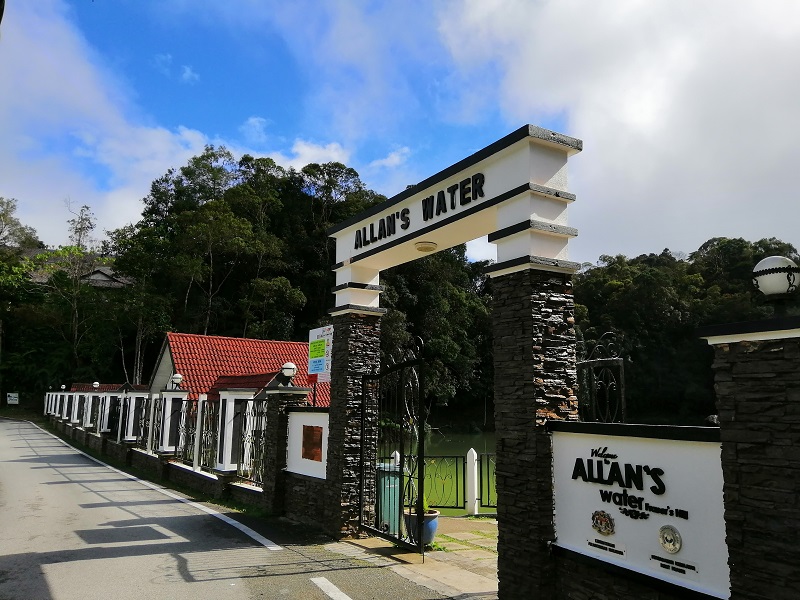 We also went to Allan's Water. This is a place run by Tourism Malaysia where you can feed fishes and rent paddle boats for RM 8/15 minutes.
We went on a working weekday so there was no one paddling, just a family feeding the fishes. 🐠
The river section you can use is quite large, but blocked at two ends with strategically placed logs and obstructions so you can't go too far.
It's far enough to give you a sense of space and privacy though.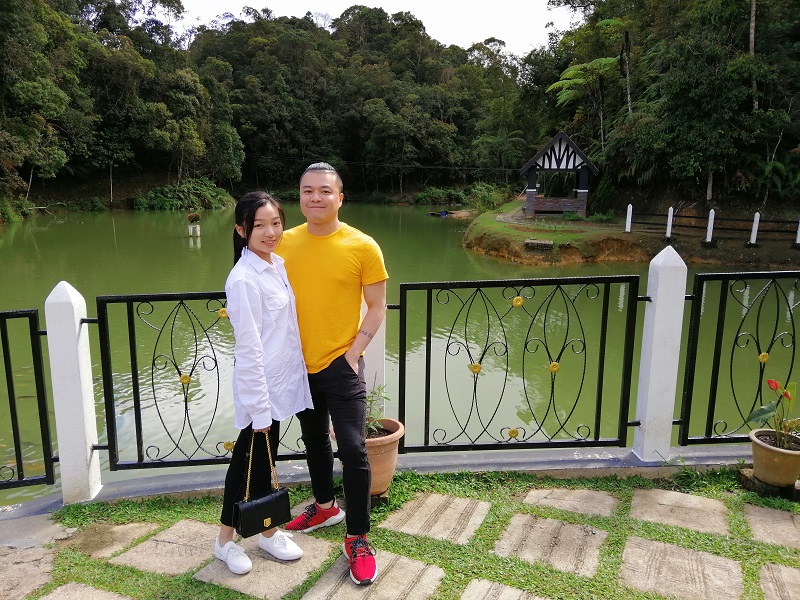 I found it very peaceful and the weather at Fraser's Hill is perfect for this type of activity. The temperature was in the high teens all morning so you don't sweat. There's also a cool breeze going on that makes you feel like you're in a different (colder) country.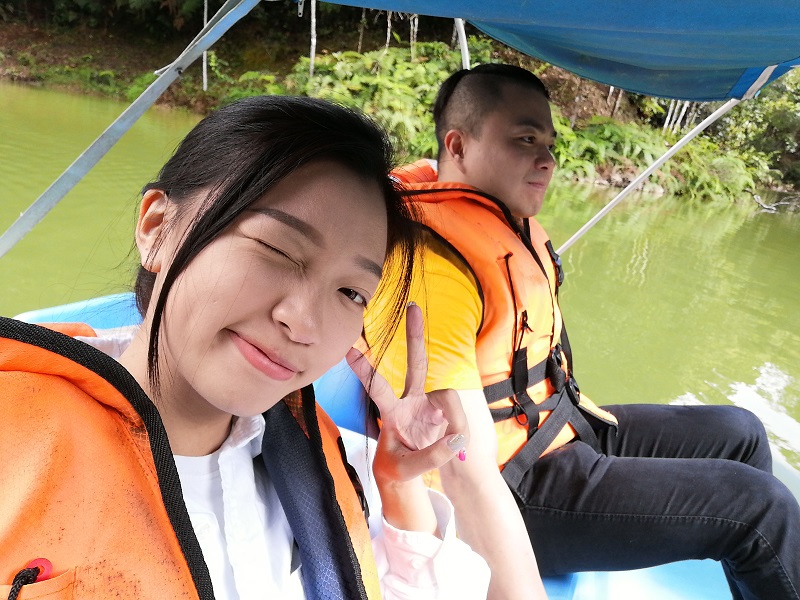 My only complaint was that the life vests provided smells really bad. They probably haven't been washed in years! It stinks to high heaven. Aside from that, paddling in the water under the mild sun and cool weather with my Mandy was perfect.
We decided to head down for our seafood dinner after so we drove to the Fraser's Hill Clock Tower for some final photos…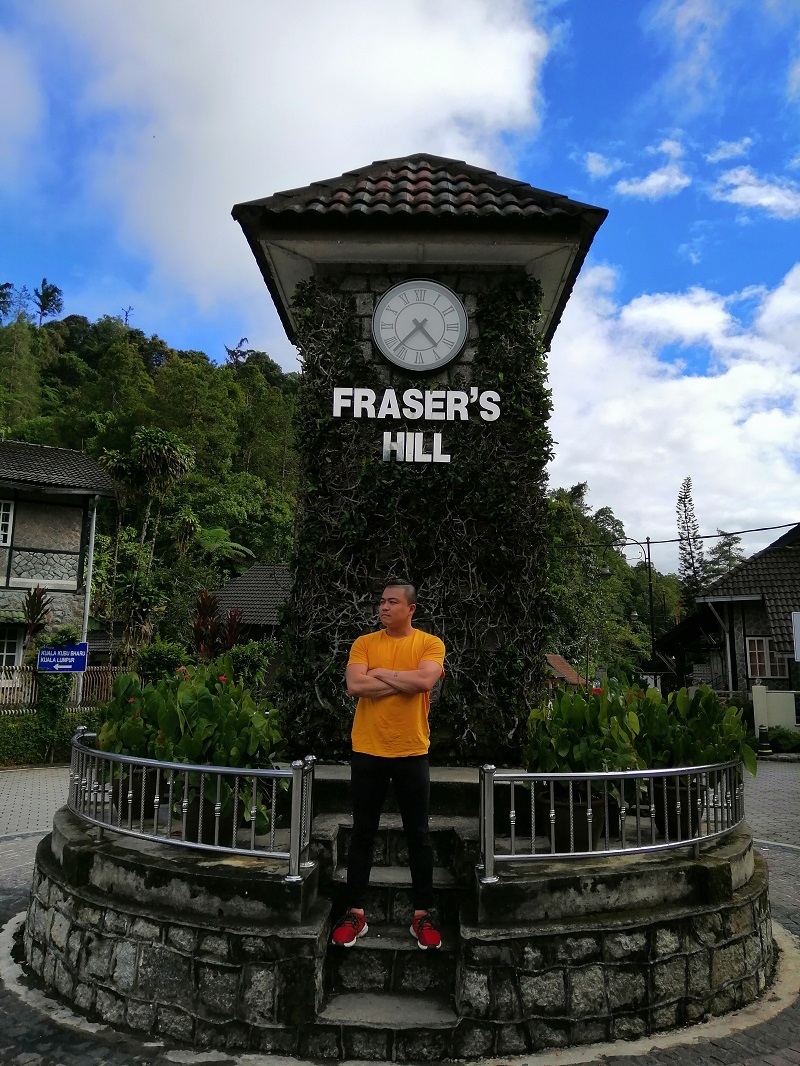 …before making the 1 hour journey to Kuala Kubu Bharu (KKB).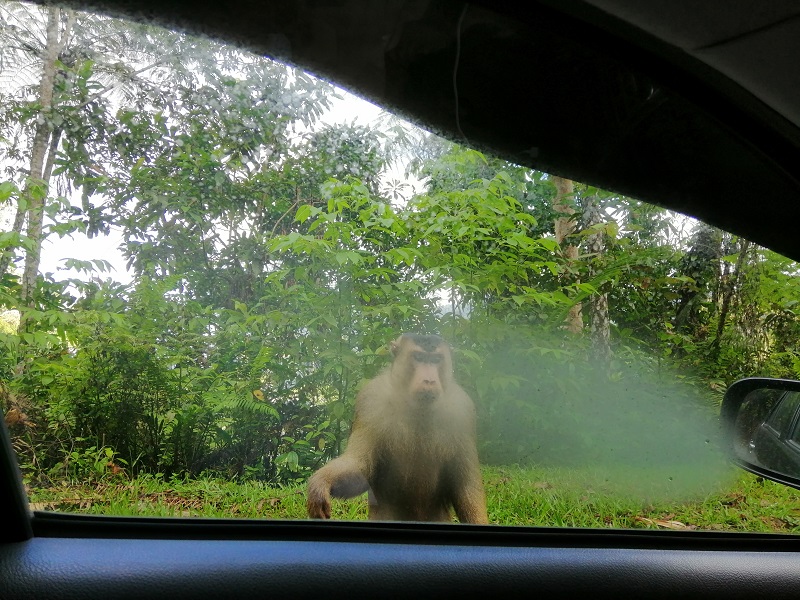 We saw a family of monkeys (baboons?) on the windy road down. There was a male who got quite inquisitive and kept trying to look into our stopped car. I think he might have stolen my girlfriend's handbag had she wound down the window. He looks like that type of monkey. 🐒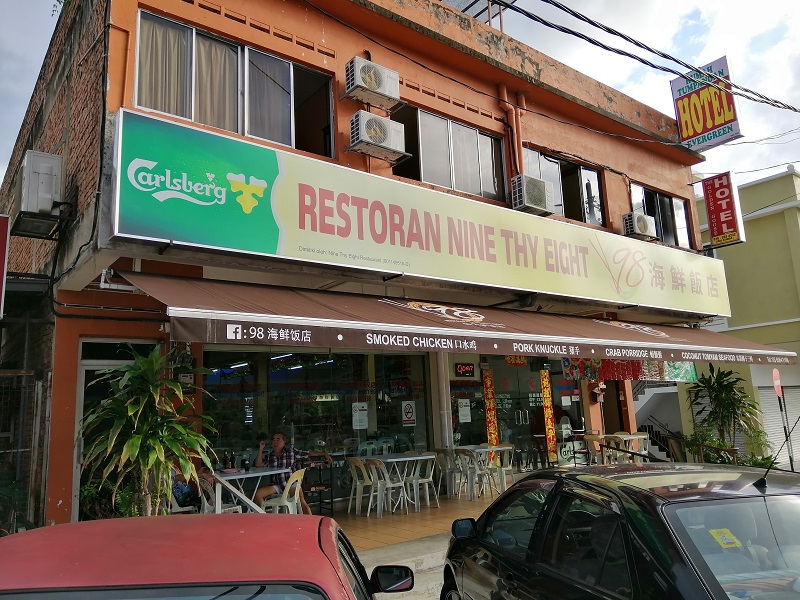 Our Valentine's Day dinner was at Restoran Nine Thy Eight at KKB. Mandy loves crabs and I like Chinese food so a Chinese seafood restaurant was the perfect place to go. This is a sleepy restaurant that serves primarily locals and the occasional out-of-state people heading to Genting or Fraser's Hill. The owner is very friendly and was happy to recommend several of their signature dishes.
This is Crab Porridge (RM 61.60) which is their flagship specialty. 🦀 It uses a whole crab cooked in very flavorsome porridge topped with some crunchy bits. We hesitated before ordering this coz Mandy likes other ways of cooking crab but she finally decided to give this one a try. It's what this restaurant is famous for after all.
Here's what it looks like after it's been mixed. I'm not a big fan of porridge. I usually find porridge too mild but Restoran Nine Thy Eight does an excellent version of crab porridge. The congee is so flavorful and thick! It's packed with savory and crab goodness. I finished the lion's share of this porridge despite not generally liking congee. Delicious!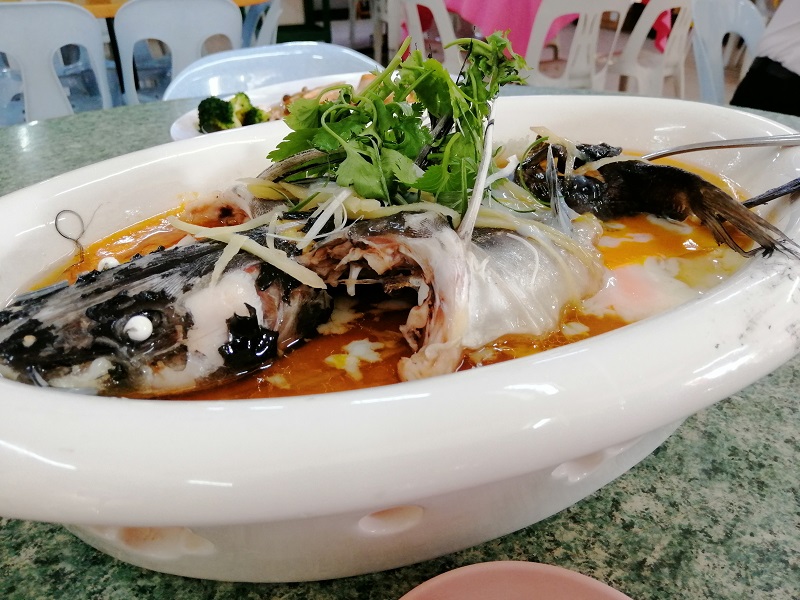 I also ordered another specialty of theirs – Catfish Steamed with Soy Sauce and Half Boiled Egg (RM 26). 🐟 How unique! I've never seen soft boiled egg paired with Chinese style steamed fish. It's really good! The creamy egg yolk adds richness and mouthfeel to the soft and tender catfish meat. I wish this place was nearer so I can eat this every day. That's the highest compliment I can give this dish. I want to smash 3 platters of this in a single sitting!
Tofu Cooked with Broccoli and Mushroom (RM 16). 🥦 We ordered this just to fulfil our vegetable quota. It tasted mediocre in comparison to the two other excellent dishes. It probably isn't bad by in another setting but we've just had two superlative dishes so this seemed to pale as a result.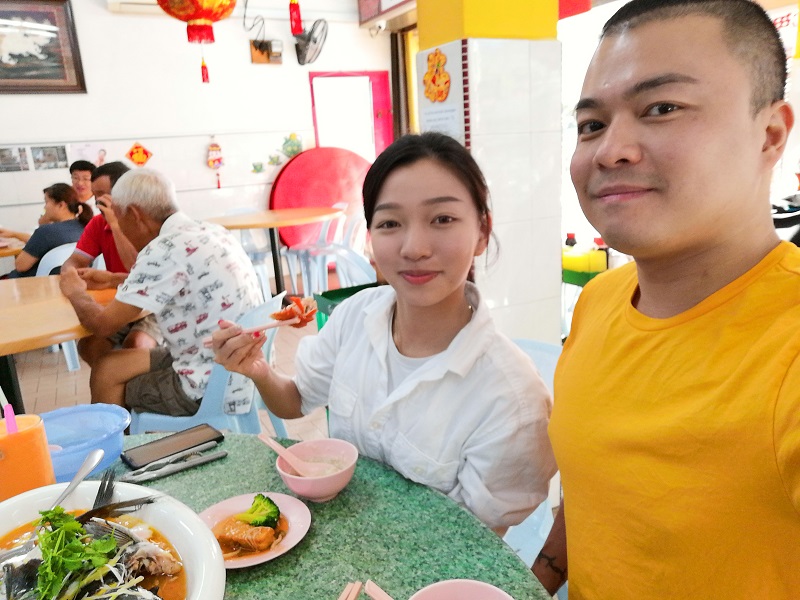 The bill came up to RM 120 for the food and drinks. I ordered a large beer and Mandy had carrot juice. Restoran Nine Thy Eight does their signature dishes very well. I highly recommend it and will be back if I pass by the area again. I'll like to try their other flagship dishes. The prices are very reasonable too.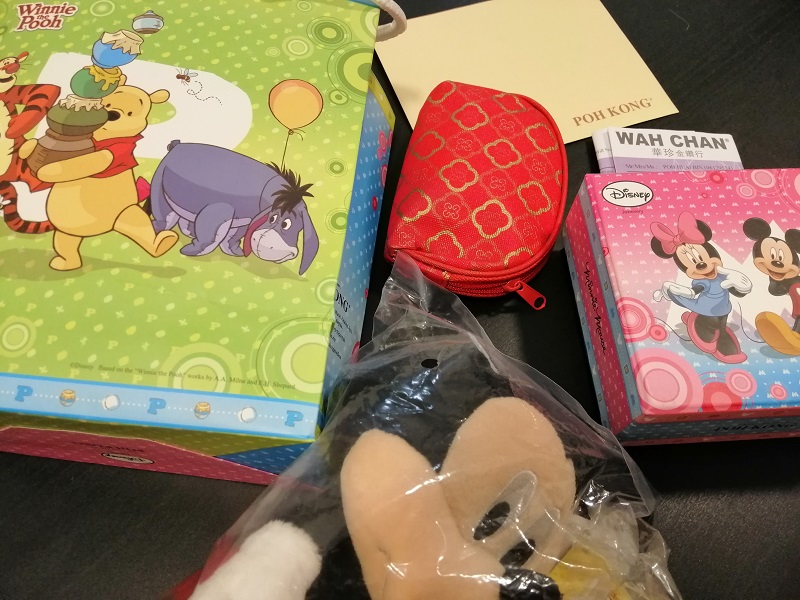 We got back home at around 10:30 pm and I presented my girlfriend her Valentine's Day gift. I noticed her looking at a Swarovski pendant last month and skilfully brought her to Sunway Pyramid to look at other jewellery to see what kind she likes. It wasn't very subtle but I got to know her tastes and preferences.
I bought her this gold necklace to go with…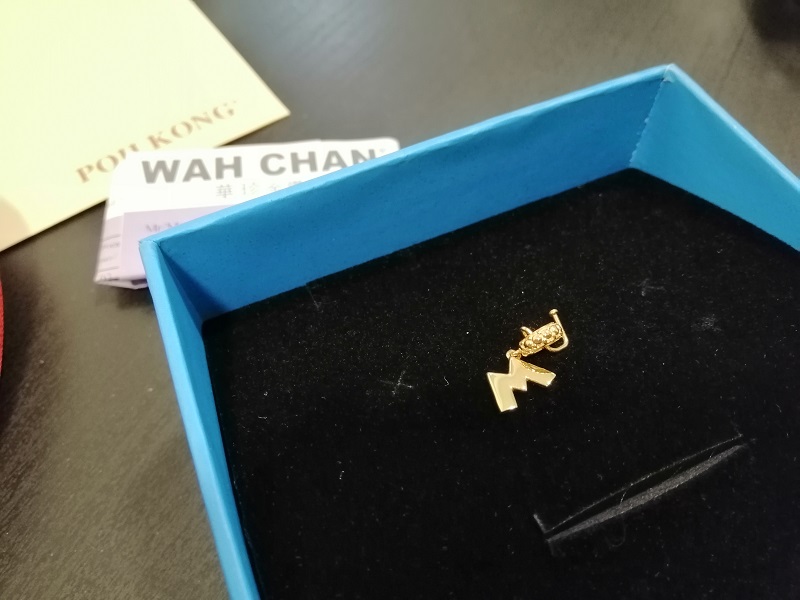 …a golden M from Wah Chan's official Disney Mickey Mouse collection.
This is what the pendant and chain looks like combined. It cost around 1.2k for everything. The M was supposed to stand for Mickey but here it stands for Mandy. It's a coincidence they both have the same initial.
Happy Valentine's Day Mandy! I love you. 💕