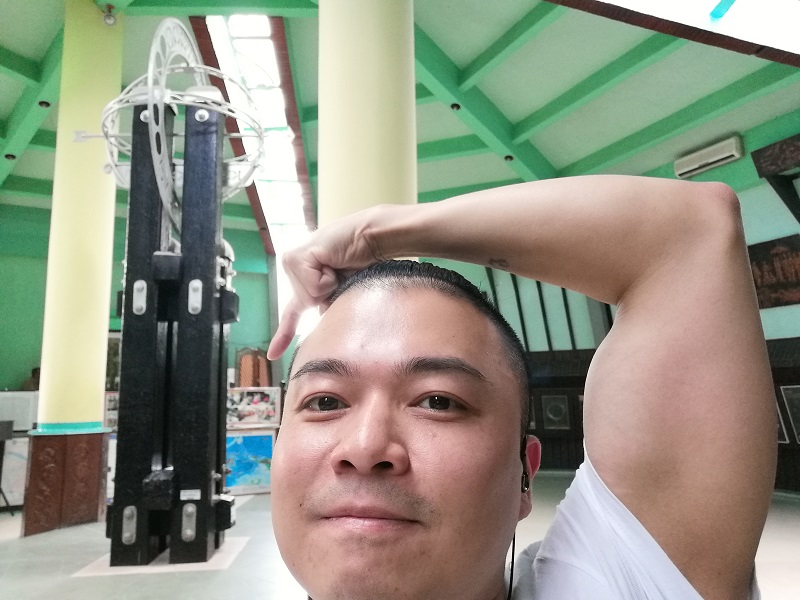 I was really hungry upon touching down in Pontianak. My flight from Kuching was delayed for more than an hour! I had a list of everything I wanted to eat during my short 3D/2N stay in this remote part of Indonesia and I wanted to make sure I hit every single one. I did, and more! Here's a list of the things I ate, drank and saw during my time in Kalimantan – in chronological order:
1. Nasi Ayam Asan 333
I wanted to try Nasi Ayam Afu but they were closed for renovations. Nasi Ayam Asan 333 Pontianak was my second choice – they're just a 6-minute walk away.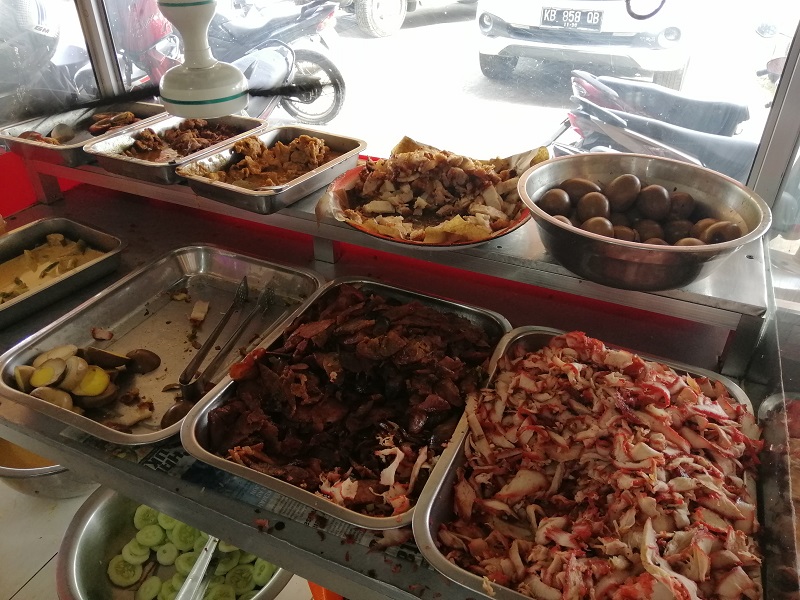 The owner here is Indonesian Chinese and she told me they have an air-conditioned outlet just beside, which might me more comfortable. She pegged me as a non-local instantly.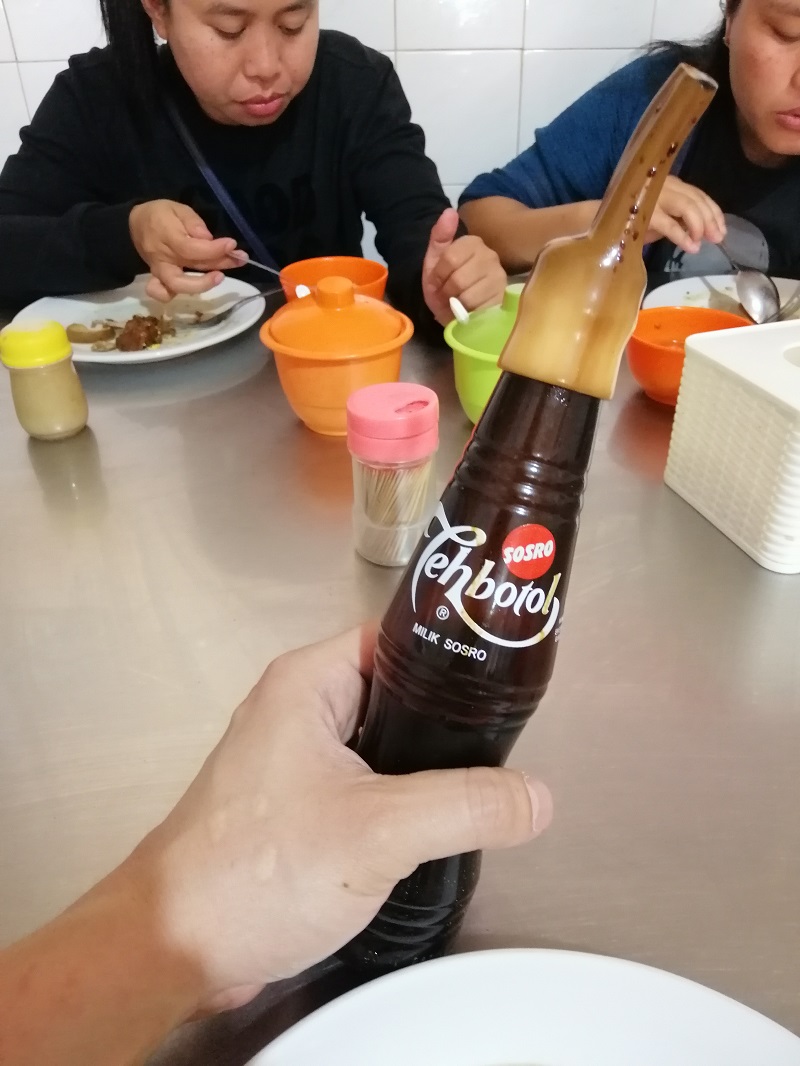 I chose to sit here though coz I thought I'll be really fast. The seating is via long rows of shared cafeteria-type tables.
This is what "nasi ayam" in Pontianak looks like. It's a selection of many different meats – Indonesian Chinese style char siu, siu yoke, pork sausage, and chopped up roast chicken. Everything looks familiar, yet slightly off, like a strange alternate universe. The sauce is THICK and flavorful and there's bits of pickled vegetable to cut the strong flavors. I really like it! It's different from local Chinese chicken rice in Malaysia. It's 33,000 IDR (RM 9.50) for this plate.
2. Aming Coffee
This is a sprawling coffee shop with two outlets located opposite each other. Locals come here to smoke, play games, hang out and drink coffee.
Just look at how packed it is!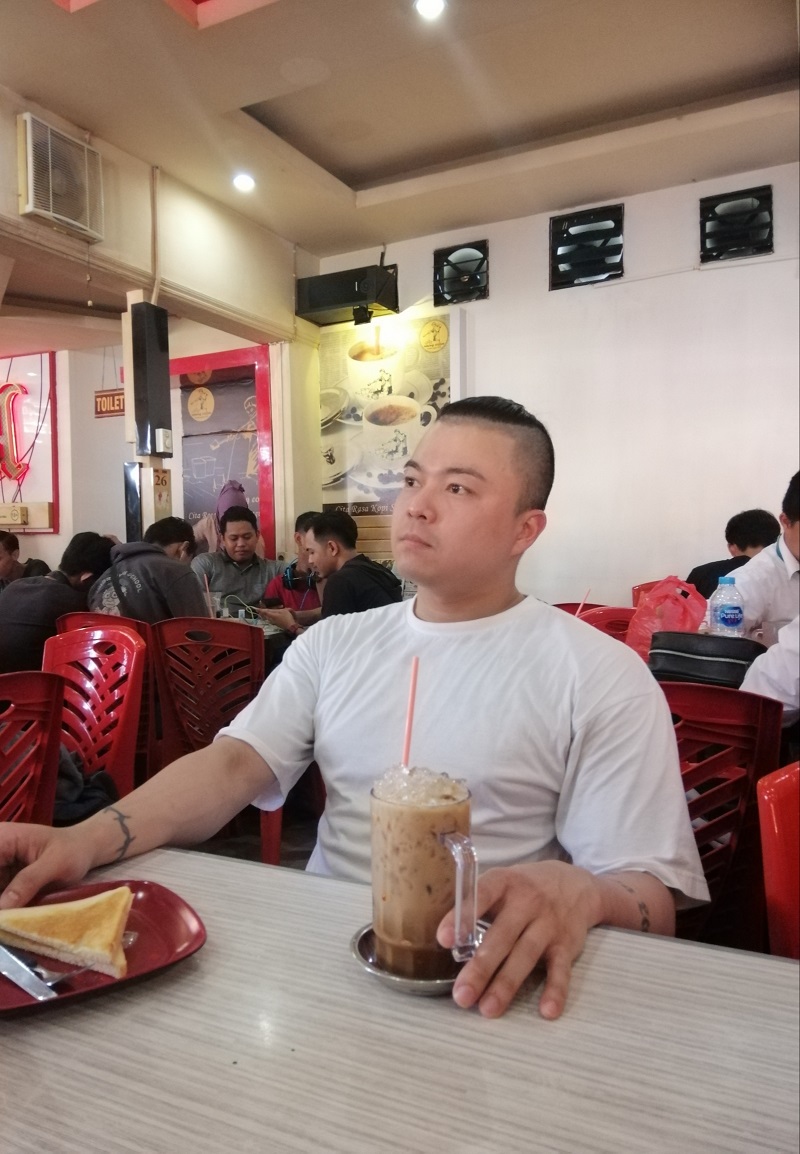 Pontianak is majority Muslim so alcohol isn't a common form of socializing. Instead, they drink coffee – even late at night!
It's so busy here even during a weekday off-peak afternoon. Every single table was occupied and I had to share one with a local Muslim girl. She turned out to be a university student and was on her laptop doing some slides.
I ordered an iced coffee and a Milo toast (basically Milo powder and condensed milk inside one slice of toasted bread folded together). 16,000 IDR or RM 4.70.
3. Chai Kue Panas Siam Ahin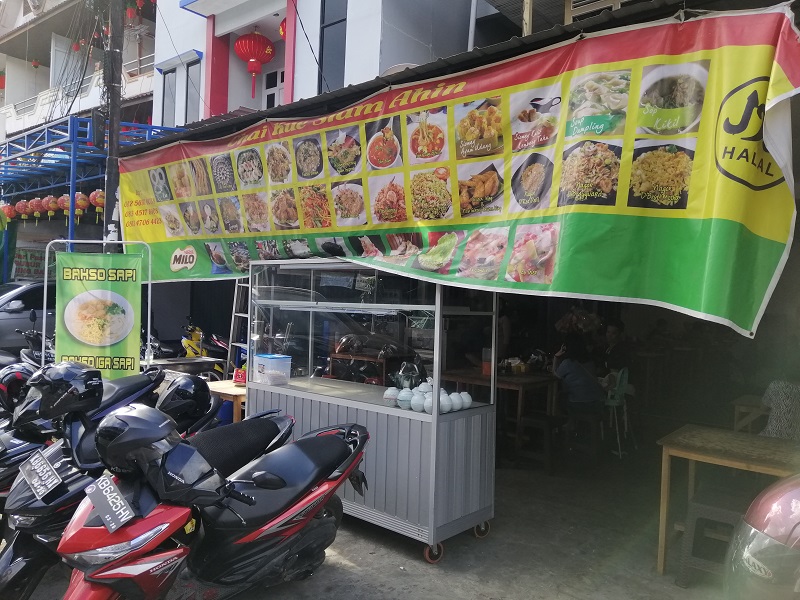 This is a shack located around the corner from Aming Coffee. Most places in Pontianak town are within walking distance of each other, if you don't mind walking up to 10 minutes under the hot sun. Gojek is available for little more than ringgits for a short ride, which I took advantage of more than a few times.
This is the Indonesian take on chai kueh – a vegetable stuffed kueh. The Pontianak version is very, very oily though – they literally brush each kueh and the banana leaf it is steamed on with cooking oil! Minimum order is 5 pieces and I struggled to finish it due to the oiliness. I like how they're steamed to order though. 7,500 IDR (RM 2.20).
4. Pondok Kakap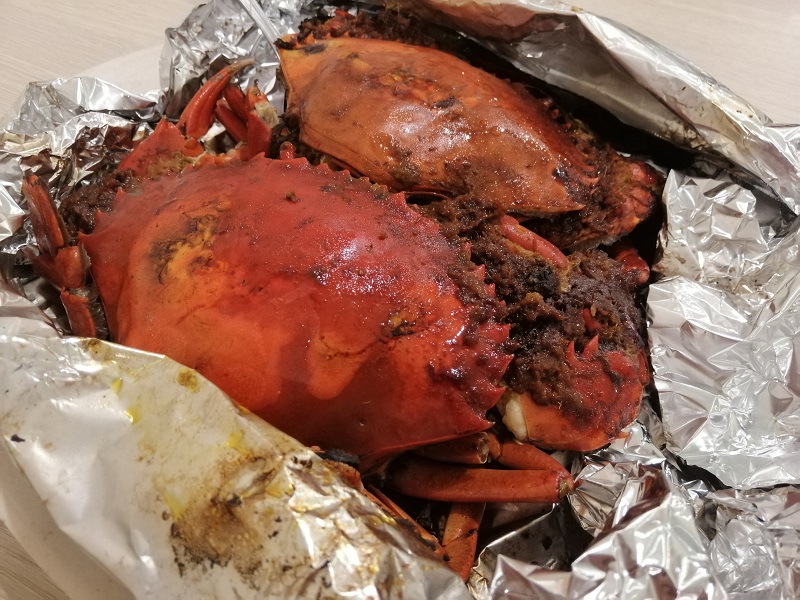 The best smoked crab ever! This is the first time I've had smoked crab and the intense smoky rendang flavors are awesome! It's so delicious, I felt it deserved its own blog post. Read my review of Pondok Kakap in Pontianak here. It's a bit expensive compared to the others but definitely worth the price.
5. Thien Mie Mie durian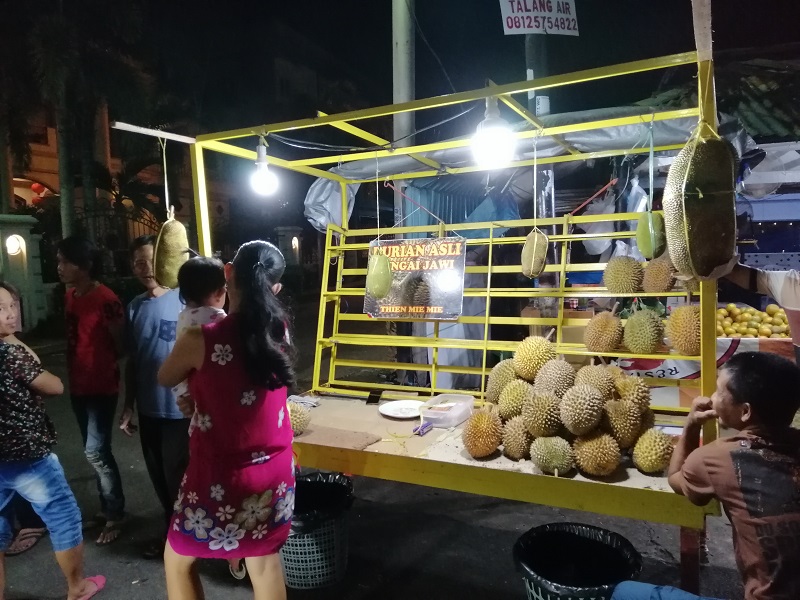 This is a durian hailing from Sungai Jawi. I gather it's a popular breed here. I paid 60,000 IDR (RM 18) for a small durian with only 5 seeds.
This is likely coz I found the durian stall outside Pondok Kakap – a high end seafood restaurant, among the best in Pontianak. I later saw durians of the same breed being sold for 5,000-15,000 IDR (RM 1.50 – RM 4.50) elsewhere.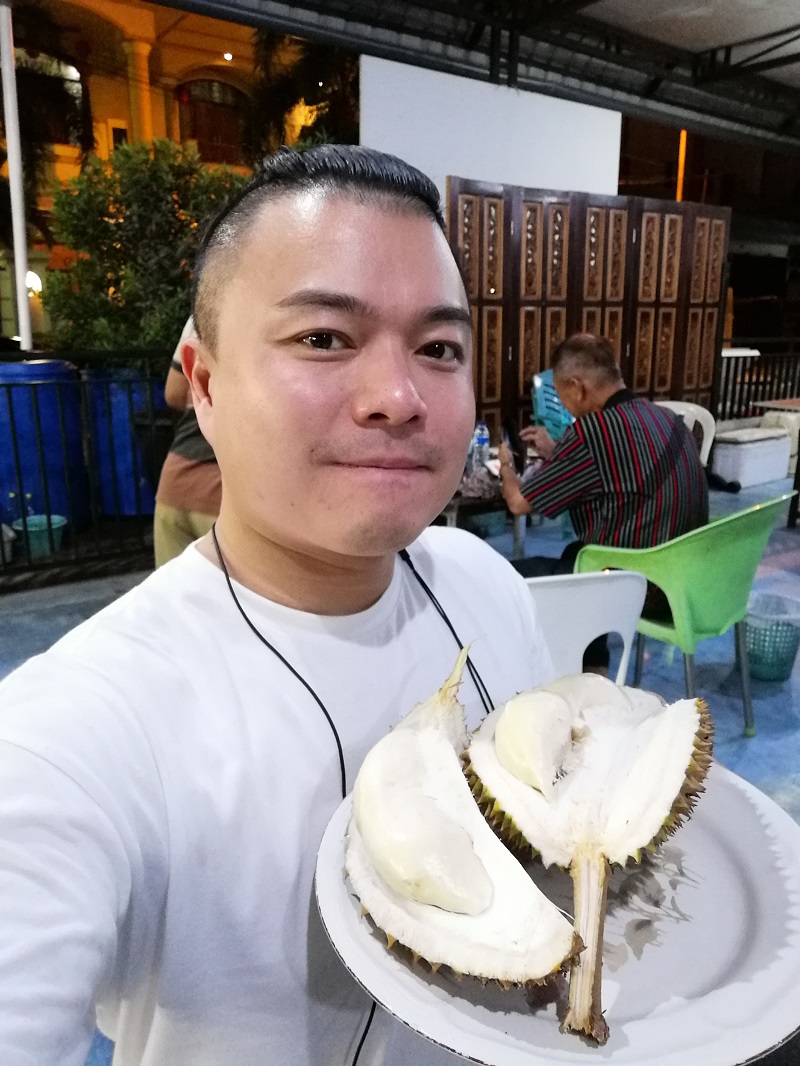 Taste wise it was decent, although a little less ripe that most Malaysians would prefer.
6. Tugu Khatulistiwa (Equator Monument)
This was the only touristy thing I did in Pontianak. I heard Pontianak is the only city in the world to sit along the equator line so I thought I'll go visit the Equator Monument. This monument slash park is located 30 minutes from town – a 64,000 IDR (RM 19) Gojek ride away.
It's supposed to be a place of interest but the park is so run down and ill-maintained that I do not think a visit is warranted. It looks like a forgotten and deserted government-run attraction that time forgot. There's a sleepy security guard but all the F&B stalls and kiosks were closed, probably due to lack of business.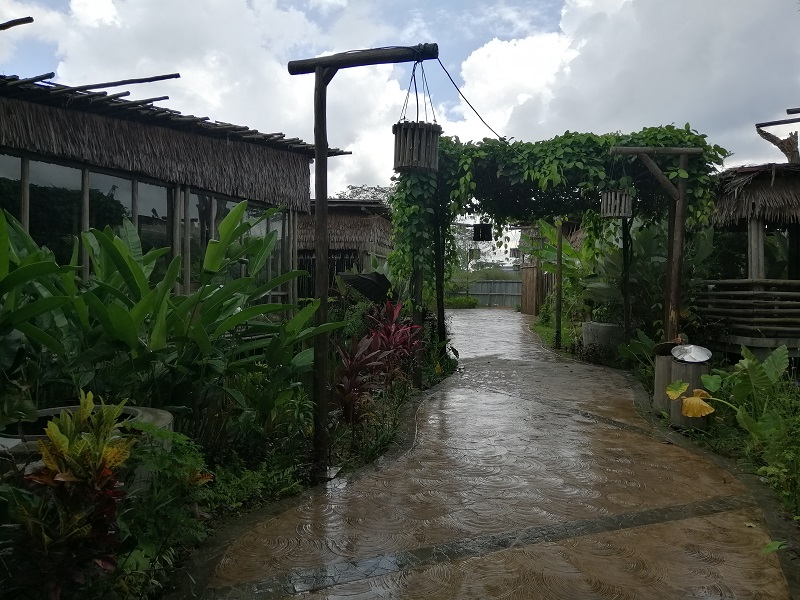 There's no entry fee but there's nothing much to see here either. I found 2 other souls there – a couple from Surabaya. Including the security guard and the old makcik running the dusty and sad souvenir shop, only 5 people were present at the park.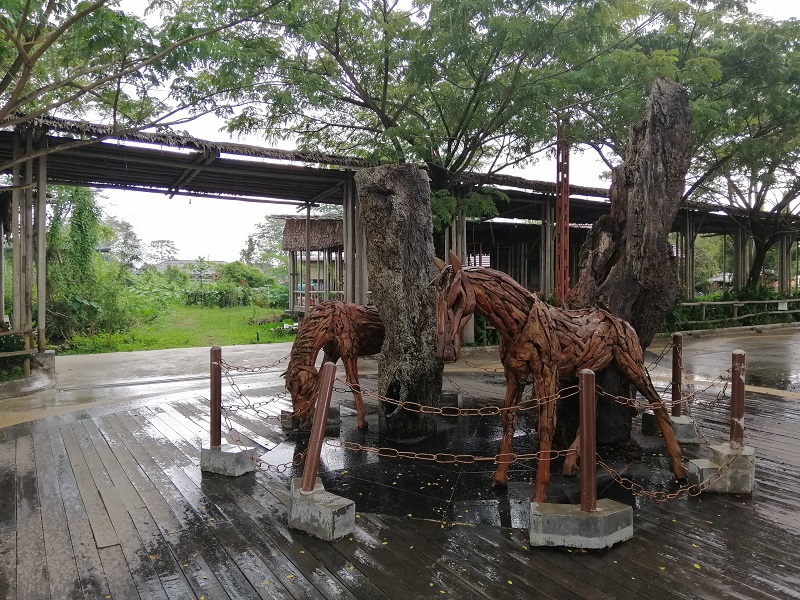 It was disappointing. There's not much to see or do, and I would recommend you skip this place unless you really want a photo with the equator monument.
Part II of my Pontianak trip coming soon!