Saturday is our date night and I listed 3 options for Mandy to choose from – Carpenter's Daughter, Big Hug Burger and Outdark Malaysia. They're all around the SS15 area coz she wanted to check out Xing Fu Tang. That's the latest bubble tea shop from Taiwan to open in Malaysia and the queues are insane. We actually went there first but had to wait till 7:30 pm for their drink allocation to open up so we headed to Outdark.
Outdark Malaysia is a Korean franchise that came from Busan. I went to Busan a few years ago for a work trip – it's a nice place but I prefer Japan to Korea. They had a glass wall where you can write on with felt tip markers and Mandy drew both our names there.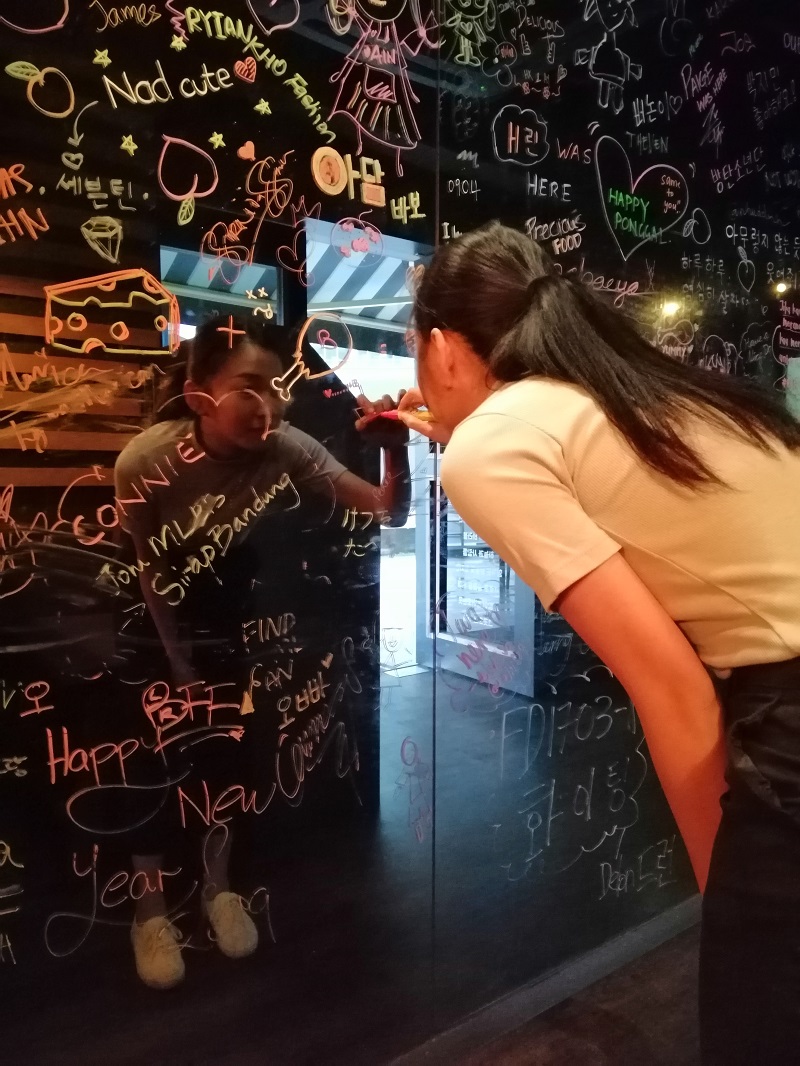 I like the ambience of the restaurant – the warm lights provide a nice vibe. However, the tables can be a bit sticky despite the guy wiping it twice, the second time quite carefully. It may be the type of lacquer which makes it prone to retaining the stickiness from food instead of wiping clean.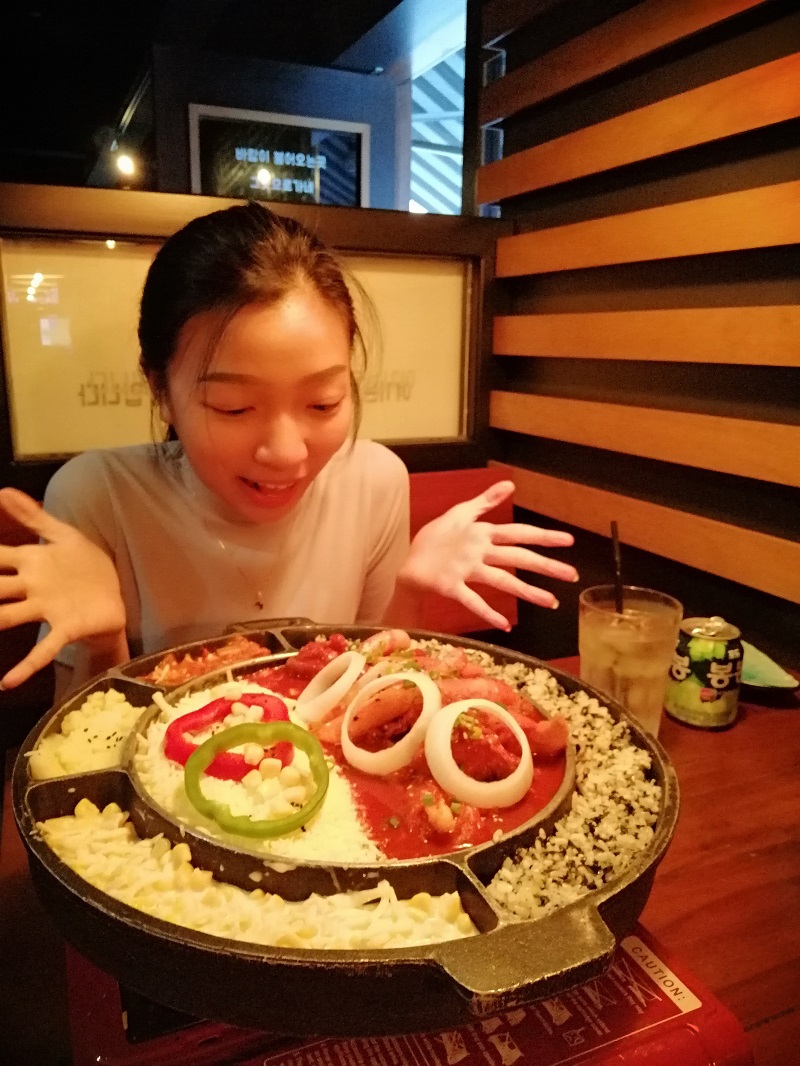 We ordered the The Ultimate Cheese Kingdom (RM 88). This is their flagship dish of Korean fried chicken, tteokbokki and gooey cheese. There are sides of kimchi, short grained rice with seaweed, sweet corn with more cheese and mashed potatoes.
The server waits for the cheese to melt then wraps each fried chicken in a cocoon of cheese. It tastes pretty good. The fried chicken is covered in a sweet tomato and gochujang sauce which can be very cloying in large amounts but the savoury cheese cuts through the sweetness well. We both enjoyed it.
The bill came up to RM 104.50 including drinks which is decent for a weekend dinner. They serve reasonably priced soju compared to grocery stores too.
We left promptly at 7:30 pm and joined the long queue in front of Xing Fu Tang. There was a girl giving out tickets. Each slot (about 2.5 hours between slots) only has a maximum of 100 cups of their signature Stir-fried Brown Sugar Pearl Milk and 25 cups of their Strawberry Pearl Milk tea. I hear these tickets are fully taken up within 10 minutes! Each person can only have 2.
I wouldn't doubt it. We got 84/100 for the brown sugar boba and 10/25 for the strawberry boba and we were there at 7:30 pm when the slot opened! Part of the problem is the newness – it's only been open 4 days so people want to see what they're about.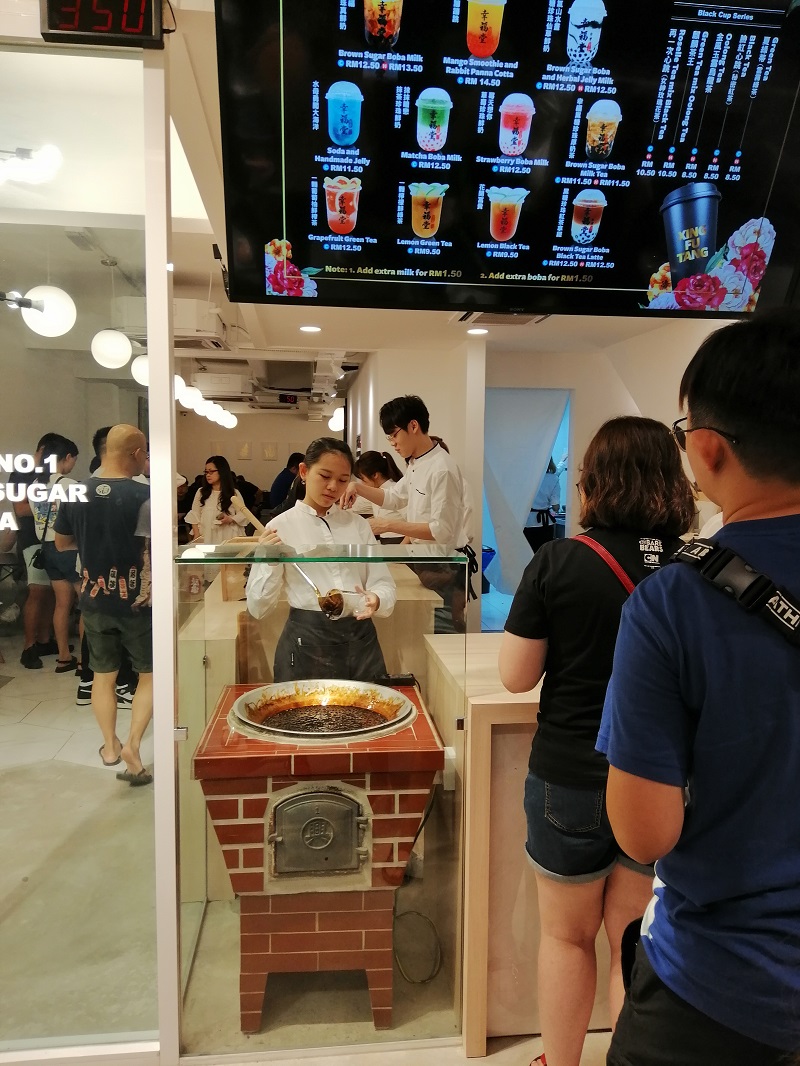 It took us 45 minutes before we got to the front. There's a staff stir-frying the brown sugar pearls in a huge wok. This is then poured into a cup, making sure to get the liquid on every side, to produce their signature look. It costs RM 25 for two bobas which is on par with other imported Taiwanese brands. They also use a better barista fresh milk to make their drinks.
One quirky thing about Xing Fu Tang is they let each person who buys a drink have a go at their lucky draw. You pick a random stick from a huge basin and the number is matched to one of the drawers. This is similar to the Buddhist fortune telling sticks. You basically get your fortune told, with a grand prize of a free boba drink.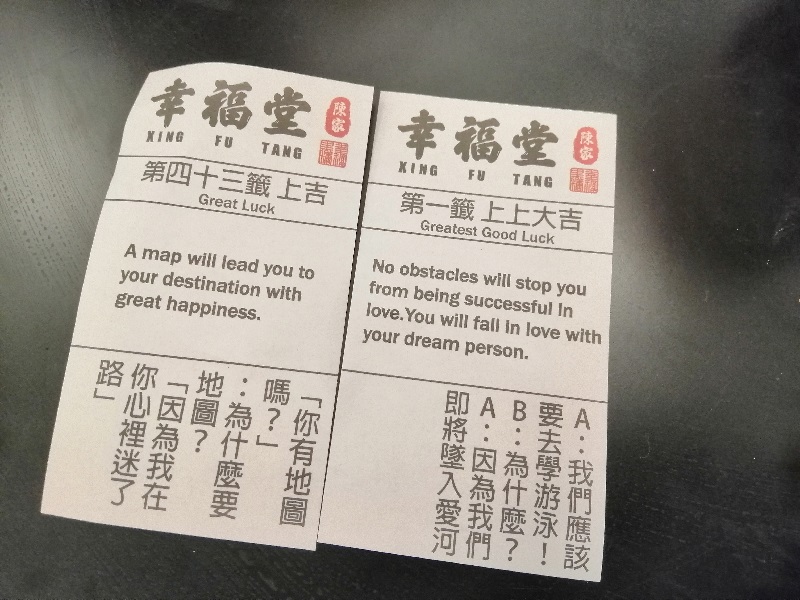 Mandy got Great Luck while I got Greatest Good Luck. We both wondered if they have a Bad Luck drawer. Probably not.
Xing Fu Tang's flagship Stir-fried Brown Sugar Pearl Milk was disappointing though. It tasted tepid and dilute. It's still better than the commercialized Chatime/Tealive but nowhere close to The Alley's standard. It's milky, but not very tea-like. Mandy gave it 7/10 compared to The Alley's 9/10. The Strawberry Pearl Milk Tea was better – acidic and refreshing, yet sweet. I quite enjoyed it!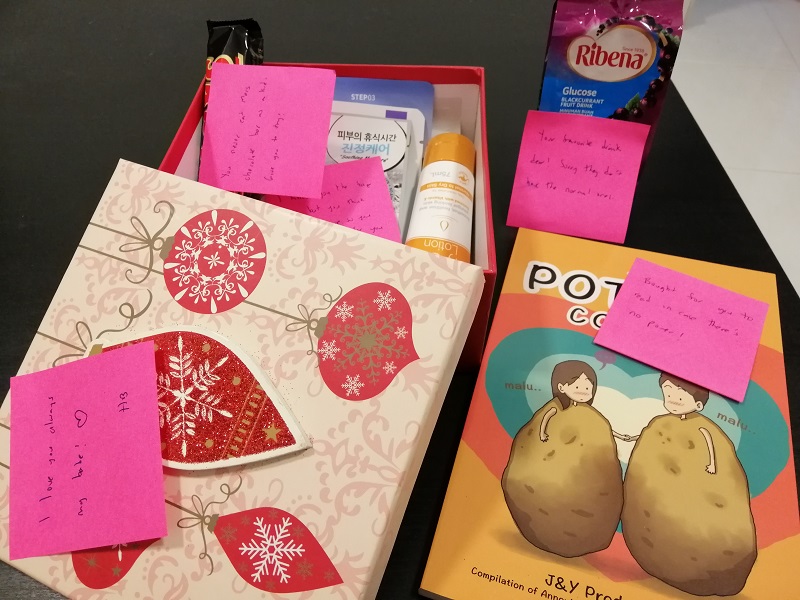 I made a care package for Mandy and surprised her by putting it on our living room coffee table with no comment for her to find. I filled it with Korean and Japanese face masks, a chocolate bar, a packet of Ribena, a lotion and a comic book. I noticed she really enjoys masks but finds them expensive on her salary so I thought I'll get them for her. She uses them so frugally that I felt sorry for her. Haha.
Sunday night was my experiment with homemade Sarawak laksa. I bought the paste during my trip to Kuching over CNY. Mandy's mom provided me with some mystery seeds which she says tastes good in laksa so I thought I'll make some. I made a deluxe version with chicken leg, lots of prawns, sambal, lime, coriander and shredded omelette. You can barely see the rice vermicelli! It's decent but missing something. I'll cook the paste with prawn heads and shells next time. We're off to Sibu next weekend for Ching Ming! I also have a work trip to Penang this Friday and another one to Ipoh when we come back from Sibu so it's a busy week ahead.