I went to check out Nuromen Cafe with my housemate Mandy last night. I saw a video on Facebook and told her about it. To my surprise, she said she's been there many times! I was puzzled coz she just arrived in KL 3 weeks ago and I've been out with her almost every time. I know I haven't been here. It turns out that Nuromen Café in Uptown PJ is the official branch of Nuromen in Kuching. It serves Sarawak style beef noodles and Mandy's a regular at the Kuching outlet.
As an illustration of how small the Sarawakian community is, a friend tagged the artist who drew this mural (also from Kuching) when I posted it on Facebook yesterday. Both Mandy and I are from Sarawak too. I guess Sarawakians just have an incestuous tendency to stick together.
I miss Kuching style beef noodles. I believe Open Air Central Market in Kuching serves one of the more definitive versions. That was my first experience back when I was living in Kuching as a kid. My sister was actually born in Kuching and our family lived there for the first 7 years of my life. I was born in Sibu due to an accident – my mom went into labor when they came to Sibu for Ching Ming. That's also why my birthday is in Ching Ming. Haha.
Nuromen Café also serves a few Sarawak classic drinks like Teh C Special (RM 4.50) and Teh C Pandan Special (RM 4.50). This drink was created by a coffee shop in 7th Mile, Kuching. We got both to try. It was diluted, not the best representation of Teh C Special.
The interesting thing about Nuromen is the way they do hot pot style beef noodles. You're given a simmering bowl of beef soup a la hot pot and you cook your own beef slices inside. It's a cross between hot pot and beef noodles. Mandy told me she usually orders this to eat with rice. You can also pair it with noodles.
We ordered their signature Premium Sirloin Beef Platter Special (RM 42) – it's a set for 2 pax with 160 gram premium sirloin beef slices, stewed beef, assorted vegetables and beef stock. Nuromen claims all their beef is sourced from Australia and NZ. It's not local beef or Indian buffalo. This set comes with the more premium marbled sirloin cut. The beef slices are ultra thin so it cooks in just a few seconds.
There's a separate bowl of cooked stewed beef. We didn't quite like this. I think my buffalo stew is way better.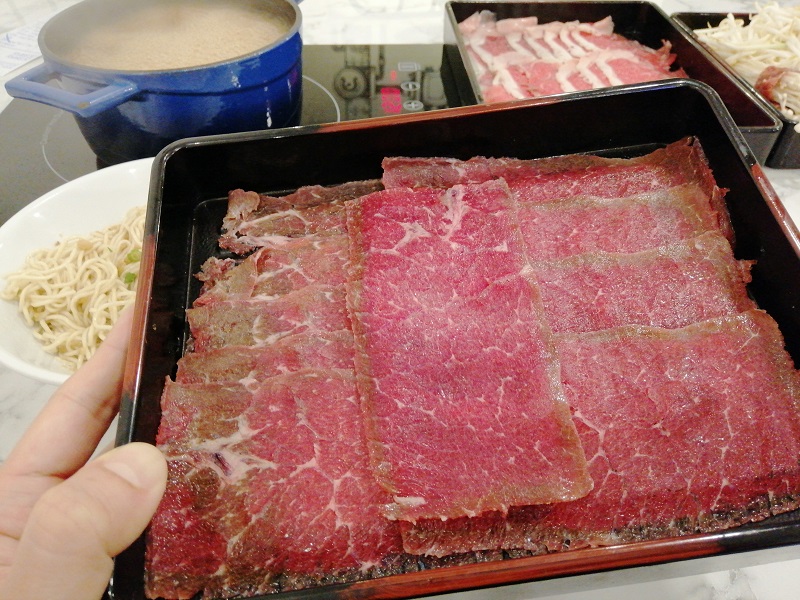 I also made a separate a la carte order for 100 grams beef slices (RM 11.50). This is a leaner cut of beef. I wanted to see the difference between the sirloin and regular beef. We preferred the sirloin.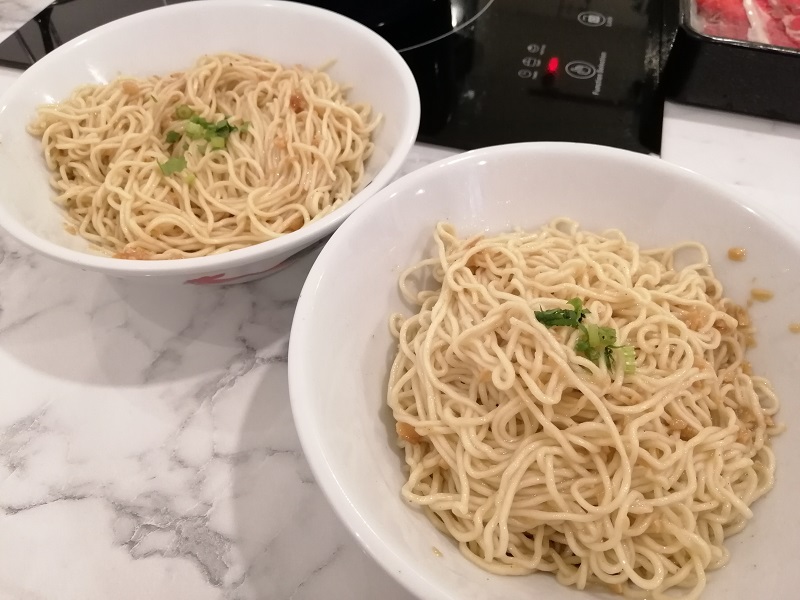 Of course, it's not beef noodles unless you have noodles. You can order their garlic tossed kolo noodles for RM 3. This is the classic beef noodle pairing. I love the strong scent of garlic and the familiar smells and aromas. This is my kind of comfort food. The noodles are the proper kind we use in Sarawak too.
The staff gave us free ice cream when they saw we're finished with our meal. This happens in Kuching too according to Mandy. It's a nice touch.
The food at Nuromen Cafe is pretty good – some misses on the drinks and stewed beef but their signature noodles and beef slices are legit. The bill came up to RM 68.50 for two with drinks. It's an authentic Sarawakian taste that we've both missed. We'll be back for sure.