I hardly ever go to Desa Sri Hartamas nowadays coz it's so far from my house. I like the place though – it's a small community of Korean 🇰🇷 and Japanese 🇯🇵 expats and the F&B options there reflects this unique demographic. Our dinner plans for date night was to start out at The Café Chicken for Korean Fried Chicken. This was previously named WOW Chicken.
I was misled by Google into thinking The Café Chicken was still open. Upon venturing up to the dingy first floor, I popped my head into a dodgy bistro and asked where it was. One of the staff inside told me it's permanently closed. 🔒 We walked around the area and Mandy suggested Burnin' Pit. Burnin' Pit serves Texas style BBQ – a variety of meats grilled low and slow.
The space that holds Burnin' Pit is open and inviting, with lots of incandescent lights. The place is mostly staffed by Filipinos, although I believe they're pork free. They serve alcohol though so they wouldn't be eligible for a halal certificate. I indulged in a Carlsberg draft – only RM 8.54 during happy hour! 🍺
Mandy ordered pulled lamb (RM 22/100 g – 200 grams minimum order) 🐑 and I went for their beef brisket (RM 22/100 g – 200 grams minimum order) 🐄. We also got one side each – Mac and Cheese (RM 7.50) 🧀 and Mashed Potatoes with Beef Bacon (RM 7.50) 🥔. The beef brisket was nice and smoky and we also enjoyed the pulled lamb. The sides were a bit meh but edible. They also gave us 2 complimentary buttery dinner rolls (good).
Overall Burnin' Pit's meat products were good. I wanted to try their percik chicken but we were too stuffed from our order. Everything was so rich and heavy – even the sides were laden with cream and cheese so you can't eat a lot without feeling jelak. Service was prompt and attentive. 💁 The prices were a little on the high side– our bill came up to RM 129.40 – but reasonable for the area and food.
This is a nice place to satisfy your meat cravings. 🍖
After dinner, we headed over to The Ice Cream Bar for dessert. This is run by Inside Scoop but under a different brand so they can do non-halal flavors. They did a partnership with Singleton (the single malt whisky) to produce a range of Singleton Select flavors. 🥃 They have a lot of alcoholic ice creams on offer, and they taste really good too!
One problem with alcohol ice cream flavors is that they're sometimes done purely for the novelty factor. I've had beer and Red Bull vodka ice cream in Tongue Fun, Bangkok – all very dismal. The ones at The Ice Cream Bar is excellent though. We had Guinness Chocolate Brownie and Bacardi Chocolate Crunch in their homemade cone. They also had White Rabbit ice cream, which we tried but didn't order. 🐇
Since we're in Desa Sri Hartamas, I thought a visit to a Korean grocery shop was in order. We walked around and Mandy bought a melon milk drink priced at a staggering RM 10 for a small bottle. 🍈 I found the new Jjolbokki Buldak Bokkeum Myeon by Samyang at a more reasonable RM 22.40 for a pack of 4. I also picked up a really cheap box of Korean jjajang mixture for RM 7.50.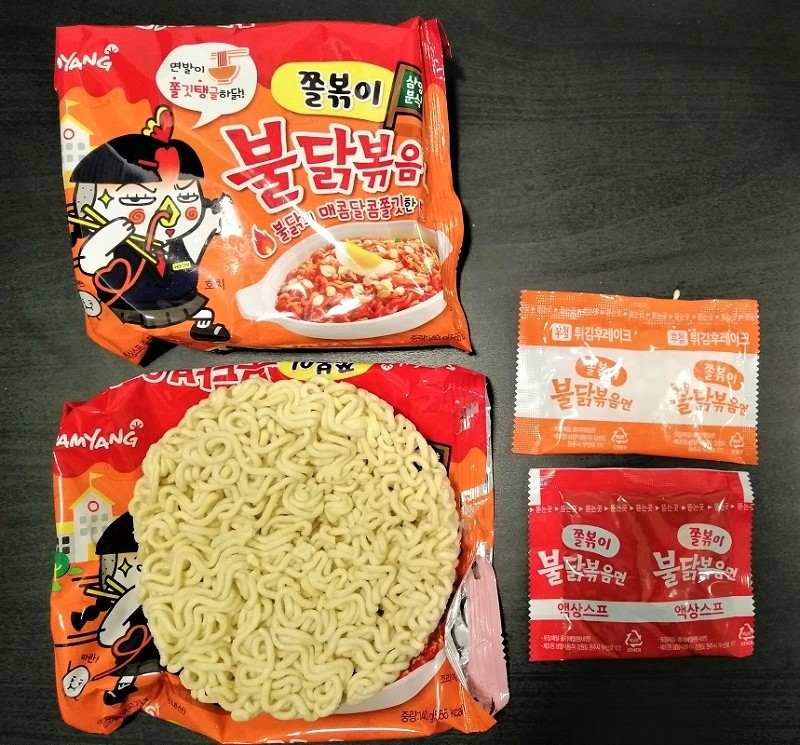 I cooked two packets of the Samyang Jjolbokki Buldak later that night. 🍜 Wow. Just wow. I eat Samyang new releases without fail coz I love instant noodles but I mostly left unimpressed. The only recent one I liked was Samyang Jjajang last year. But none left a huge impression on me until Samyang Jjolbokki – the noodles are insanely chewy!
It's so textural and pleasurable to eat. Nyum nyum nyum. The crispy fried chicken cracker topping tastes like Mamee Chicken and  goes so well with the gummy noodles. It's a non-stop mochi party in your mouth! I need to get more of this.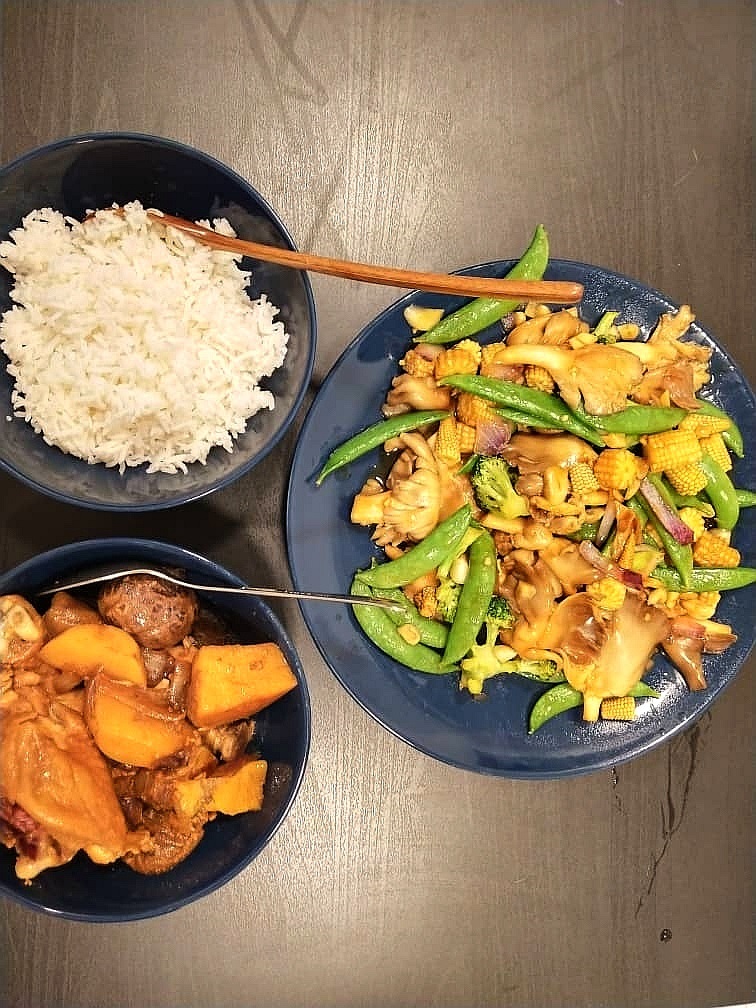 Sunday was my cooking day and I made a huge pot of ayam pongteh with 4 kg of chicken legs. 🍗 I haven't made this in a long time and I've been craving for it. I fried lots of shallots, red onions, garlic and Bombay onions in sesame oil before adding potatoes, taucu (fermented bean paste), dark soy sauce, sucralose, fish sauce and chicken stock. I also chopped the chicken legs into drums and thighs so it's easier to store.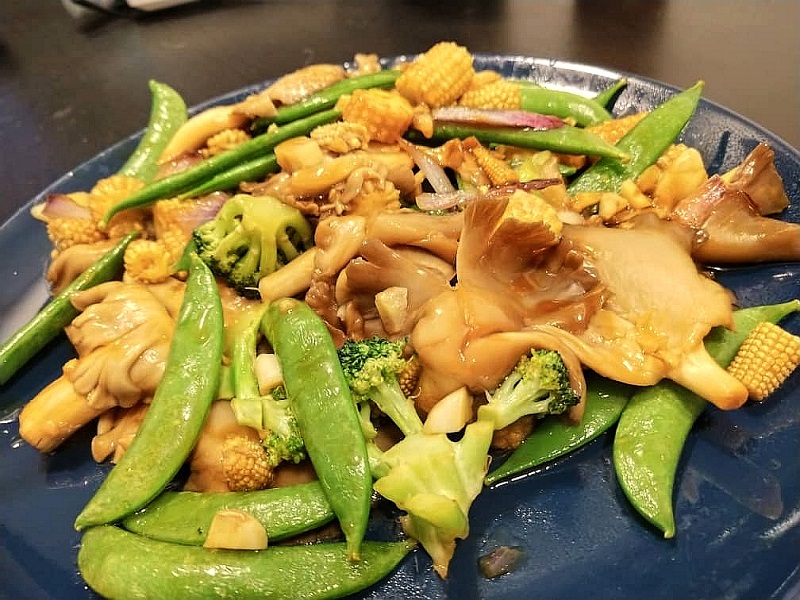 Mandy wanted some vegetables so I cooked a medley of green peas, baby corn, broccoli and oyster mushrooms in oyster sauce. 🍄 I really liked how this turned out. I only pan fried them for a while so everything is still crunchy and fresh. The oyster mushrooms tasted really savory and umami!
The chicken was good too but overtly oily. You need to skim the top of the bowl coz there's an oil slick there after cooking this amount of chicken. 4 kg of chicken can make the pot look like the Exxon oil spill! 🛢️ However, it's hard to do when the gravy is still hot and solid. I usually do it the next day after it's been refrigerated – the fat rises to the top and solidifies, making it easily skimmable.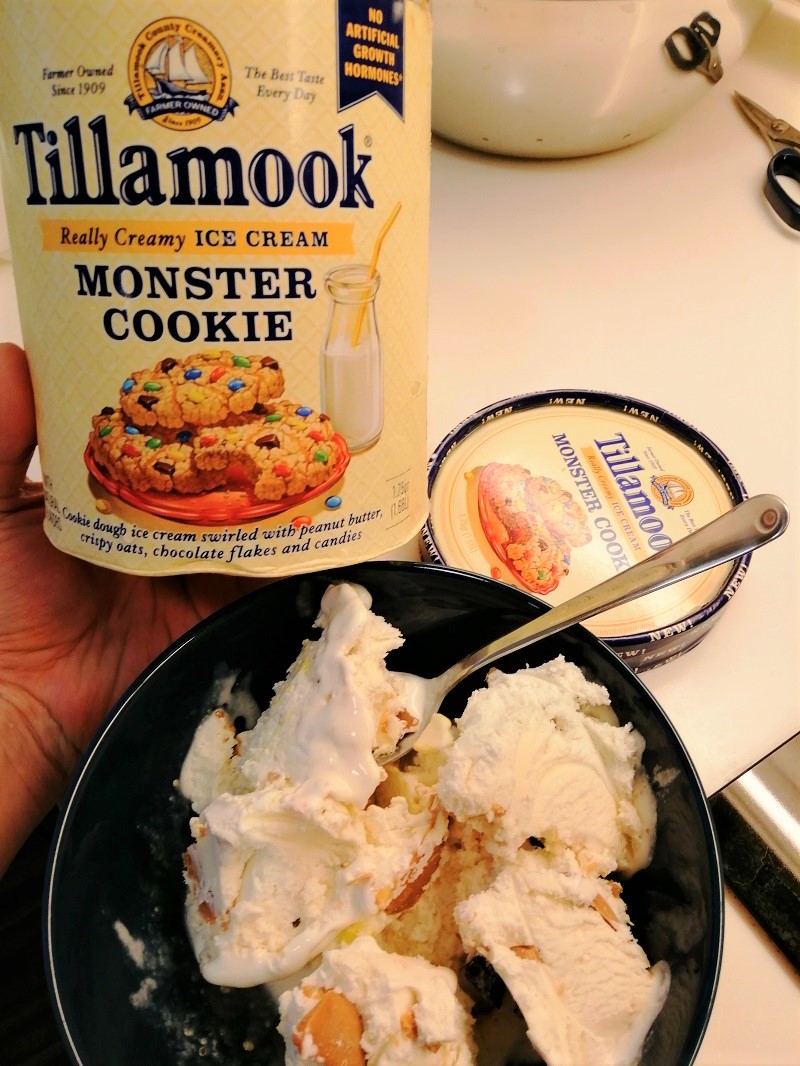 We ended dinner with Tillamook Monster Cookie ice cream. 🍦 This is a delicious concoction of cookie dough ice cream, salty peanut butter, crispy oats and M&M type candies. I've been indulging a bit too much though. Mandy assures me I'm not fat but I think she has a secret agenda to make me overweight and unattractive. I need to diet stating today.