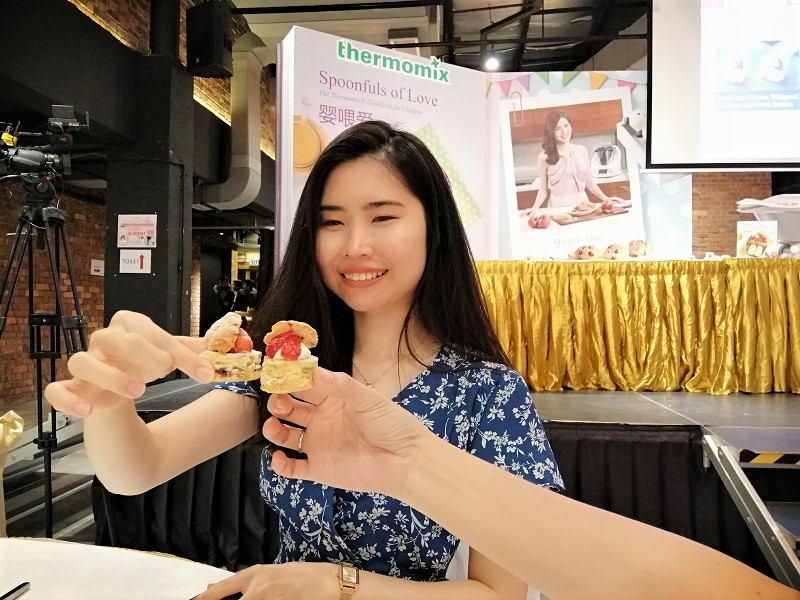 Our company's annual training was last weekend so we didn't go on our usual Saturday night date. Instead, we're heading to an AirBNB in Gohtong Jaya for a short stay this coming Labour Day holiday. 🎒 I was in the office on Saturday for our training and my long-lost cousin from my mom's side invited me to a dinner on Saturday night. I haven't seen her in 28 years!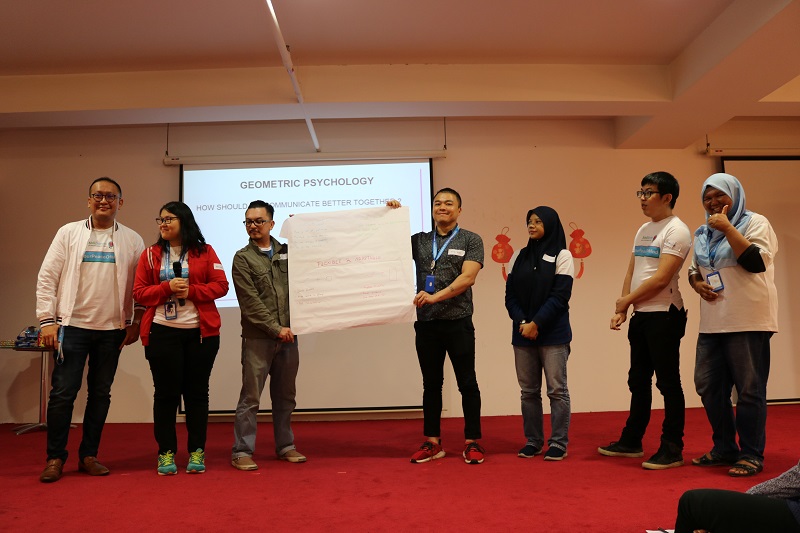 The company training was pretty fun. We were broken up into small groups to finish teamwork tasks and a project. It was very interactive, with games and physical tasks we had to complete together. I got the chance to sing YANK by Wali Group for bonus marks. 🎤
My team got second place out of 7 or 8 groups so that was pretty good. HR also did a small birthday celebration for all April babies after our buffet dinner at Eastin Hotel. My birthday was on 5th April. 🎂
My cousin is an advisor with Thermomix (the cooking machine) and this was one of their events – a sit down dinner with Chef Nathalie Arbefeuille of Nathalie Gourmet Studio. The dinner was held at Lightbox. 🍴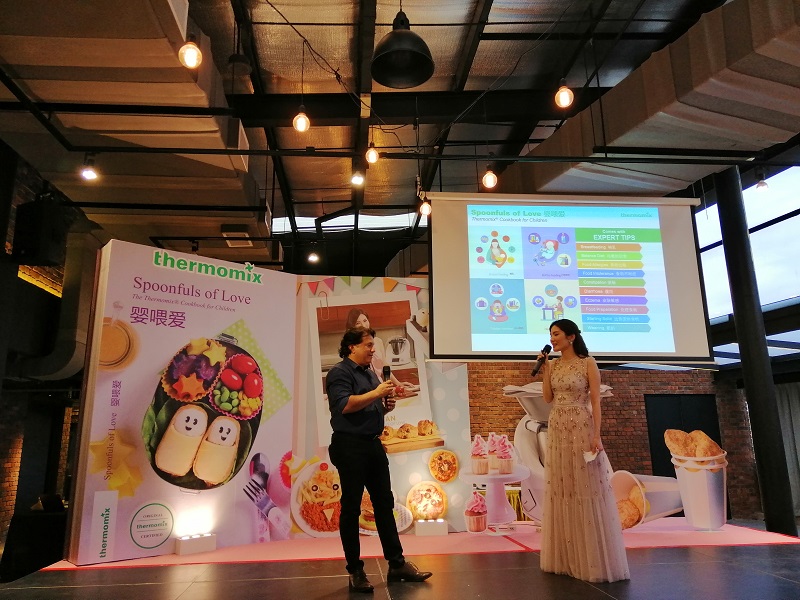 This event was to celebrate the launch of Spoonfuls of Love – The Thermomix Cookbook for Children. The book is written by Olivia Tan. 📚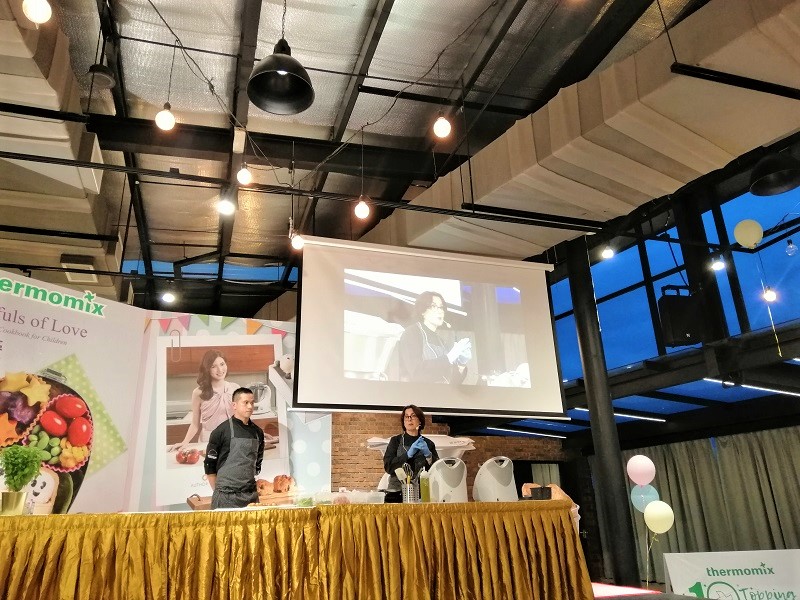 Chef Nathalie trained under Chef Anne-Sophie Pic, who has 3 Michelin stars. 👩‍🍳 She also did a live cooking demonstration with – what else – a Thermomix. She said her kitchen has 4 of these and she has another one at home. I think they're nifty too but too expensive.
This is a tapas style dinner that kicked off with Spaghetti Bolognaise In a Bite 🍝 and Crispy Puff Pizza, Eggplant, Tomato and Mozzarella Cream. I can appreciate the intricacy of the first dish, which twirls spaghetti into a "filling". The crispy puff pizza is an Indian carbon copy bite which draws inspiration from the street food snack panipuri.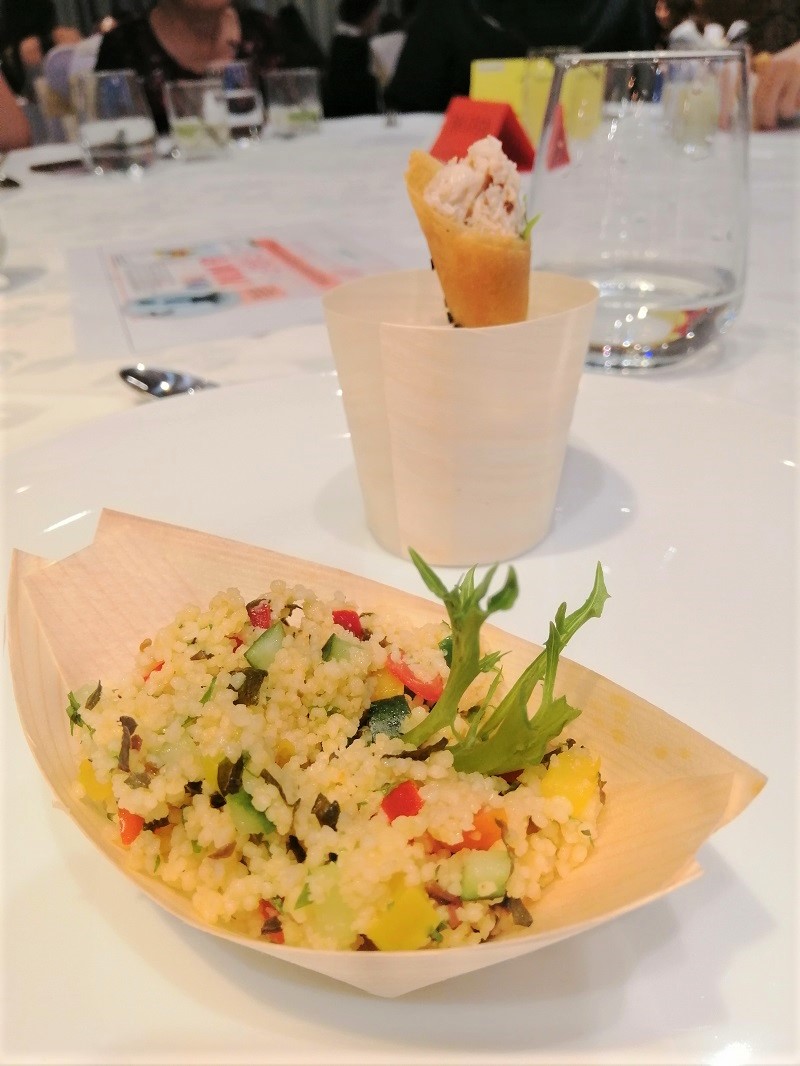 The second course had Tabouleh Salad in Couscous Version and Crab and Avocado Crispy Cone. 🦀 I like the fresh and acidic flavors of the couscous salad. The crab and avocado crispy cone is delicious! I've had something similar in Gaggan with exactly the same plating. You can say she's inspired by the 2 Michelin star restaurant in Bangkok.
Next up was Mushroom Cream, Truffle Emulsion 🍄 and Mini Chicken and Chorizo Burger. You're supposed to eat them together. I liked the mushroom and truffle soup but the burger was forgettable.
Homemade Tortellini Zucchini Basil, Basil Pesto was ill-suited for such a huge event. 🌿 The pasta was served so lukewarm it's almost chilly and so al-dente it was bordering on tough. The flavors are decent though.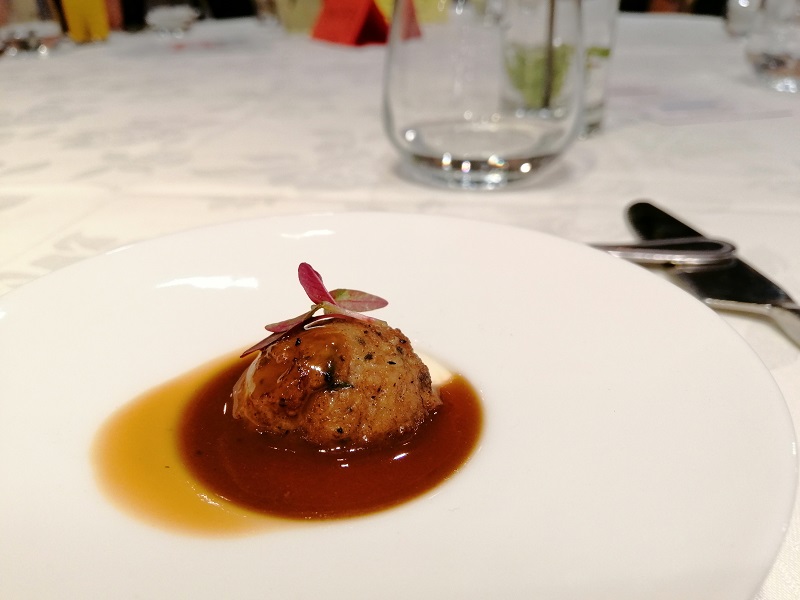 Homemade Duck, Chicken and Foie Gras Meatball, Potato Espuma, Duck Jus was a better bite. 🦆 It was quite flavorful and goes well with the potato espuma. I blended boiled potatoes in cream with a food processor once but merely called it mashed potatoes. I should have used espuma.
Slowly Cooked Salmon, Grean Pea and Mint Cream, Mint Emulsion 🐟 was the last savory dish of the night. It was very good. This is one of the times when frothy creams serves to add texture and mouthfeel instead of just being added for the sake of modernity. Very good.
Cranberry Scones, Whipped Cream and Fresh Berries and Raspberry Royale, Vanilla Chantilly, Lemon Sable 🍋 kicked off the dessert courses. I didn't think much of the cranberry scones but I enjoyed the raspberry sable dessert. It tasted good and looked beautiful. There's lots of interesting textures inside too.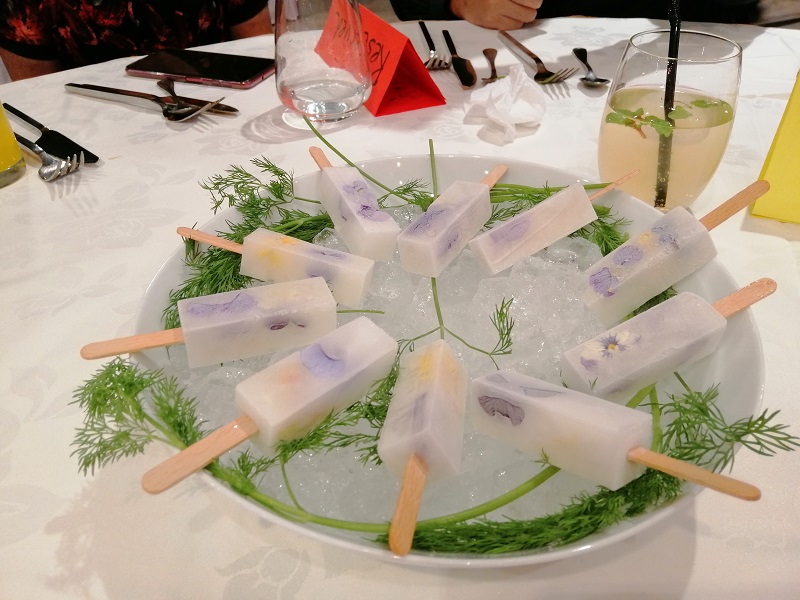 Lemon and Flowers Popsicles was a nice palate cleanser after those creamy flavors too. 🌺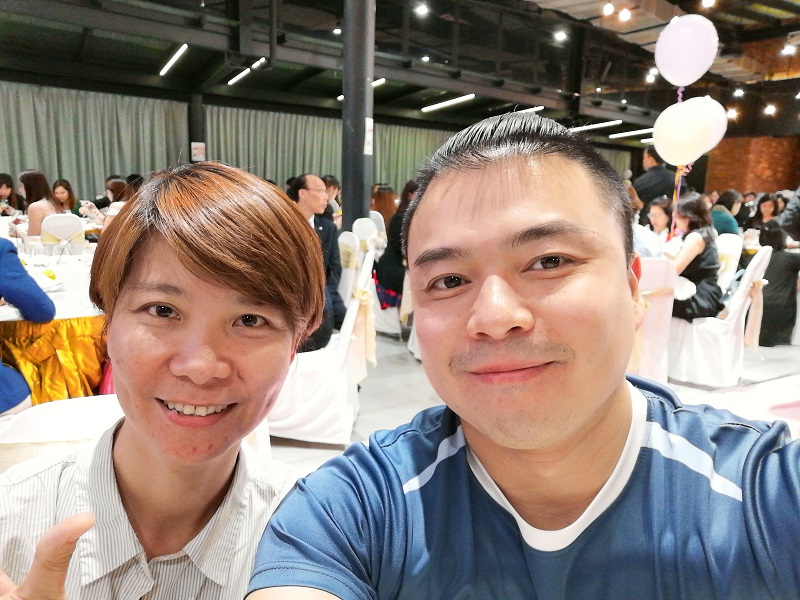 Chocolate Mousse, Mint Espuma 🍫 was the last dessert but I couldn't stay since Mandy was sick. I rushed home to take care of her. I only missed this final dessert though. It was interesting to see how a renowned chef works with a large dinner event like this. I also haven't seen my cousin in decades. We used to play together as kids.
I will end this with my 3 packets of Mi Sedaap, leftover Korean fried chicken, meal prep ayam pongteh, century egg and bird eye chillies cheat meal. 🍜 It got a lot of likes on Facebook for reasons unknown to me. I post things like this every weekend! Maybe it's the warm colors.
I also bought a Bosch cordless vacuum cleaner. It's so convenient! You don't get held back by cables. There's no need for a dust bag. The suction is also very strong and it picks up hair and cat litter with ease. 🐈 I'm loving it.