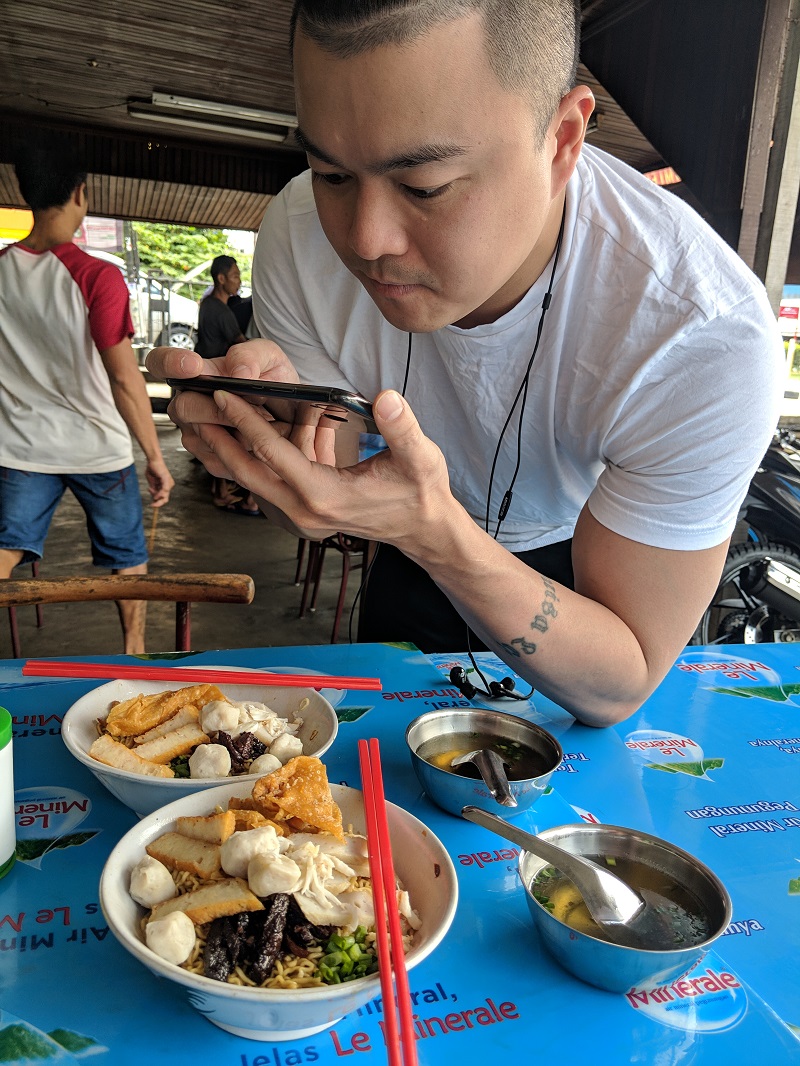 Bong came to pick me up the next morning for a Pontianak breakfast special. I haven't seen him for at least 10 years! I knew he was working in Kalimantan and it turned out that he was in Pontianak at this time too. One of my to-eat items was Bakmie Kepiting. This is a local specialty of dry tossed noodles with crab meat (!). We headed down to Oukie Bakmie Kepiting (Oukie Crab Bakmi). 🦀
1. Oukie Bakmie Kepiting (Sibu)
There are several bakmie kepiting (crab bakmi) stalls in Pontianak, all bearing the same name – Oukie. Turns out Oukie was the original guy who brought this dish here and all the current stalls are his descendants (sons, daughters, nephews). Strangely, they all bear the name "Sibu" which my hometown!
We puzzled over this. Did the original Oukie come from Sibu? Do they claim that this bakmi is exactly like what Sibu offers? Coz it's definitely not. We don't have a similar dish in Sibu. Nothing close. The closest is probably Foochow noodles with crab, which is a relatively new invention.
Sometimes Bakmi Kepiting is served with a whole crab claw but these items are in high demand and sell out very fast. They were all sold out at this stall by the time we got there.
In addition to the crab meat, there's fish balls, fish slices and a piece of crispy deep-fried wonton. The noodles are tossed with a variety of sauces and you're served a hot bowl of soup on the side.
I really liked these crab noodles! I thought this will be a perfunctory visit just to experience their local noodles but I loved the combination of flavors in this bowl of noodles. It's very good! There wasn't a lot of crab meat though – just a sprinkling, but crab is expensive and this is street food.
I can't remember how much it cost coz Bong insisted on buying me breakfast. Cheers!
2. Kopi Asiang
Bong also brought me to this local Pontianak coffee shop. I went to Aming Coffee yesterday and he said this place was very good too. It's exceedingly packed and we had to take a table under the hot sun but the coffee was indeed excellent!
I tried the regular ones without condensed milk this time. Rich, fragrant and delicious – coffee here is a real treat! You can see the grease slick at the top of my coffee shimmering in the sun. The coffee beans are usually fried with butter or margarine, which is where the oil comes from.
He also ordered soft boiled eggs for us. This was served in a glass, complete with spoon so it's easy for you to consume.
3. Gado Gado Jln Merapi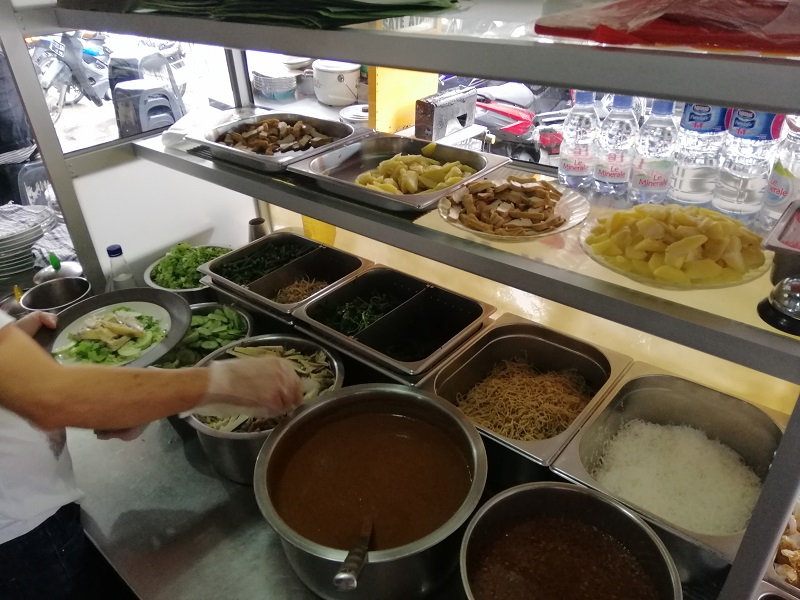 Gado gado is another food item on my hit list. It's basically a cold noodle dish that's more like a salad.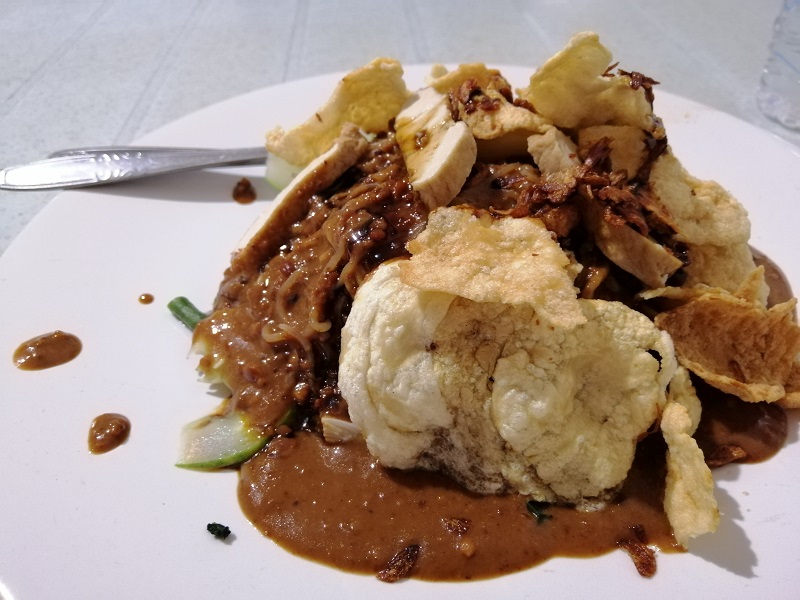 Rice vermicelli is topped with vegetables like bean sprouts and kangkong are tossed with tofu and crackers and the whole thing is doused with peanut sauce.
This is what it looks like when it's served – the different crunchy and soft items make for an interesting dish with good mouth-feel. I enjoyed this one as well! It's 24,000 IDR (RM 7) for this plate.
4. Es Krim Angi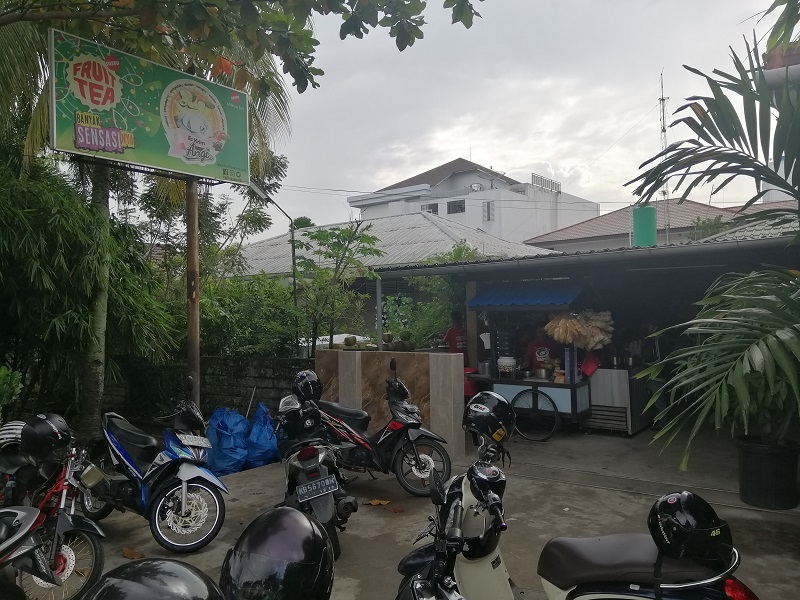 This is probably the most famous ice cream parlour in Pontianak. They're known for serving home-made ice cream in a coconut shell complete with coconut meat you can scrape up and eat together with the ice cream!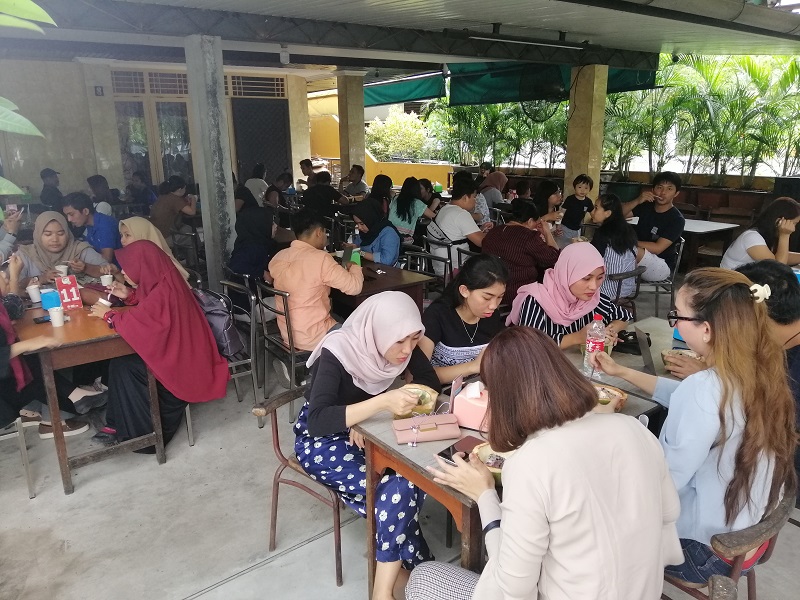 This "parlour" is actually a converted residential house that's located beside a Catholic school. The place was *packed* despite being the middle of the afternoon on a working weekday. Motorcycles are the preferred mode of transport here so you'll see heaps of them parked haphazardly in front.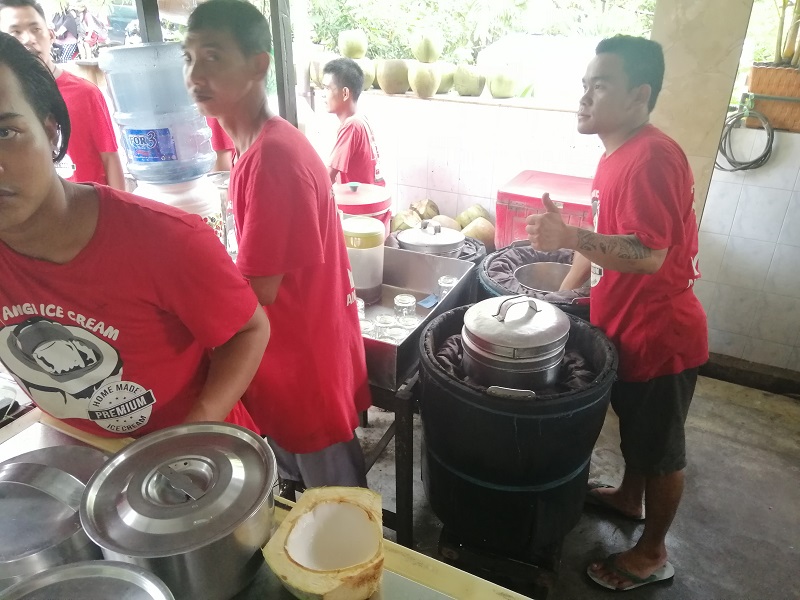 The guys will tell you the flavors of the day and you choose which one you want. I went for all three – pandan, durian and chocolate. The chocolate and pandan was the best.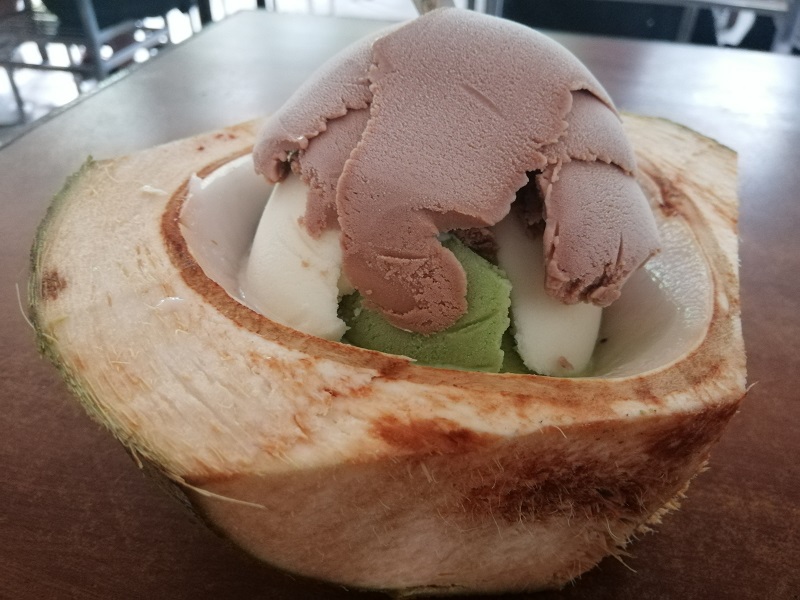 The ice cream is "sliced" out of the vats with a spoon so you get thin segments instead of a round scoop. I like this format, it makes for good eating! The flat surface fits perfectly on your tongue.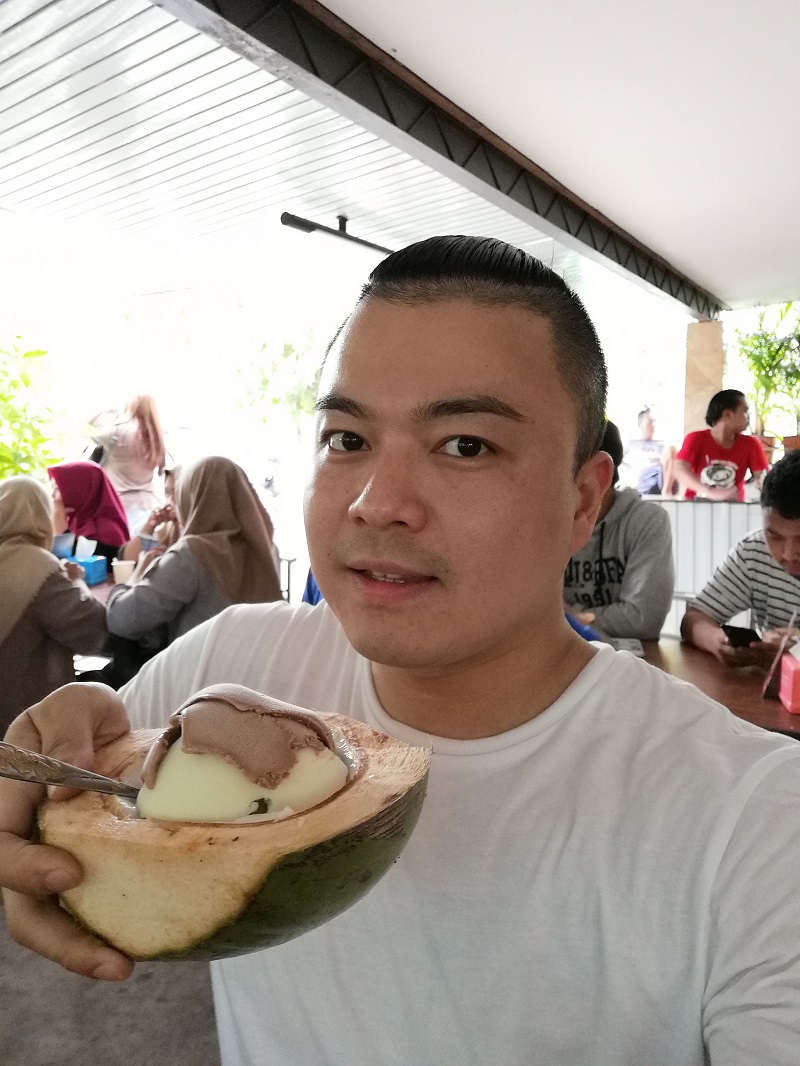 You can also choose the toppings you want – all complimentary. I went for a little bit of everything but I liked the squiggly transparent noodles best.
This coconut bowl of ice cream cost 23,000 IDR (RM 6.70). Excellent value! I like the combination of the slippery coconut flesh and homemade ice cream.
5. Bebek Boedjang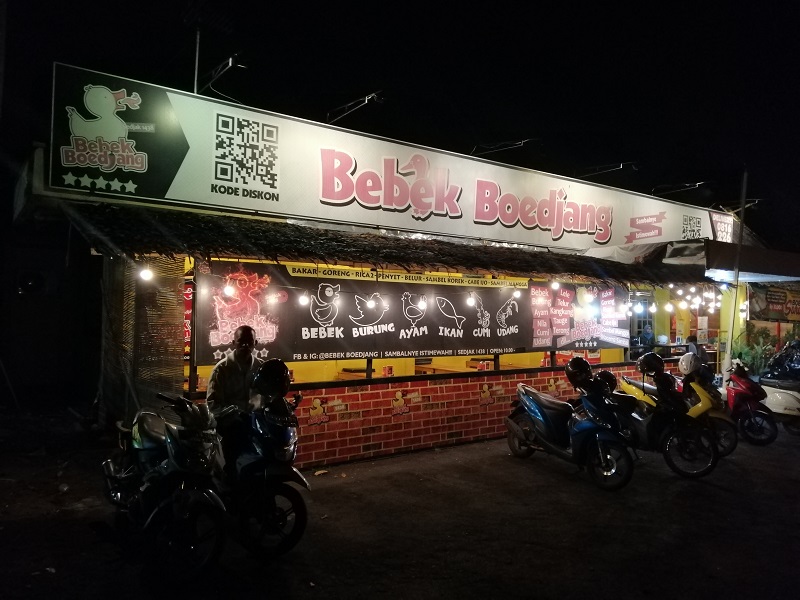 This spicy duck recommendation came from Bong. It didn't even register on my radar and didn't make it to my original list. I'm glad I tried it though coz it's the best meal I've had, other than Pondok Kakap! This restaurant is in a huge wooden complex and I saw many Gojek and Grab Food drivers waiting in line to fulfil food deliveries.
To drink, we have an iced mango drink called Es Mangga Boedjang (15,000 IDR) with mango cubes at the bottom. This came recommended by the menu and the waitress but it was so sweet I didn't care for it. I find most drinks in Pontianak overly sweet and cloying but if you like tons of sugar in your drink, you'll enjoy this.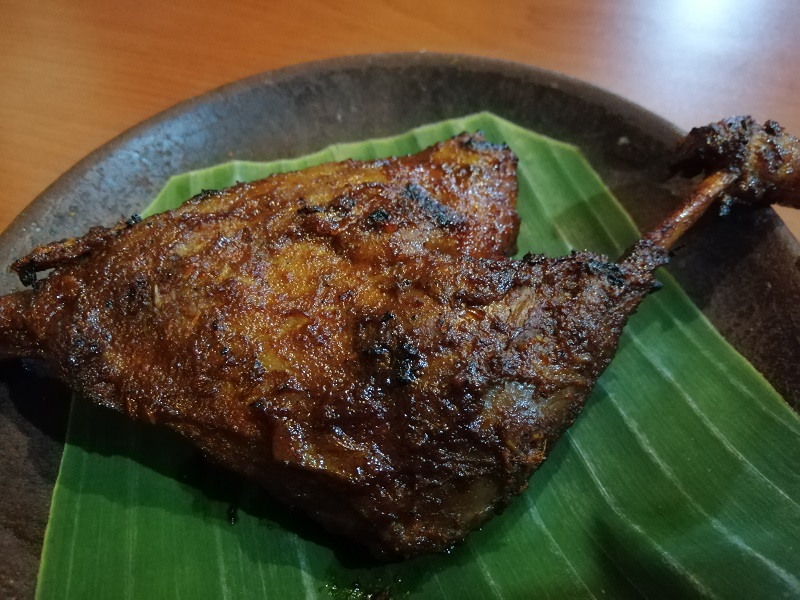 Bebek Paha Bakar Bumbu Rica (30,900 IDR) is the main event! This is smoked duck leg with spices. It's served with rice, which is a 5,500 IDR add-on. The duck leg is still fork tender and has an intense smoky quality that I enjoy. The spices are a sweet-spicy blend that lends itself very well to nice. I wish I had space for 2 of these babies.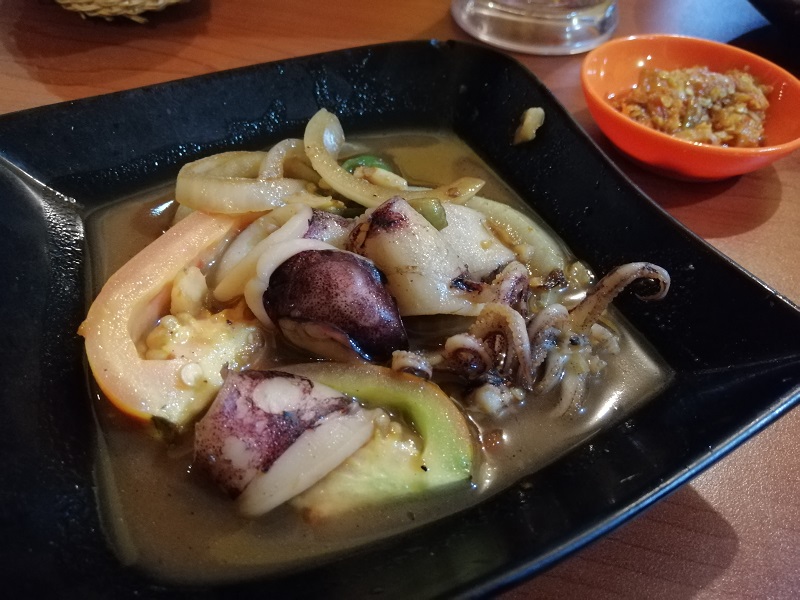 Cumi Tumis Cabe Ijo (16,960 IDR). Cumi means squid (sotong) in Indonesian. This is one of their flagship sides – squid cooked with green chillies. Wow! Does it pack a flavour punch! I was almost knocked out by the sheer intensity of seasoning on my palate. Welcome to Flavortown! There are tomatoes to add umami, onions for that pleasing aroma, tender squid and a gravy that's sweet/salty/spicy. I used all of the gravy with rice, and when my rice was finished, I drank it by the spoonful.
Tumis Jamur Tiram (9,790 IDR) is another one of their signature side dishes – oyster mushrooms cooked in some kind of sauce which hits all the 5 flavor profiles at once. There's some insane flavouring alchemy going on here. Delicious.
I left Bebek Boedjang a very happy man. The bill came up to 78,100 IDR (RM 23). That's an exceedingly fair price for such a decent spread. An excellent meal that I wish was closer so I can partake of it once a month.
6. Mie Tiaw Apollo Daging Sapi
I have read stories about these two neighbours. Apollo was the original beef kueh tiaw and is run by siblings. Unfortunately, they had a huge falling out one day. One of the brothers moved out and rented a shoplot right beside Apollo and called it Mie Tiau Polo. They even had snarky signs put up!
Apollo said "Mie Tiaw Apollo. Sejak 1968. Tak Pernah Pindah." (Apollo Mie Tiaw. Since 1968. Never Moved.). Polo put up one that read "Mie Tiau Polo. Pindahan Dari Sebelah." (Polo Mie Tiau. Moved From Beside.) I thought that was hilarious! Unfortunately, the crabby signs have since been taken down so you can only see them in Google Images.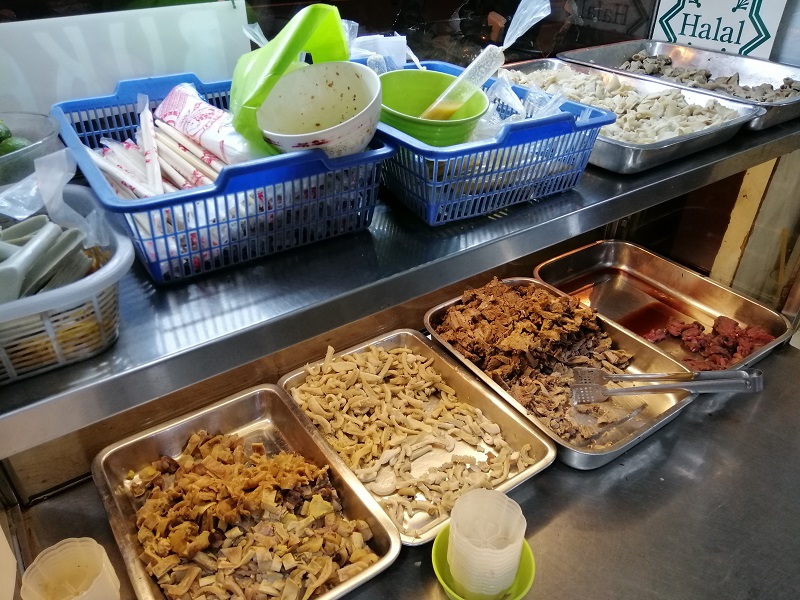 They only serve one thing – beef mie tiaw (which is something like kueh tiaw). They use all parts of the beef, including innards. You can see tripe, beef slices, tendon and even stomach on offer. The mie tiaw is fried in huge woks on high heat and the beef parts added.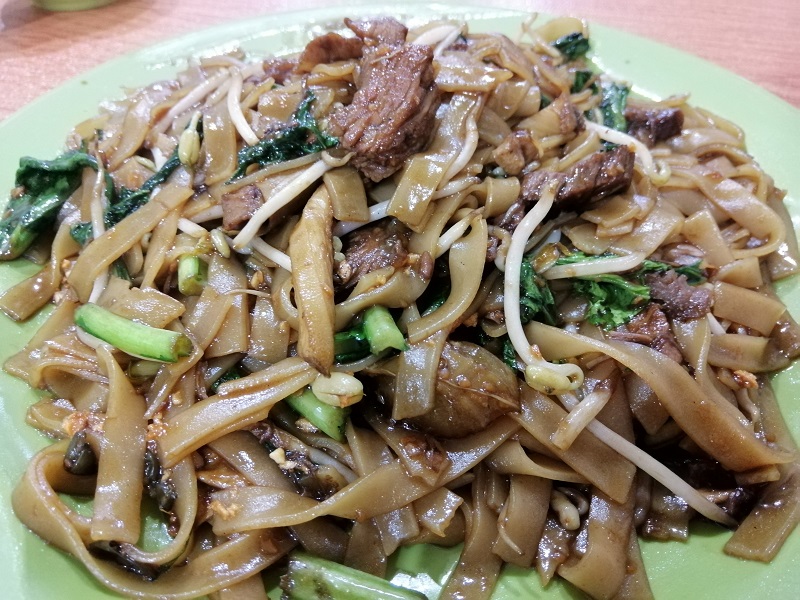 I went to the original Mie Tiaw Apollo and the version they do is a wetter style. This isn't as wet e.g. gravy filled as local Malay kueh tiaw but merely very moist. It's also quite oily! The sodium levels are really high too. I found it almost unpalatably salty and had to struggle to finish it. I might enjoy it more if it were less greasy and salty coz the beef tasted pretty good and the flavors were decent. It's 28,000 IDR or RM 8.50.
7. Roti Durian Orchard
What is this, you might ask? It's a loaf of bread spread with durian jam and sprinkled liberally with grated cheese. If that sounds awesome to you, you're at the right place! I didn't know Pontianak is famous for this and only chanced upon this beacon of light while walking back from Apollo. I popped my head in and asked what they serve and immediately decided to try.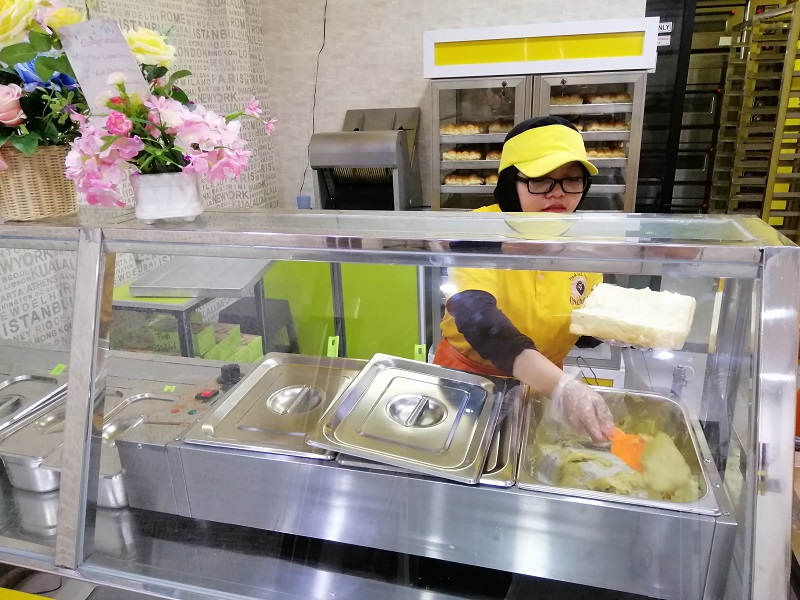 The loaf of bread is actually made up of 5-6 long buns and the clerk slices it in half and spread massive quantities of durian jam into the soft pillowy bread.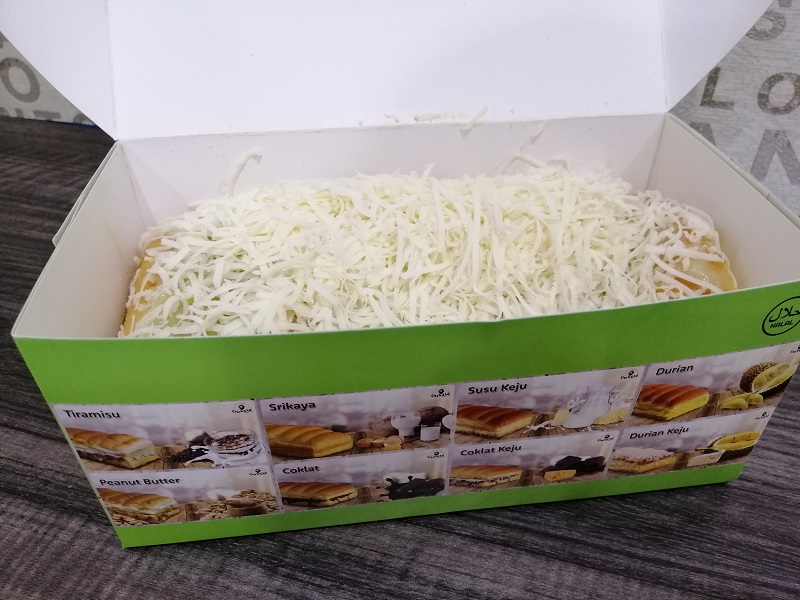 The entire shebang is then topped with prodigious amounts of grated cheese. It tastes heavenly!
This loaf was too much for me to finish so I had to eat it over two sessions – for supper and as a snack the next day.
I really enjoyed the flavors here. It's rich, sweet and savory at the same time! The bread remains ultra soft even the next day. 32,000 IDR (RM 9.50) for the durian cheese loaf.
8. Bubur Ikan Ahian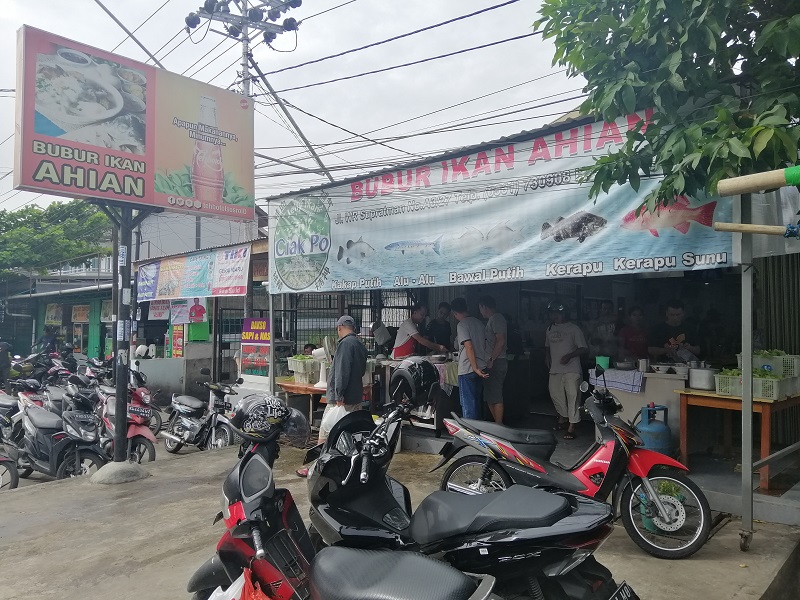 This was my last savory meal before leaving Pontianak. My flight to KL was at noon so I woke up early to have fish porridge at Ahian. This isn't really porridge/congee per se but fish soup served with rice. You can also opt to have the rice dunked into the soup, which they call "porridge".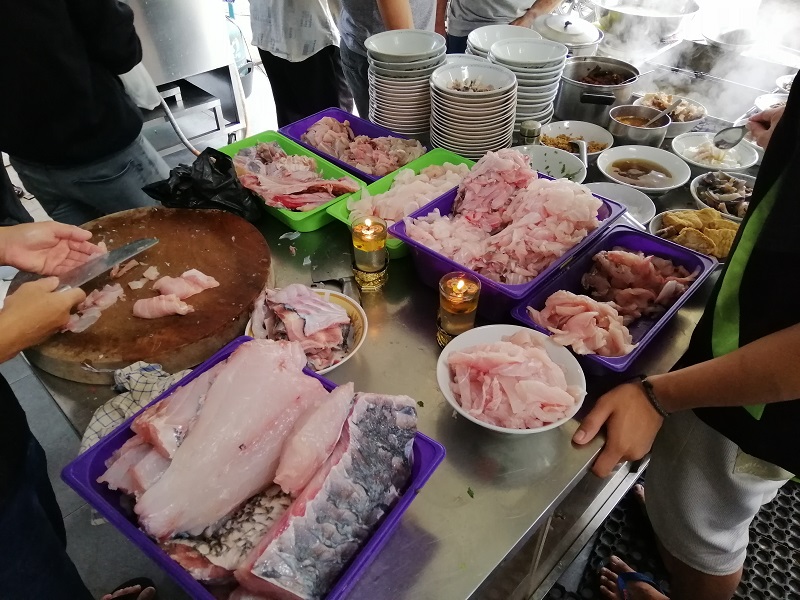 The front part of the restaurant is taken over by a fish processing station. Different types of fish are brought here to be broken down into slices and bones for cooking soup. They have a selection of different types of fishes at differing price points.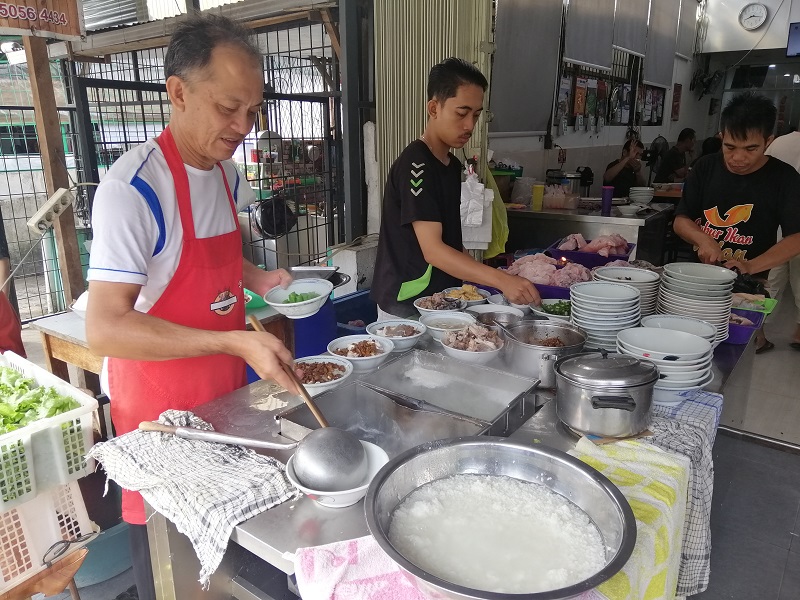 I opted for a mixture of all the fishes for 55,000 IDR (RM 16). It's a little steep for local standards but a steal in Malaysia. The fish slices were all very fresh!
I loved the flavourful soup too. I don't normally like soup but I enjoyed the strong flavors and sesame oil here. The soup is very different from the bland soup we get locally. This is savory and packed with taste! It goes so well with rice.
You can mix the remainder of your rice into the soup for the porridge style too!
9. Che Hun Tiau Ahui
Che Hun Tiau is a local shaved ice dessert. The famous one is called Ahua and located a stone's throw away from Ahian fish porridge. Unfortunately, it was still closed when I went, although it opened 30 minutes later when I was leaving to return to my hotel). There are several other che hun tiau carts in that area so I picked one at random.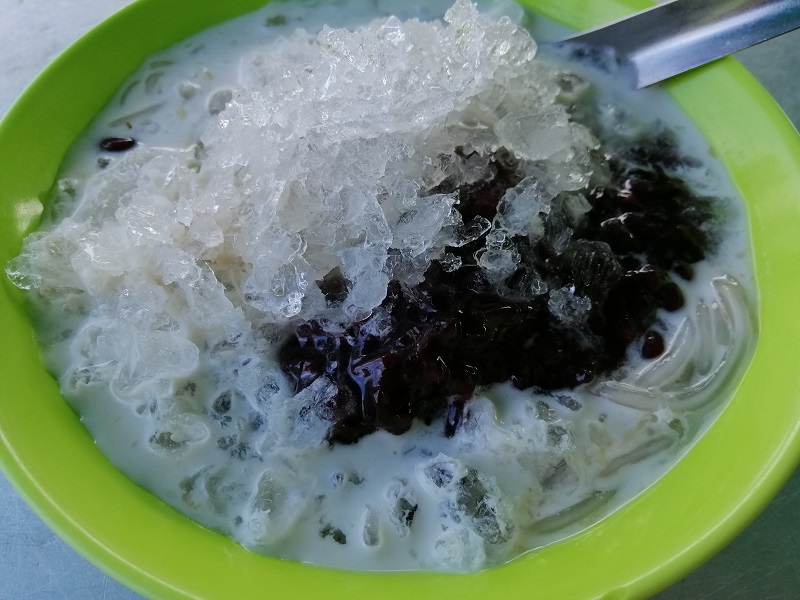 Ice is shaved on top of various items like red bean, a gelatinous mass of jelly, and my favorite – slippery strands of transparent noodles.
Here's a closer look. I really enjoy the mouthfeel of the noodle things. This cost just 6,000 IDR (RM 1.75).
I had a fun 3D/2N trip to Pontianak. This was my first time here but I'll be back for more eating adventures in the Kalimantan region! I like these remote semi-developed areas. I find them relaxing and unpretentious. It'll be nice to head to a more rural area next time.